A perfect comparison. If this was the "Inferno," the Pistons would be throwing missions to make sure C-Webb stuck around. That's how much he kills the Sixers. And yes, I supported the trade at the time. It's just that I forgot two things. First, if your coach's defense revolves around aggressive rotations and big men running out at open shooters, it's probably not a good idea to acquire a big man playing on one leg. And second, there couldn't be a worse matchup than C-Webb (the most sensitive big-money athlete in any of the four sports) and Philly fans (who can sniff this stuff out and would much rather break someone in pieces emotionally than support them). This is going to end badly. I mean, really, REALLY badly.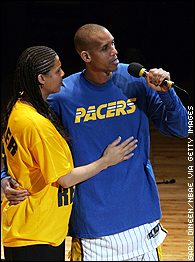 Don't worry, Reggie, you'll be able to hang out with your sister real soon.
13. Indiana (voted off by Boston, 4-1)
As the old saying goes, "When Anthony Johnson is your point guard, that means Anthony Johnson is your point guard." Did Indiana have an inspiring season? Absolutely. Was the Reggie Miller Resurgence entertaining for everyone involved? No question about it. Is there anything more delighful than seeing Ron Artest dressed in a three-piece suit, cheering his teammates on and being injected with 30 CCs of Thorazine by the team doctor's every 30 minutes? You betcha.
But they are not beating a team like the Celtics when A.) Johnson and Dale Davis play crunch-time for them, B.) Jermaine O'Neal isn't totally healthy, and C.) they're still running plays in the final minute for Reggie Miller, who gave them a season-saving four-week stretch after the All-Star Break before wearing down in April (.397 shooting). Not only do they defer to Reggie too much when it matters, he couldn't guard me at this point (much less Ricky Davis or Paul Pierce). So it ends here for Reggie. Great career.
12. Sacramento (voted off by Seattle, 4-2)
I never understood the media race to bury the Sonics this season -- since Rashard Lewis was their most indispensable player (not Ray Allen), why was anyone surprised when they went into the tank without him this month? Even their fans are confused and wary. When I asked ESPN.com senior editor (and die-hard Seattle fan) Kevin Jackson for his pick, KJ first said, "We're gonna lose," then amended that to, "actually, Peja's hurt, we might win," to "yeah, screw it, we have a good chance to win, and coming from a Seattle fan, that's as positive a response as you will ever get." Of course, this is the same guy who corrected me two days ago when I incorrectly thought Stanford's name from "Sex and the City" was "Sanford" in my "Fever Pitch" column. So maybe he was the wrong person to ask.
(Here's why the Sonics have reached "don't gamble on us from game to game under any circumstances" status: On any given night, they can shoot the lights out. For instance, when Minnesota had to win out for that eighth seed last weekend, the Sonics simply destroyed them: Lewis and Allen shot a combined 25-for-43 and Sprewell was making plans to take his yacht down to the Caymans midway through the third quarter. Beware of them at all times.)