Meanwhile, Paul's brother CJ fondly remembers all the fights they had when they were kids – including the time Chris pulled a knife on him – adding, "it was all out of love, it was all out of love." Gotcha. CJ also reveals that he's going to live with Chris and serve as his manager and personal assistant. I can't believe he was available.
7:57 – The following exchange about the Paul pick just occurred:
– Stephen A. Smith: "If you're the New Orleans Hornets, you could pick Winnie the Pooh and you would have improved."
– Bilas (on autopilot): "Winnie The Pooh … what I like about him is that he's unbelievably long, 7-foot wingspan, bouncy, great athlete, very high basketball IQ … "
(All right, I made the second part up. But Stephen A. really did bring up Pooh.)
8:01 – Hey, remember when the Mavs took Devin Harris fifth, and it seemed like a reach, and he ended up not even cracking 1,200 minutes as a rookie? In a related story, the Bobcats just took UNC's Raymond Felton fifth. "He has a 6-foot-4 inch wingspan," notes Bilas. Seriously? I always thought it looked like it was in the 6-foot-3 area.
8:06 – Thanks to ESPN's fun little draft fact thingie, we just learned that Felton "writes poetry in his spare time." I think I would pay $7,500 to hear him recite Tyrone Green's "Kill My Landlord" to Stu Scott right now and pretend that he wrote it.
8:07 – High schooler Martell Webster just went sixth to the coachless Blazers, where there's a 95 percent chance he'll be corrupted by D-Miles, Zach Randolph, Ruben Patterson and the rest of the chain gang. With one of the other picks they got in the Utah trade, they should draft the Whizzinator.
(Funny story about Webster and fellow stud high schooler Gerald Green from Monday night's draft preview special: Stu asked them if they knew who the first lottery pick ever was in 1985 … and both of them drew a blank. Then Stu gave them the "New York, New York" clue … still, complete blanks. Finally he told them and Webster defended himself with, "I was only 1." And you wonder why the age limit is coming in.)
8:08 – Bilas on Webster: "He's really long – he could have shaken hands with David Stern from the Green Room!" Would there be anything more riveting than hearing Bilas trying to analyze a draft where teams could take only midgets and dwarfs?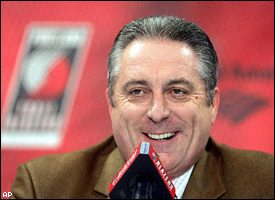 In addition to going young, Nash has decided to no longer hand out a copy of the Oregon penal code to welcome new players.
8:12 – New highlight of the night: Webster's grandmother's hat. It's looks like a chef's cap crossed with an overcooked souffle. Fantastic. Also, Portland GM John Nash (looking grim and nervous) just explained the pick by saying, "First of all, we think we took an outstanding young man, he's a terrific character, somebody that the community of Portland can be proud of, in addition to a very good player." Translation: Don't worry, this guy may stink down the road, but at least he won't end up in jail.
8:14 – Remember my running joke about Charlie Villanueva looking like the lead singer of Midnight Oil? Well, Charlie has a new claim to fame – he just became one of the top-five worst picks in the history of the NBA draft. Toronto took him seventh. Seventh! Seventh! Rob Babcock just drafted Rafael Araujo and Charlie Villanueva with back-to-back top-10 picks when he already had Chris Bosh! And he just left Green and Danny Granger on the board! Throw in the Carter trade and are we absolutely sure that Babcock isn't Scott Layden using a fake Canadian passport? You're lucky I didn't start out as the Toronto Sports Guy, I would have been capable of 25 to 30 straight Babcock columns this summer.