Again, I'm not complaining … just pointing this stuff out. Only one game has upset me all season (more on that in a second). In fact, three groups of Red Sox fans emerged after The Impossible last October, and I'm firmly entrenched in Group No.1 (the easygoing group). Here's the complete list:
Group No. 1: Dutifully serving the Grace Period, secretly wondering what the hell to do when you're not allowed to get mad at your own baseball team
That's me. October 27th turned me into … I mean, I'm not even sure what happened to me. I still watch every game, only they don't feel like life-or-death anymore. I only care about beating the Yankees -- nobody else bothers me or worries me. I keep catching myself in these "Whoops, I can't think that way anymore, we won the World Series" moments, like when I noticed this week that the prospect Theo needlessly threw into the Nomar trade last summer (Matt Murton) is suddenly hitting like .845 for the Cubs. Ready to break out the Bob Lobel Memorial "Why can't we get guys like that?" bitter comment over coffee, I remembered something: Without that trade, we wouldn't have won the World Series last year.
(Just remember, we won last year. We won last year. We won last year … )
During any other year, I would have written at least five columns complaining about this particular team (and we haven't even hit the trading deadline yet). Only Damon, Ortiz and Varitek have been consistently good since April. The bullpen has been so staggeringly incompetent, I keep expecting them to sign Rudi Stein and Nuke LaLoosh for the stretch run. The manager went from "no matter what happens, we can't second-guess him" status to "has anyone ever fired the manager from a World Series champ the following season?" status in the span of four months. Two beloved players from last year's team (Pedro and Roberts) have thrived in new cities, while Boston's winter imports have been a B-minus at best. One 2004 stalwart (Embree) was waived this week, with Bellhorn joining him soon (hopefully).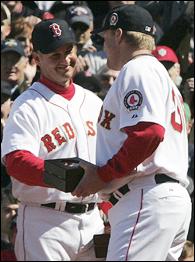 AP Photo/Charles Krupa
Curt may have helped Terry get a job, but there are days everyone wonders how he keeps it.
Even though they're 10 games over .500 -- just like last year's group at the same point in the season -- it's impossible to imagine them competing in October without 2-3 more major moves to upgrade the bullpen and the bottom of the order. And I'm OK with that. Even thinking about a second title makes me feel ungrateful, like the Baseball Gods could say, "Get a load of this jerk!" So I'm quietly supporting them … almost like one of those upbeat Little League parents who's afraid to upset any of the kids.
Group No. 2: Claiming to serve the Grace Period but falling off the wagon every few games, and only because they can't help it
This group includes my father, who flipped out when Francona allowed Alex Cora to bat with the bases loaded against the Yankees on Sunday night -- with John Olerud wasting away on the bench -- leading to the inevitable rally-killing 5-2-3 double play. Indeed, Francona has been the ultimate challenge for grizzled Sox fans like my Dad, the ones who believed that Tito was overmatched until he improbably caught fire over the last two weeks in 2004, almost like a hot craps player who couldn't stop throwing 6s, 8s and 9s. Did that make him a good craps player or someone who's fortunate enough to enjoy one hot streak? Most evidence points toward the latter.