(Just remember, we won last year. We won last year. We won last year … )
Then again, nobody sums up the 2004/2005 differences like Schilling, who heroically (and dangerously) pitched on a bum ankle last October and hasn't been the same since. His controversial transition to closer inadvertently spawned the most exciting moment of this season: No. 38 jogging in for the ninth on Thursday, trying to protect a tie game against the Yankees. Other than Opening Day, this was the hottest ticket of the year at Fenway, and only for this reason. Everyone wanted to see Schilling save the day. Everyone wanted to feel like we felt last year again. Other than Damon's Christ impersonation, Manny's weekly brainfarts and the ongoing brilliance of David Ortiz -- who has emerged into one of the more memorable clutch athletes in the history of Boston sports, but that's a whole other column -- there hasn't been much of a connection between 2005 and 2004. Different team, different season, different everything.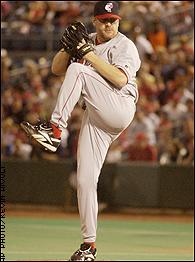 AP
Before you rip Schilling, just remember what happened last October.
Last Thursday night, for the first time all season, it honestly felt like we were defending the title. I happened to be sitting in Section 29 during the ninth inning, watching a gimpy Schilling emerge from the right field bullpen -- only missing fireworks and some sort of WWE-style smoke explosion -- then screaming and slamming my hands together along with everyone else. Looking back, that had to rank among the most electric regular season moments in the history of Fenway. It was like watching a sports movie. It really was.
Of course, Schilling ended up getting shellacked.
Batting first in the ninth, Sheffield kept fouling off splitters and sliders as we stood and cheered, awaiting a third strike that never came. Finally, Sheffield crushed a hanging spitter against the Monster -- SPLUNK! -- and just as we were coming to grips with Schilling's possible mortality, A-Rod obliterated another splitter over the yellow line in left-center; 8-6, Yankees. Now it was dead silent in the park -- I'm talking cemetery-level silent -- save for scattered Yankee fans whooping it up. We watched Sheffield ambling toward third base, his right arm clenched defiantly in the air. We watched the Yankees jump to the top step of their dugout, shouting out encouragement and pretending they liked A-Rod. We watched Schilling shake his head and stomp around the mound, a shell of himself. And when A-Rod touched home plate, we watched him violently slap hands with Sheffield, so loud you could actually hear the smack from 200 feet away.
"It's over," I muttered to my buddy Sully. "We officially have no bullpen. The season is over."
Normally Sully (one of my more optimistic friends) would have come up with something like, "Come on, we're still in first place" or "Come on, you can't expect Schilling to become Mo Rivera in five minutes."
Not this time.
"It's over," Sully agreed.
Were we overreacting? Absolutely. (For the record, Schilling looked fantastic two nights ago against Tampa.) But you had to be there last Thursday -- had to feel the crest of hope that coincided with Schilling's entrance, had to feel the park deflate after those two bombs. For four straight months, we had been searching for signs that this year's team resembled last year's team. We're still looking. That's the thing about miracles. They don't come around very often.