By Bill Simmons
Page 2
Editor's Note: Page 2's Bill Simmons is filing round-the-clock reports from Jacksonville, Fla., in Super Blog II. Check back throughout the day for updates. Here is his entry from Day 6:
DAY 1 | DAY 2 | DAY 3 | DAY 4 | DAY 5 | DAY 6 | DAY 7
Did you miss Media Day? What's wrong with you?

Posted, Saturday, Feb. 5, 2005 -- 2:15 p.m.

Tell me if you think this is strange . . . .

I started working for ESPN.com in July of 2001. Three times over the next four years, my bosses decided to send me to the Super Bowl -- New Orleans (SB 36), Houston (SB 38), and Jacksonville (SB 39) -- about 10 weeks before we knew who would be playing in the game. Each of those times, my beloved Patriots ended up making the big game. The one year they didn't make it was Super Bowl 37 (note: I'm tired of typing roman numerals), which I had to skip because I was also writing for Jimmy Kimmel's show at the time. In other words, I'm on a streak. I almost feel obligated to attend next year's Super Bowl in Detroit.
Here's why I'm telling you this: Out of those three Super Bowls, this is the first one where I find myself constantly thinking about the game. In Houston and New Orleans, there was a ton of stuff to do, and there was always something going on . . . it was easy to forget that THE FREAKING PATRIOTS were in the Super Bowl. Not in Jacksonville. For the first time in years, the actual game is going to be -- indisputably -- the highlight of everyone's week. And I can't stop thinking about it.

So maybe it's a good thing the Super Bowl is here. It's a wakeup call for everybody. Super Bowl weeks shouldn't be about having fun, getting drunk, partying with your friends, spending money and blowing off steam. They should be about getting everyone fired up for the game. And, um, the city of Jacksonville has certain managed to do that.

Some other silver linings about my Super Bowl Week in Jacksonville:
I'm getting plenty of rest. Unlike the other two Super Bowls, I'm not going to develop a mutant case of bronchitis for three weeks afterwards.
I've been able to keep in very good contact with my wife and parents, since I'm usually available to talk.
Sometimes with warm-weather cities, you have to pack two sets of clothes so you're prepared for any scenario (80 degrees during the day, 50 degrees at night, showers, etc.). In Jacksonville, you only have to bring clothes for cold weather -- sweaters, jackets, jeans, and so on -- so your suitcase isn't as stuffed.
You don't have to worry about getting sunburned or spending extra money on suntan lotion.
I'm down to one cup of coffee a day, since the nearest place for a decent cup of coffee is 10 minutes away. I feel healthier.
My liver, lungs and kidneys have been happy -- haven't smoked one cigarette, and I've probably had a total of 10 drinks.
It's always fun to drive a rental car. Especially for miles and miles. I like listening to the different radio stations and stuff.
Because this is such a bizarre venue for the Super Bowl, the locals have overcompensated by being especially nice. The people of Jacksonville are fantastic. This is not their fault. There are 25 likable cities in America that couldn't handle hosting a Super Bowl, they just happen to be living in one of them.
The high rollers (NFL owners, major celebs, CEOs, rich people) are all bent out of shape because the city doesn't have any first-class hotels. For instance, there was a story in the local paper today about Falcons owner Arthur Blank (CEO of Home Depot) complaining about loud music in his hotel (the Adams Mark) at 1 a.m. on Thursday morning. You just KNOW he was bitching out Paul Tagliabue the next morning. And that's another funny outcome of this: Behind the scenes, Tagliabue is probably getting slaughtered by the one group of people he has to appease at all times: rich people. Really, do you think David Stern would have been dumb enough to do this? No wonder Tags was stammering and stumbling after a reporter asked why the Super Bowl was here during his press conference yesterday.
"Geez, can you believe the Super Bowl is here?" has been one of the better conversational ice-breakers. It's been the running theme of everyone's dialogue this week. So that's been nice. Takes the pressure off of coming up with something else.
I haven't spent much money this week, which has been nice. During the other two Super Bowls, I had a couple of Those Nights -- you know, the ones where you take out $200 at like 10 p.m., but you wake up the following morning and you have three one-dollar bills in there, only you don't care because you're just happy you still have your wallet? Or you find a credit card slip that says you spent $220, plus you gave the female bartender a $50 tip? Those Nights are always a little dangerous, especially if you're single and you wake up next to a cocktail waitress or a stripper. Anyway, you can't really have Those Nights in Jacksonville, unless you're staying downtown and you don't have to drive anywhere.
Finding your way around downtown Jacksonville with 90 percent of the streets shut down has been strangely enjoyable -- like solving a mission in a video game. When I was driving to the ESPN The Magazine party last night, at one point, I was so lost that I actually called the Sports Gal to say my goodbyes, just in case I was the victim of a carjacking. Then I found the right street and lived happily ever after. Didn't even need a cheat code.

(Note: One of my editors left his hotel at 9:45, drove around aimlessly for two-plus hours, couldn't get to the party because of all the closed-off streets, and returned to his hotel at 12:15. That was his Friday night. "You're treating this city with kid gloves," he hissed this morning.)

Speaking of that ESPN party, I actually had a good time there last night . . . and I was prepared to lie if I didn't. These events are always scary for me since most of my higher-up bosses attend them, and I'm always afraid I might have too many jack-and-cokes and make an inappropriate joke about "Cold Pizza" or something. But I didn't get into any trouble. At least I think I didn't. The biggest celebrity there was Gene Hackman, who kept screaming at the bartenders, "I want five passes before you pour every shot!"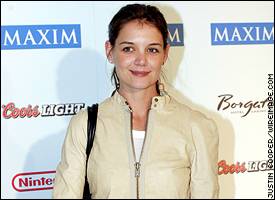 Katie shows up at the Maxim party in her best port-a-john duds
(Note: I couldn't have been more star-struck. People kept prodding me to go over and say hello; I couldn't do it. What if he was a dud? What if he was a jerk? I couldn't take the chance.)
The anti-Hackman in attendance was Robert Wuhl, who seemed like a nice enough guy but still had me fantasizing about getting into a drunken brawl with him. Imagine if I kicked Arli$$'s butt? Wouldn't that make me a hero for all eternity? Speaking of unlikable people, Eli Manning was there -- about 20 minutes into the night, he demanded a trade to the FHM Party. And there were about 50 athletes that I recognized, including Brandon Stokley, who was the only person I wanted to talk to -- since I've had him on my roto team for the past two seasons, plus he won me my "field" bet in Super Bowl XXXV. I love that guy. But every time I had a chance to talk to him, he was with five other people and I didn't want to butt in. Oh, well.
One other note from last night: There were various clusters of Eagles fans spread around the party, all of whom were wearing Eagles hats and/or Eagles jackets, like they were tailgating outside of Veterans Stadium or something. I talked to some of them and enjoyed the conversations -- they were VERY giddy and VERY drunk, plus they kept the trash-talking to a minimum (which I appreciated). But one thing cracked me up -- many of them were wearing "NFC Champions" hats, one of the all-time "Happy to be there" red flags. I can't shake the feeling that both the Eagles and their fans already had their Super Bowl, getting past the NFC Title game after three straight agonizing losses. Maybe I'm wrong.
So how did the night end? Normally at the Super Bowl on Friday night, you bounce around to different parties, eventually landing at some bar until 4 a.m., then you stumble home and spend 10 minutes jamming your room card into hotel rooms until the right door opens. Not last night. I drank until 11:30, then remembered that A.) I had a 25-minute drive back to my hotel, and B.) I had no idea how to get back onto the highway. So I spent the next two hours drinking water, just to remove any chances of ending up on the Smoking Gun this weekend. At 1:30, I drove back to my hotel. Even got back safely.
Total amount of money spent on Friday night: 0 dollars and 0 cents.
(See, the Super Bowl in Jacksonville isn't so bad.)
COMING TOMORROW: SUPER BOWL PREVIEW
Bill Simmons is a columnist for Page 2 and ESPN The Magazine. His Sports Guy's World site is updated every day Monday through Friday.