By Aaron Schatz
Special to Page 2
Note: Go to the bottom of the table for a more complete explanation of how Aaron's QB rating system works.
Peyton Manning has put up such insane numbers over the past few weeks that some fans are beginning to accuse him of padding his totals to get the record. (If you don't believe me, check any Colts message board on the Internet, or read this insanely long comment by a reader on my Web site.)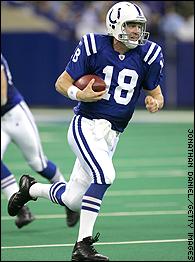 The Colts made the right choice when they selected Peyton Manning.
These accusations come in two flavors: first, Manning is throwing touchdown passes in the red zone instead of handing off to Edgerrin James; and second, Manning is throwing all the time even when he has a big lead. There's even a bit of conspiracy theory involved in the first accusation, with some people suggesting that Manning is deliberately keeping down Edge's numbers so he'll be more affordable when he needs a new contract after this season.
It sure seems like Manning has been throwing more than most quarterbacks, but perception doesn't always match reality. So I decided to compare Indy's pass/rush ratios to the NFL's pass/rush ratios in various situations to find out: is Manning really trying to pad his stats, or are people criticizing the Colts just "Manning haters"?
Let's start with the red zone. The average NFL team this season has passed on 49 percent of red-zone plays. The Colts have passed on 51 percent of red zone plays. Not much difference there. Goal-to-go situations? The average NFL team passes on 43 percent of those. The Colts have passed on 23 of 50, or 46 percent. That's only the difference of one or two plays.
If it seems like you never see James get a carry at the goal line, that's because for the last few weeks the Colts have hardly ever been near the goal line. In their last six games, the Colts have only run eight plays from the 5-yard line or closer, and five of those were against Houston in Week 10. Only one of these plays in the last six weeks was a run, but the Colts don't run near the goal line because James hasn't been very good from there, not because they want to pad Manning's stats. Edge has run nine times from the 1- or 2-yard line, and scored twice. Manning has thrown four times this year from the 1- or 2-yard line, and all four were touchdowns.
The other accusation is that the Colts pass with a big lead instead of running out the clock. This one, it turns out, is more accurate. With a lead of at least three scores (17 points or more) the Colts have passed 77 of 164 plays, 44 percent. The average NFL team passes on only 36 percent of the time. With a lead of at least two scores (10 points or more) in the second half, the Colts pass on 47 of 115 plays, 41 percent. The average NFL team passes on only 35 percent of plays.
So if you have been complaining that the Colts never run at the goal line, stop. They tried it, it didn't work very well, and they are hardly ever there anyway. But if you think Manning is running up the score with a lead, there is evidence to support your theory. Of course, if you had to depend on the Indianapolis defense to hold your leads, wouldn't you want a little extra cushion?
Get overall season rankings at footballoutsiders.com.
SNAP JUDGMENT'S QB RANKINGS FOR WEEK 12
Quarterback
Skinny
DPAR
1. Peyton Manning
23/28, 236 yards
6 TDs, 0 INT
By halftime, the only question left in this game was, "How do you pronounce 'Sorgi'?"
17.7
2. Kelly Holcomb
30/39, 413 yards
5 TDs, 2 INTs
This is the same Bengals defense that sacked Ben Roethlisberger seven times and kept him under 100 net passing yards a week ago.
13.2

3. Drew Brees
28/37, 378 yards
2 TDs, 0 INTs
104 rushing
Man, Chargers fans could not be more psyched for the Philip Rivers Era!
12.3
4. Donovan McNabb
18/27, 244 yards
1 TD, 0 INTs
Goofy stat of the week: Has thrown for 424 yards behind his own 20-yard line, most in NFL.
11.9

5. Brian Griese
27/39, 347 yards
2 TDs, 1 INT
Note from FO writer Russell Levine: "It's not that he hasn't made mistakes this year -- yesterday's pick-six to Peppers being a prime example -- but when he does, he has shown the ability to bounce back. In past years, he always seemed to go into a shell when things went wrong."
11.9
6. David Carr
21/30, 201 yards
2 TDs, 1 INT
Much better game than conventional stats indicate because 1) Tennessee pass defense is very underrated and 2) Two third-down TD passes in red zone.
8.2
7. Jake Delhomme
14/21, 213 yards
2 TDs, 1 INT
Has remarkable knack for pulling big pass plays out of you know where. Game-winning TD to Colbert was a jump ball, but Delhomme's guys always seem to come down with those.
6.9

8. Tom Brady
15/30, 172 yards
0 TDs, 0 INTs
According to my ratings, Brady -- not McNabb, not Culpepper -- has been the No. 2 QB this year if you look at value per play. Dillon lets him throw less often than before.
5.8
9. Drew Bledsoe
25/37, 275 yards
1 TD, 3 INTs
Buffalo is reportedly petitioning league to move to NFC West.
5.2
10. Steve McNair
25/34, 227 yards
3 TDs, 1 INT
Was really humming through three quarters, but two fourth-quarter turnovers cost him this game.
5.0
11. Quincy Carter
8/12, 133 yards
1 TD, 0 INTs
Santana Moss TD vindicated Jets fans who have been complaining about conservative, predictable offense since Pennington went out.
4.1
12. Ben Roethlisberger
9/20, 131 yards
0 TDs, 0 INTs
Sacked as many times last two games (11) as entire season before that. One sack Sunday knocked Steelers out of field-goal range and led to an absurd SEVEN-yard punt.
2.8
13. Daunte Culpepper
19/27, 235 yards
1 TD, 1 INT
Escapes with a win, but Jaguars showed some ways to stop Vikings passing game: 1) Moss is clearly still hobbling and you don't have to cover him long like usual; 2) watch out for bootleg right followed by short pass to Onterrio Smith, which Vikings ran roughly 300 times.
2.5
14. Vinny Testaverde
9/14, 92 yards
1 TD, 1 INT
I know Henson was awful but does Tuna really think he's making a playoff run?
1.5
15. Michael Vick
16/29, 212 yards
2 TDs, 1 INT
69 rush
Yes, he led the comeback, and the winning TD pass to Alge Crumpler was super sweet. But only two QBs this season, Ken Dorsey and Josh McCown, had fewer net passing yards against the Saints.
1.3
16. Mike McMahon
11/15, 77 yards
0 TDs, 1 INT
I do believe this game is listed in the dictionary under "showing up."
1.1
17. Kerry Collins
26/45, 339 yards
4 TDs, 2 INTs
A lot of TDs, a lot of yards, but also a lot of incompletions because he just kept throwing and throwing. Have you ever seen a team playing in snow run less?
0.9
18. Carson Palmer
22/29, 251 yards
4 TDs, 3 INTs
3 picks do a lot to cancel four TD passes, especially given how Palmer depended on Rudi Johnson to get in TD position.
0.9
19. Trent Green
21/34, 208 yards
0 TDs, 1 INT
Thanks, Trent, for messing up my fantasy week.
0.7

20. Joey Harrington
14/23, 156 yards
0 TDs, 0 INTs
You've gotta roll sevens against the Colts, not threes. 0-for-4 in the red zone just won't cut it.
-0.1
21. Jake Plummer
14/23, 245 yards
1 TD, 1 INT
I kept waiting all night on Sunday for Theismann to refer to him as "the little girl with the curls" again.
-0.5

22. Byron Leftwich
19/34, 235 yards
1 TD, 0 INTs
Troy Brown, who practices with his fellow Marshall alum in the offseason, once said Leftwich is the hardest throwing quarterback he's ever seen. After watching those first few passes Sunday, who would doubt him? Threw so hard that his own receivers couldn't catch them.
-0.6

23. Craig Krenzel
5/10, 46 yards
0 TDs, 0 INTs
Injured ankle probably solidifies his title as 2004's least valuable quarterback. Total
-37.9 DPAR for season is far below second-worst QB, Jay Fiedler at -23.3 DPAR.
-0.8
24. Matt Hasselbeck
19/38, 185 yards
1 TD, 1 INT
He's been much worse on third downs this season (39% conversions, 5 INT) than last season (47% conversions, 2 INT). Engram's injury is partly to blame -- that guy was a third-down machine last year.
-1.2
25. Tim Rattay
23/28, 181 yards
0 TDs, 0 INTs
Three weeks ago, was only bright spot on 49ers team going nowhere. Now there are no bright spots.
-1.3
26. Josh McCown
5/10, 62 yards
0 TDs, 2 INTs
This week's quiz: Josh McCown next year will be a) holding clipboard for Drew Brees, b) placeholder for Aaron Rodgers, c) leading 7-9 Cardinals to NFC West title.
-1.5

27. Patrick Ramsey
19/34, 138 yards
1 TD, 1 INT
Much of this can be blamed on the receivers. Laveranues Coles spent more effort trying to talk officials into calling pass interference than trying to catch passes.
-1.5
28. Shaun King
14/26, 119 yards
0 TDs, 1 INT
Yep, it turns out he's not the answer either.
-1.6
29. Aaron Brooks
19/34, 189 yards
1 TD, 2 INTs
Major slump here. Five of his last six games have been below replacement level.
-1.6
30. Drew Henson
4/12, 31 yards
0 TDs, 1 INT
E-5
-4.5
31. A.J. Feeley
17/33, 159 yards
2 TDs, 1 INT
Fewest passing yards against SF defense. His two TD drives started at SF 34 and SF 21.
-5.1
32. Kyle Boller
15/35, 93 yards
0 TDs, 1 INT
Snow or no snow, if you average less than five feet per pass attempt, you will go down and go down hard.
-7.2
33. Eli Manning
6/21, 148 yards
0 TDs, 2 INTs
He's in the Xmas spirit, combining hideous red alternate jersey with an awfully green performance.
-10.6
34. Jonathan Quinn
10/21, 86 yards
0 TDs, 2 INTs
"Do you hear that? That's JEFF GEORGE'S MUSIC!!!" (apologies to Jim Ross and Bill Simmons)
-14.3
How DPAR (Defense-adjusted Points Above Replacement) works

The success of each play is judged based on yardage gained towards both a touchdown and a first down. Then each play gets compared to the NFL average on similar plays, based on down, distance, and other variables. Quarterbacks are judged not based on how many yards they get, but on how important those yards are in the context of the game.
Ratings are also adjusted for the quality of the opposing defense. The quarterback's performance is then translated into an approximate number of actual points that such success (or failure) is worth when compared to a "replacement level" quarterback (defined as any quarterback named "Billy Joe").
When all offensive, defensive, and special teams plays are added together for one team, the result comes very close to the actual difference between points scored and allowed.
Among the advantages of this system:
1. Gives value for first downs, which are not really included in any other QB rating system but are hugely important.
2. Does not punish quarterbacks who are always in bad field position because of a poor defense, nor does it punish quarterbacks who are always stuck in third-and-long because of a poor running game.
3. With enough data to begin including defensive adjustment, quarterbacks receive bonuses when they play well against good defenses, and they don't get rated as world-beaters when they shred the 49ers
4. Includes both passing and rushing plays, which obviously helps a QB like Michael Vick.
5. DPAR punishes quarterbacks for turnovers but also for fumbles that his own team recovers. Different kind of fumbles have different penalties depending on how often defense recovers for a turnover. Sacks are punished as well.
6. 5-yard scramble on 3rd-and-10? Worthless!
7. Actual points! Easy to understand!
An even longer explanation of these numbers can be found here.
Aaron Schatz is editor-in-chief of FootballOutsiders.com.