Page 2 staff
'TWAS THE NIGHT BEFORE THE PLAYOFFS
'Twas the night before the playoffs, before the opening kick
not a QB was scrambling, not even Mike Vick.
The playbooks were hung by the lockers with care,
in hopes that the Lombardi Trophy soon would be there.
They took to the field with smoke machines and yelling
The QB finally new that his team was gelling.
As halftime drew near, they prepared for the junction
While all Tags thought about was a wardrobe malfunction.
With their headseted-coach, so lively and quick,
Everyone outside of Boston hopes it ain't Belichick.
More rapid than blitzes, the fans grew insane,
they whistled and shouted and called them by name:
"Now Manning! Now Favre!
Now, Brady and Bledsoe!
On, Donovan! On, Chad!
On, Big Ben and Plummer!
To the top of the scoreboard!
To the top of them all
Now bombs away! Bombs away!
Bombs away all!"
When the clock hit zero, the QB knew he was done,
it was finally time to have him some fun!
The confetti it fell, boy it felt great
"Get my agent on the phone! It's time to renegotiate!"
He sprang to the podium, to his team gave a shout,
And to him they all flew -- that's what I'm talkin' 'bout!
And I heard him exclaim, with the title banner unfurled
"What am I doing now? I'm going to Disney World!"
---
First down:
Dear Santa:
All I want for Christmas is Dan Marino off my back. I mean, it seems like I hear about that guy every time I turn around. I can't tell you how many times I've told people that I haven't been thinking about that silly single-season touchdown record of his. I've said it and said it and said it, even if I don't believe it myself. (I mean, isn't that what I'm supposed to say?) And now, people are talking that I'm going to be just like him because he didn't win a Super Bowl, either. Can you just make that guy go away? I wish I'd never heard his name!
-- Your pal, Peyton
Santa knows someone that won't be handing out Isotoners this season.
Alan Grant: Dear Peyton,
In terms of dealing with Mr. Marino, I'm afraid, that just for reference, I must defer to a higher power during the holiday season -- Frank Capra. You'll recall that in "It's a Wonderful Life," George Bailey felt about Mr. Potter pretty much the way you feel about Mr. Marino. But you'll recall that in the movie, once George discovered that everyone and everything has a purpose in his life, it became easier for him to appreciate his world in its entirety. And from that discovery he found peace. Perhaps the same applies to you.
Ever thought that Marino plays a specific role in your life? In some ways, he's you 21 years ago. He was a can't-miss pure passer who had the good fortune to be drafted by a team whose priorities lay on the offensive side of the ball. Yeah, he never won a Super Bowl, and that happens. But Marino played in the time before the salary cap and was thus limited in his opportunities for generosity. He set the standard for giving with those damn Isotoner gloves that he shared with is fictional teammates. That was nice.
But you, Peyton, have the chance to share something more significant. You live in an era when athletes can alter their contracts in order to clear room for teammates to make loot. This is what allowed the franchise to pay Marvin Harrison 66 large. This shall ensure Harrison will be around for several more years. And I'm sure this makes him more than a teammate. It makes him a friend. Yes, it's true. You and your comrades might not ever win a Super Bowl, but thanks to Mr. Marino and his original act of kindness, youre in position to make actual friends. And know what the angel Clarence told George about a man who has friends.
Jeff Merron: Dear Peyton,
You and Dan are in a League of Extraordinary Gentlemen: from the northernmost dish on the planet, I've been able to pull both of you in week after week after week. (You should see what else I get! Seems that many people have strange fantasies about me and Mrs. Claus.)
You both profess the greatest respect for the other (verdict: sincere). Dan is ribbed mercilessly about the record on HBO's "Inside the NFL" and has handled it with great aplomb. So I cannot grant your wish, to have Dan begone. I've heard and read much about rings. The pleading! The whining! All over slabs of imagination-numbing rocks and metal! Do not be like that -- do not ask me, do not plead, do not whine -- and I will promise, you'll be the better for it.
Sincerely,
Santa.
Patrick Hruby: Dear Peyton,
Ho ho ho ... [hacking, wheezing cough] ... er, sorry I couldn't get back to you sooner. I've been struggling with obesity-induced sleep apnea. Ask your offensive line to explain. Anyway, since you've been very nice this year -- Santa always bets the over -- I've decided to grant your wish. Marino is already out of the Dolphins front office, and St. Nick will make sure CBS replaces him with Joe Montana. On second thought, make that anyone but Joe Montana. In the meantime, enjoy that touchdown record and the Isotoner gloves I left in your stocking. Ho ho ho!
P.S. -- Can't help you with that Super Bowl thing. Santa wants no part of it. He already granted Justin Timberlake belated wish during halftime of January's game. Now the FCC is breathing down St. Nick's jolly neck. Apparently, the word "ho" is considered obscene.
Aaron Schatz: Dear Peyton,
In your stocking this year you'll find a nice new pair of Isotoner gloves and an autographed photo of Sid Luckman. Merry Christmas!
Skip Bayless: Dear Peyton,
You're lucky if you get anything from me. You've had maybe the greatest year a quarterback has ever had, but I find you a little pompous and condescending -- a little like Phil Mickelson, in that you turn on your smile and charm for the cameras. It was no surprise to me when Reggie Wayne shoved you during a sideline "discussion."
Yes, you did the right thing Sunday night by kneeling out the clock instead of throwing for the Marino-tying touchdown from Baltimore's 5 yard line with a minute left. But I glimpsed the real you midway through the fourth quarter, when you wanted to go for it on fourth and 1 at the Baltimore 15 with a 20-10 lead. The camera caught you saying a naughty word. Shame on you, Peyton. You know kicking the field goal was absolutely the right thing to do. You just wanted a crack at tying the record, even if you put winning in jeopardy.
So you can live with hearing Marino-Marino-Marino for another week. Your defense is starting to jell around Dwight Freeney's pass rushing, so you'll have a better chance at winning a Super Bowl than Marino did. In fact, I'm going to give your presents to someone who needs them more.
Eric Neel: Dear Peyton,
You're mistaking me for the sweet, smiling guy with a kid in his lap at the mall. You're mistaking me for someone who cares. I'm not that Santa. I'm the hardass Santa, the one from the 1964 "Rudolph the Red-Nosed Reindeer" TV special, the lean, mean, fighting machine who runs the North Pole the way Lou Gossett runs officer's candidate school. There are no free passes in my world, P. You don't get to avoid the giants of the past; you have to rise up to join them. You have to show me you're worthy to be in their company, you know what I'm saying? So you throw a nice ball, so you've racked up a few touchdowns. So what? Until you take Danny down, you're just a footnote. So take him down already. And maybe then we'll talk about a sleigh ride to Jacksonville.
---
AUDIBLES FROM OUR QBS

Patrick
Hruby

Alan
Grant

Jeff
Merron

Skip
Bayless
Chad Pennington, Man or Myth?
Man
Man
Are you kidding me, Man?
Man*
Describe Kerry Collins in four words or less:
West Coast Drew Bledsoe
Big arm. Little results.
12-step Pocket Man
Very hot, very cold.
Best cold-weather QB not named Brett Favre or Tom Brady?
Bart Starr
John Elway
Bart Starr
After Sunday, Leftwich
Steve McNair: To retire, or not to retire. That is the question:
Retire now? One plastic hip. Later? Two plastic hips.
Get paid as long as possible.
Mr. Volek's time has come.
Won't and shouldn't.
Matt Hasselbeck vs. the Shark: Who jumps whom?
Hasselbeck elects to receive the Shark. And he's gonna score!
Shark wins.
Hasselbeck jumped.
Should jump receivers for drops.
Jake Delhomme or Trent Green?
Green with KC's o-line; Delhomme without.
Delhomme
Trent.
Delhomme.
Biggest lump of QB coal this Christmas goes to ...
Jake Plummer. Even though he'll toss it to a defensive lineman.
BCS/Donald Rumsfeld/Notre Dame
Dave Wannstedt.
To the NFC West, which should be home for Christmas.
My happiest QB holiday wishes go to ...
The 49ers. 'Tis the season for charity. Leave some extra draft cookies for Santa.
Ricky Williams
Kurt Warner
To the Bills, who'll just miss the AFC playoffs but could win the NFC.
(* vs. Seattle)
---
Second down:
Dear Santa:
All I want for Christmas is a healthy Terrell in January. Listen, I've been in a few Januaries before without him; and believe me, I don't want to go there again. Please, please, please, Mr. Kringle: Make his ankle better in time for the playoffs. If it isn't healed, I just don't know what we're going to do. If it's too much to ask for you to fix his ankle, do you think there's a way you could get us into the Super Bowl without him?
-- Sincerely, Donovan
Alan Grant: Dear Donovan,
Ah, now you know I feel about you, young man. For the past five years I've read, with great warmth and joy, each of your carefully written letters to me. I felt it when you thanked me for your athletic ability and your sense of humor, and your loving family. So when you asked me for a dependable wideout-one not only blessed with skills but unprecedented charisma, I sent you T.O. Well, I must confess that Brian Billick asked for the same thing, but he needs to be taken down a notch. So T.O. ended up in Philly instead of Baltimore. But I digress.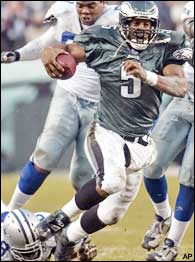 T.O. with your ankle wrapped tight ... won't you guide my team tonight?
As for Terell's ankle, it's a pretty bad sprain. You probably know that these things can take up to a month to heal. And even then, for a man who runs and cuts with the ferocity that T.O. does, there's great chance he could re injure it at any time. But December is a time for Christmas miracles. And January is a time for cortisone. And vicodin. And novacaine. And ...
Jeff Merron: Dear Donovan,
The other side has already taken its pound of flesh (pun not intended), with the Chunky Curse. I'm no fan of TV commercials, but thanks to Wilma, many kids now write to me. And my dear husband tells me they now seem to understand the complex psychodynamics of the mother-child relationship. You can't believe how much this eases Mr. Claus's burden ... and makes the dark days of the 1950s and 1960s seem ever so more distant. (Oedipus this, Oedipus that, I have no control over my bad fantasies, to no end & Santa was stressed, and there's only so much a good wife can do.)
For that reason -- and the Januarys of suffering Wilma has endured -- wish granted. You will be on the AllTel Stadium field on Feb. 6. As for Mr. Owens' fate, client confidentiality forbade my better half from revealing his fate.
Sincerely,
Mrs. Claus
Eric Neel: Dear Donovan,
What, that fourth-and-twenty-six I cooked up for you last year wasn't enough?
You want more?
All right, I'll give you a little bit more.
I'll give you this: Terrell, good as he is, is not the key; Brian Westbrook is the key.
Put a bow on Brian, match him up with linebackers over the middle and on the short outs, and enjoy the holidays.
Patrick Hruby: Dear Donovan,
Ouch. Santa feels your pain. Rudolph suffered a similar hoof injury last December. Long story short, delivering presents is no picnic when your sleigh visibility rivals that of the Paris Hilton sex tape. As a chunky man, I feel a kinship to Chunky Soup, and thus have decided to grant your wish. However, Santa is toy-distributing Coca-Cola pitchman, not a doctor, so the best I can do is 50 ccs of cortisone. Stick the needle in Terrell's ankle and press down. It worked for Rudolph. Also, here's a copy of ESPN NFL Football, a better and cheaper alternative to boring 'ol Madden (Santa likes T.O.'s commercials; he also knows a $19.99 steal when he sees one). If the cortisone doesn't help, both you and Terrell will need something to do in January.
Aaron Schatz: Dear Donovan,
You know I got a similar letter from a Daunte in Minneapolis, only he was asking me to heal Randy Moss' hamstring. I'm sorry, but all my player-fixing abilities are going to Robert Ferguson this year. Then I'm going to drop a lump of coal the size of a Buick right through the roof of Donavan Darius' house for being a naughty boy.
Skip Bayless: Dear Donovan,
I'm going to give you an even bigger gift than Owens. I'm going to give you a healthy Brian Westbrook throughout the playoffs. You need to calm down and realize that Westbrook is a little more valuable catalyst than your buddy T.O. You didn't have Westbrook last postseason, either. Admit it: You missed him dearly.
And frankly, I'm a little surprised you're asking me for anything. Your Christmas has come early and often this season. Every NFC contender is too flawed or beat up to threaten you. You're in the Super Bowl, Donovan! Merry Christmas!
---
Third down:
Dear Santa:
All I want for Christmas is what Big Ben has. I watched him on Saturday. He gets to play behind a big ol' offensive line and has a bruising running game and a bunch of breakaway receivers. Plus, his defense makes mine look like . . . well, I'm trying to be a good teammate so I won't say out loud what I'm thinking inside. Does it seem fair to you that he has all that and I don't? I've tried to be good. I really have!
-- Love, Eli
Alan Grant: Dear Eli,
You should play cornerback because you have a short memory. You don't remember asking me to make you the first pick in the draft? Then asking that you not have to be subjected to Marty Ball in San Diego? Phillip Rivers asked me for the same thing, but he only asked half-heartedly because he already has a beautiful wife and daughter. So instead I gave you what you asked for.
I'm not about fairness, young man. I'm all about sincerity. And I think you are sincere. And you're patient. Come on, you've always had to be more patient while toiling in your big brothers shadow. And with the size of that cranium ( if I recall, his college teammates nick named him "Tweety Bird" because his head was so big) we're talking about a pretty formidable silhouette. So I'll tell you to just do what you've been doing-wait your turn. And while you're waiting, make your skin is as thick as an alligator's hide. This is something one of your predecessors, Tim Couch-another number one pick, never mastered. See, he let the fans in Cleveland get to him. Even publicly questioned why they booed him. That level of softness would never cut it in the Apple. This is part of the reason he's not playing this Christmas.
Jeff Merron: Dear Eli,
You snookered me last year -- Santa doesn't take kindly to letters ghost-written by agents, but by the time I figured it out the wheels were in motion and your Big Wish was granted. That's a five-year wish. Forsake greed. Be your own man. Arrive at least 15 minutes early.
And I don't say this much, but behold my power, even in the warm climes of San Diego, to grant wishes to those who really behave.
You have much to think about, and a long time to think. Use it wisely.
Regrets,
Santa
Patrick Hruby: Dear Eli,
Ha ha ha! Coal for you! Santa isn't interested in your whining! Roly-poly St. Nick was ready, willing and able to put you in sunny San Diego. You wanted smell, dirty, overpriced New York. Santa relented and made it happen. Now you're not happy? Too bad! Santa reads the New York papers, exclusively. He knows the score. Tom Coughlin's no-nonsense attitude is just what the lackadaisical Giants need. Jeremy Shockey is the most intriguing player in today's NFL. The Giants were a clear and indisputable playoff lock until you entered the picture. So quit crying and start producing. It takes a special breed of athlete to thrive in New York City, home to the smartest, most demanding sports fans on the face of the planet. Those rubes in irrelevant, podunk towns like Chicago and Dallas just wouldn't understand. Get with the program!
P.S. -- The Knicks are one trade away from a title, right?
Eric Neel: Dear Eli,
I like you, I really do, and it hurts me to see you getting beat up on week after week. I pity you playing for Major Tom, and my guess is you'll be a fine NFL quarterback one day. But at this point, I gotta tell you, I couldn't even get you what Phillip Rivers has (a clipboard and a good seat), let alone what Big Ben has.
Aaron Schatz: Dear Eli,
I already granted you what you asked for last Christmas. Too bad, the weather is beautiful in San Diego this time of year.
Skip Bayless: Dear Eli,

Count your blessings, young man. You're in New York. Ben's in Pittsburgh. You have more athletic ability than he does. You throw a better deep ball. You're much better at getting rid of the ball quickly and avoiding sacks.
Sure, he was like a 16-year-old being given a Porsche for Christmas. But Ben was mature enough to never exceed the speed limit or try any daredevil stunts. He knew he was at the wheel of a very good team, and he stayed in his lane. His team eventually ran over yours on Saturday, but you showed flashes of greatness. You, Eli, have the better long-term future.
---
WEEK 15 RANKINGS:
By Aaron Schatz, footballoutsiders.com
Click here for Aaron's complete rankings for all the QBs.
The QB rankings now include adjustments for the quality of defense faced. (DPAR = Defense-adjusted Points Above Replacement that each QB was responsible for.)
WEEK 15: TOP THREE QUARTERBACKS
Quarterback
Skinny
DPAR
1. Chad Pennington
18/24, 253 yards
3 TDs, 0 INTd
Since it began the season in spectacular fashion, quickly collapsed, and has now redefined pathetic, I hereby nickname Seattle's D the "XFL Defense."
17.0
2. Kerry Collins
21/37, 371 yards
5 TDs, 1 INT
Despite injuries and free-agent defections, Tennessee's D was playing reasonably well against the pass until it imploded three weeks ago.
14.1
3. Daunte Culpepper
25/35, 404 yards
3 TDs, 1 INT
I think Randy's hammy feels better now. 8-for-10 on third down with 234 yards and 3 TDs.
12.5
WEEK 15: BOTTOM THREE QUARTERBACKS
Quarterback
Skinny
DPAR
29. Chris Chandler
1/6, 1 yard
0 TDs, 1 INT
Mike Martz pinned the blame for Sunday's loss on Chandler, continuing his disturbing habit of taking absolutely no responsibility for anything that goes wrong with the Rams. "It's tragic for this football team, for that position to hold this whole football team hostage," said Martz. Gee, Mike, who makes roster decisions like naming a backup quarterback?
-7.0
30. Luke McCown
11/27, 108 yards
0 TDs, 1 INT
The Browns could have played 40 quarters on Sunday and he was never going to get them into the end zone.
-7.6
31. Chad Hutchinson
17/34, 168 yards
0 TDs, 1 INT
Followed up promising first appearance with total loss of accuracy -- just like his St. Louis minor-league days.
-10.8
---
Fourth down:
Dear Santa:
All I want for Christmas is that thing Aretha used to sing about. I mean, my team is 11-3 and all, and we just clinched the AFC West. But man oh man, Santa: My coach only let me throw six passes on Sunday! Sure, it was snowing in Cleveland, but isn't that supposed to give the passing game an advantage? This coach ... his name is Marty. I think you know him because he was apparently on your naughty list a few seasons in the past. (At least, that's what he thinks, based on those AFC championship games). I'm not even sure he wants me back next year; and if I only get to throw six passes, how am I going to impress any other teams? So what I'm asking you to bring me on Saturday morning, Santa, is a little R-E-S-P-E-C-T. Can do?
-- Best regards, Drew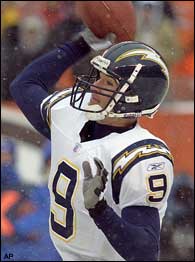 Hey, Santa ... could you throw in one of those Sharper Image nose-hair trimmers?
Eric Neel: Dear Drew,
You're going to get respect. You're getting more than you know right now, and you'll get still more in the weeks to come. The gritty, gutty, though ultimately losing, performance you're going to put on in the AFC title game is going to bring respect.
The ticket to Hawaii and the Pro Bowl you've got coming comes with a bunch of respect, too. And the NFL MVP trophy you're going to hoist in the offseason will be laden with respect.
But in the end, I don't think it's respect you want. I think it's a steady job you want. And I know it's a steady job you deserve. And I tell you what: If Marty doesn't want to give it to you, I'm pretty sure there's a crazy, slick-backed owner in Oaktown who's gonna be ready to give you respect, a big fat payday, extra fries and a jumbo drink.
But don't let him turn your head. Tell him you want all that, and a running back, too. Tell him you're Drew Brees, dammit.
Alan Grant: Dear Drew,
Well, at the risk of coming off like a certain Wizard who does business in the land of Oz, respect is merely a state of mind, young man. Respect is what you have for yourself-as an athlete, and as a man. And when you have it, others take notice and follow your lead. But as respect pertains to your suddenly burgeoning career, you're in excellent shape. Sure, the playoffs are your time to shine and to further impress the front office types for the Dolphins, Niners, Rams, Saints, and Browns. Of course you've already got their attention, so any more success is superfluous. But should you and your team falter during the playoffs, just refer to this past game. See, if there comes a time when the stat sheet reads just six attempts, the front office types won't hold that against you. They know who calls the plays.
Jeff Merron: Dear Drew,
I'll ignore this letter; it seems out of character. Perhaps you have strayed due to late-season fatigue. I will remind you: you better think-Think! about the T-E-A-M. Think-Think! about J-A-N-U-A-R-Y.
Write again in February. Like the IRS, Santa grants extensions.
Fondly,
Santa
Patrick Hruby: Dear Drew,
Sometimes Santa feels disrespected too. Imagine if Billy Bob Thorton played you in a movie. So even though His Clausness thinks you're being a bit ungrateful -- Antonio Gates makes a nice stocking stuffer, doesn't he? -- Santa is already on the phone with Dan Snyder, Jerry Jones, the Miami Dolphins and the San Francisco 49ers. Santa might not be able to give you respect -- he doesn't trade in intangibles -- he'll make sure you get the next big thing. A nice, fat free agent deal. Charlie Brown, I'll tell you what Christmas is all about: a wad of cash under the palm tree! Ho ho ho!
Aaron Schatz: Dear Drew,
How about I set things up so you play Indianapolis and Kansas City in your final two regular season games? I guarantee you'll get to throw more than six passes.
Skip Bayless: Dear Drew,

You've been a very good boy this year. You worked hard, kept your spirits up and didn't listen to all the people who said you couldn't. You showed class and tenacity. Of all the quarterbacks, you're highest on my list.
So I'm going to leave you the biggest present of all. No, it's not the Super Bowl, but considering your team was the NFL's worst last year, it's pretty special. It will be like the first bicycle I left under your tree when you were a boy, only it will still have training wheels. I'm going to give you a playoff upset and a berth in the AFC title game.
Next year, I might do a little better. Have a very Merry Christmas. You earned it, Drew.
---
Best Throw of The Week:
Alan Grant: Easily that terrific rainbow of a ball Kerry Collins tossed down the pike to Alvis Whitted. On the play, Collins split the safeties and the ball settled into Whitted's hands like an adhesive.
Jeff Merron: Antwaan Randle El's shovel pass across the middle to Verron Haynes for a 10 yard touchdown in the second quarter Saturday. Happened so fast the announcers couldn't even tell if it was a pass or not until they saw the replay.
Patrick Hruby: Daunte Culpepper's 82-yard post pattern bomb to Randy Moss, who outran one ... two ... three ... four Detroit defenders. Sweet play; sweeter still, the Vikings avoided choking away the game (and possibly their season, though there's always next week).
Aaron Schatz: The Culpepper 82-yarder to Moss was super sweet, but I have to go with Eli Manning's 47-yard pass to David Tyree, because Manning really needed that, and Tyree is a really good special teams player who deserves some acclaim in a space like this.
Skip Bayless: Somewhere, over the rainbow, Randy Moss caught a pass that only Daunte Culpepper can throw. It traveled a good 60 yards in the air and dropped softly into Moss' front pocket. He skipped the rest of the way for an 82-yard touchdown.
(Honorable mention: While sitting, Lions holder Nick Harris throwing the ball through the uprights after the botched extra point that would have sent the game into overtime.)
---
Worst Throw of The Week:
Patrick Hruby
: Jon Kitna's backpedaling, across-the-body sidearm wobbler, picked for six by Buffalo's Takeo Spikes. Hmmm. Maybe there's a reason Carson Palmer got the starting nod in the off season.
Aaron Schatz: Brett Favre's throw to Rashean Mathis in the end zone. The problem of course being that Mathis was wearing a Jacksonville uniform. I know Bubba Franks is listed as the intended receiver but Mathis was standing right in front of Franks when the pass was thrown.
Skip Bayless: Favre, rolling right, failing to see Jacksonville cornerback Rasheed Mathis standing between Favre and his end-zone target midway through the third quarter. Mathis soon intercepted Favre again on what might have been Sunday's second-worst throw. Those were the two biggest reasons Jacksonville escaped with a 28-25 win at Lambeau.