Page 2 staff
The Broncos' leading rusher on Sunday? Garrison Hearst, 13 yards. And they won.
The Texans' leading rusher on Sunday? Jonathon Wells, 37 yards. They won, too. How 'bout the Eagles? Brian Westbrook, 44 yards in their dance past Detroit.
Ahman Green? 67 yards. Edge James? 62. See?
That's
what we're talkin' 'bout.
That's
why we're talkin' 'bout quarterbacks here. How 'bout this? Peyton Manning, Daunte Culpepper, Marc Bulger, Brett Favre, Donovan McNabb, Aaron Brooks and Carson Palmer -- all with over 300 passing yards on Sunday. That's why this thing is called Snap Judgment, and not Run Into the Middle of the Line Judgment. Each week, our team of field generals gathers to dissect the play of NFL passers. We'll talk about the best and worst throws of the week ... and plenty of passes that fall somewhere in between. Our quarterbacks include Page 2's Eric Neel, Jeff Merron and Patrick Hruby, ESPN.com's Michael Smith, Cold Pizza's Skip Bayless and ESPN The Magazine's David Fleming and Alan Grant. We start this week with some quick reads from our QBs:
AUDIBLES FROM OUR QBS

Eric
Neel

Patrick
Hruby

David
Fleming

Alan
Grant
Man or Myth:
Aaron Brooks
Not A man. THE man.
Man until Halloween; myth shortly thereafter
The only MAN Mike Vick looks up to
Man
I cringe when I see him scramble
Steve McNair. I fear for him, from ankle to sternum
Drew Bledsoe. Something terrible, like a kidney laceration, is about to happen
Daunte Culpepper, because I cringe for the LBs
Peyton Manning
Worst backup QB in the league
Todd Boumann
Ken Dorsey
Gus Frerotte
Any Niners' QB
Now for Jake Pummer's next trick . . .
Keeping Jon Gruden down and out
Hoops-style behind-the-back wraparound screen, picked for 6 the other way
An autobiography: Plummer's Crack
Consistency
One word to describe Josh McCown
In the words of Mike Tyson, "Bolivian."
McBenched
Mc-I'm-Gonna-Get-Denny-Green-Run-Outta-Town
Hungry
Who throws the best screen pass in the league?
Peyton Manning
Oooh, sexy question. Next!
Brett Favre
Anyone throwing to Marshall Faulk
My made-up nickname for Brett Favre is . . .
Blood 'n Guts
"Mach 0" for the number of blades apparently in his razor
Bono of Green Bay
White-man-who-is-truly-worthy-of-his-hype
What CAN'T Donovan McNabb do?
Now? Now he can't exceed expectations
Make me want to eat something called "chunky" soup
Let go of his dream of a New Edition reunion. Honest.
Win the Heisman
First down: Based on what you saw from Ben Roethlisberger on Sunday against Miami, is he the next Terry Bradshaw or the next Mike Tomczak?
Eric Neel:
They'll be lucky if he's the next Neil O'Donnell.
Skip Bayless:
I don't believe I'm all wet to say that what Roethlisberger did in his first start, against a veteran quarterback-eating defense in a monsoon in Miami, was impressive. Dave Wannstedt, hanging on for dear life as Dolphins coach, obviously wanted to play the game in nearly unplayable conditions because that gave what's left of his team an advantage against this kid. Roethlisberger's first pass was picked off, but he refused to let the undertow take him completely out to sea. He and his offense committed no more turnovers and he finished off the Dolphins with a seven-yard TD pass midway through the fourth quarter. Predictably, his numbers weren't great -- 12 of 22 for 163 yards. But they were better than A.J. Feeley's (13 of 27 for 137 with two interceptions), and under the circumstances, Roethlisberg's stats were mature and efficient. He didn't try to be a hero. You still can't be sure how he can perform in optimum conditions, but you know he can stay out of the mud.
Alan Grant:
Well, I learned that if the two coaches were to have a Tom Selleck look-alike contest, I'd have to give the edge to Dave Wannstedt. But if I have to answer the question, I'd say that he'd be more likely to be Bradshaw. It's yet another case of existential angst, or lack thereof. See, Tomczak backed up Jim Harbaugh in Chicago. That's a really strong personality with which to compete and could have hindered his development. But Roethlisberger has only to overcome Tommy Maddox. Sure, it's a reach. But think about it.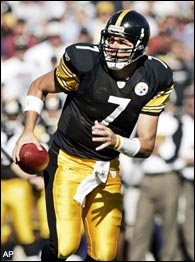 Ben Roethlisberger held his own against Miami Sunday night.
David Fleming: Didn't see this game. Didn't need to. Besides playing for the single greatest university in the history of the world (oh yeah, and my alma mater), Miami of Ohio, many of the scouts and GM's I've spoken to think this kid might have been the best QB in the draft. On top of that, Duce tells me he's cool. That's all I need to know. Ben has a cannon arm, field presence, smarts, escapability and, most importantly, my education. All he needs is experience.
Patrick Hruby:
I'm calling an audible here, right off the bat. Forget Roethlisberger. What is with David Carr's hair? Is he a fan of Sampson? Or just Keanu Reeves in the original "Bill and Ted" flick? Guys, help me out!
Jeff Merron:
He's not the next Tomczak; that's just an unfair label to put on any rookie after his first start. And in a way he already
is
the next Bradshaw -- the first rookie QB to start for Pittsburgh since ... Bradshaw, way back in the day. But do you mean the rookie Terry Bradshaw who completed 38 percent of his passes and sported an incredible six TD/24 INT ratio? Or the two-time SB MVP Bradshaw? He certaintly doesn't look like Early Bradshaw; he was solid coming off the bench last week and solid starting in Miami's muck and mud last night. He kept cool through all the changed travel plans and the game's rescheduling. He outdueled A.J. Feeley (hey, you have to say something). He only got picked once, didn't fumble (better than the sophs), and -- oh yeah, he led the Steelers to an away victory. So I'll go out on a limb and say ... Pittsburgh's in pretty good hands with this young'un.
Second down:
Four of the five first-rounders from the 2003 draft (Carson Palmer, Byron Leftwich, Kyle Boller and Rex Grossman) started this weekend. For these purposes, we're leaving Patrick Ramsey out of it because we'll get to him in our Monday night question (read on). Right now, which one would you start a team around, and why?
Alan Grant:
Byron Leftwich is my guy. I'm a sucker for cats who know who they are and who never get ruffled when the weight of the world (or at least the weight of a franchise) is placed upon their shoulders. Besides that, Leftwich is that rare Generation-Xer who has big love for the game -- witness the historic game against Akron. Yeah, I know it was in college, but a broken freakin' leg is a broken freakin' leg. On top of that, in two straight road games -- against Buffalo and Tennessee -- Leftwich's team has won.
David Fleming:
The last time I was in Jacksonville, Byron and I were chatting in a hallway inside the stadium. As usual, he was self-deprecating, analytical, down-to-earth and funny as hell. But in the middle of our chat, he excused himself to say hello to a group of low-level stadium workers. High-fives. Hugs. A sincere greeting. And I just thought, beyond all his physical gifts, you can't fake what this guy has: chemistry, confidence, charisma, something that all great leaders have, that intangible element that makes everyone around them -- even the guys laying concrete in the stadium -- better. Later, I talked to offensive coordinator Bill Musgrave, who said Leftwich is the kind of dynamic player who can continue a play beyond where the coach's chalk ends. That says it all, I think. He also compared Leftwich to John Elway (whom Musgrave backed up in the mid 1990s) in the way that he instantaneously absorbs
everything
on the football field. Meaning he can come off the field after a broken play and go, "Yeah the backside corner sat on Jimmy's route, the left tackle did an exit stunt, the safety was playing too deep and the fans in section 24B are still waiting for their beer."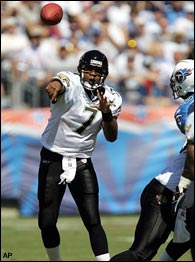 Byron Leftwich has led the Jags to a great start this season.
Skip Bayless: If this question is asked again later this season, odds are I'll take Carson Palmer. But being a prisoner of the moment, I was disappointed in the step backward Palmer took Sunday. Yes, the Ravens defense will do that to a young QB. And yes, Palmer did throw for 316 yards. But this was in Cincinnati against a division rival, and the Bengals ultimately couldn't overcome Palmer's three interceptions. Two of them found Baltimore safety Ed Reed as if he was the intended receiver. That's why, today, I'll build my team around Byron Leftwich. Not only do I love his slingshot arm; but very quietly, he keeps making the key throws that have made Jackonville 3-0. Only one of his Sunday stats leaped out at you: zero interceptions against the Titans in Nashville. Leftwich completed a couple of crucial throws on the winning TD drive, then passed for the two-point conversion. He is making the plays that must be made. I can build on that.
Jeff Merron:
An offensive team? How about if we just fly Peyton Manning around the country each Sunday to play a quarter here, a quarter there ... just a first quarter. Then bring in the sophs while we snooze through the second and third quarters ... But seriously, folks, I'd go with Leftwich, although I also think that Boller will excel when he gets in sync with some good, experienced receivers. Why Leftwich? Well, he's already got a solid rookie season under his belt, leading the Jags to a 3-0 start, and fewer mistakes than Boller and Palmer. I think -- it's just a guess -- that if Jacksonville ever needs to score three TDs in a game, then Leftwich can do that. It's hard to get excited about the Jags' three-game, 35-point attack. Or Boller's 415 passing yards in three games. Long term, I like the guy who's been an absolute disaster. Palmer, who made some unfortunate perfect connections Sunday with Ravens DB Ed Reed, eventually will be capable of leading a high-octane offense two or three years down the road. It's perfect timing: The Bengals are one of the youngest teams in the league and have more talent than they've shown the first three weeks. But Palmer should be on the sidelines this season; dropping the clipboard doesn't cost and there's almost no chance he'll throw it to the guys wearing different colors.
Patrick Hruby:
Give me Leftwich. Palmer might be the best overall talent, and Grossman has played better than expected. (As for Boller? Well, he reportedly did manage to date Tara Reid -- which means his decision making is suspect on and
off
the field). Still, Leftwich just seems to have a knack for producing when it matters. In Week One, he threw a touchdown pass with no time remaining to beat Buffalo; yesterday, he led the Jags on a 59-yard game-winning drive, rifling a deep out to Jimmy Smith on third-and-nine, then finding Smith near the end zone for a pass interference call with less than a minute left. Of course, Leftwich's moxie hardly comes as a surprise. He played out the last month of his final season at Marshall with a broken leg -- at one point, Leftwich's lineman had to carry him downfield -- risking further injury and probably hurting his draft position. But Leftwich didn't care, more concerned with his teammates than his future salary slot. That's the sort of attitude that inspires backs to run a little harder, tackles to hold their blocks a little longer, receivers to concentrate that much more. And it's part of the reason Jacksonville is a surprising 3-0.
Eric Neel:
Give me Leftwich. He's the strongest of the three, and he's winning games that count. That win yesterday in Nashville is big. He faced tremendous pressure -- from the Titan front four, from the crowd, and from the stakes of a rivalry game. And he came out with a W. Not a flashy performance, but only Peyton manages one of those against the Titans, and that late pass to Smith on the out pattern was a promise of things to come.
WEEK 3 RANKINGS: PEYTON'S PLACE
Once again, we turn to Aaron Schatz of
footballoutsiders.com
to rank the week's QB performances. The ratings are determined by comparing each play involving the quarterback to the NFL average on similar plays, based on down, distance and other variables. The quarterback's performance is then translated into an approximate number of actual points that his success (or failure) is worth when compared to a "replacement level" quarterback. This score is known as PAR -- Points Above Replacement. For the second week in a row, Peyton Manning leads the way. That's not surprising, considering his 5-TD performance. You may be surprised that Michael Vick is near the bottom -- and, yes, that's including his rushing efforts. He had a terrible game otherwise.
Click here for Aaron's complete ranking and comments for all the QBs.
WEEK 3: TOP THREE QUARTERBACKS
Quarterback
Skinny
PAR
1. Peyton Manning
28/41, 393 yards
5 TDs, 0 INT
How good was Manning? His first-quarter score would have ranked as the second-best game of the year behind Donovan McNabb in Week 1. His final score ranks as the best game by any QB since my PAR numbers began in 2000.
23.5
2. Brett Favre
30/44, 358 yards
4 TDs, 0 INT
Grizzled veteran matches young stud pass for pass; unfortunately, he can only throw it, he can't catch it and protect it from being stripped.
16.7

3. Daunte Culpepper
19/30, 360 yards
2 TDs, 0 INT
On 3rd-and-24, you know it's going to Randy Moss, and you can't stop it anyway.
12.8
WEEK 3: BOTTOM THREE QUARTERBACKS
Quarterback
Skinny
PAR
32. Michael Vick
10/20, 115 yards
0 TD, 1 INT
Yes, his team won. Yes, that last run was so sweet it sent Stuart Scott into a diabetic coma. But the rest of the game he was horrid, and not against a good defense either, with four sacks, two lost fumbles, and an interception.
MINUS 9.2

33. A.J. Feeley
13/27, 137 yards
0 TD, 2 INT
Jacksonville's offense is bad, Tampa Bay's offense is worse, but as reader Brian Walsh suggests, the Dolphins have the worst offense in Florida -- and that includes the 'Canes, 'Noles and Gators.
MINUS 10.6
34. Ken Dorsey
19/32, 153 yards
0 TD, 2 INT
You mean it gets worse than A.J. Feeley? Yes. Dorsey turned the ball over four times without a hurricane to blame for it.
MINUS 10.8
Third down:
OK, you've seen the Chargers play for three weeks now. The preliminary dealing is over. It's time to choose. Do you want what's behind Door No. 1 (Drew Brees)? Door No. 2 (Philip Rivers)? Or Door No. 3 (Doug Flutie)?
David Fleming
Do you really think the Snap Kids who read this column will get the "Lets Make a Deal" reference? That's an old-school game show right there, fellas. Like "Jokers Wild" with that huge stick-shift they used to spin the board? Sweet ... NO WHAMMIES ... wait, where was I ... ? Oh yeah, you gotta go with Philip Rivers. I mean, let's face it, the Chargers season will be a wash by Halloween, why not put the kid in and let him learn on the run. Brees has trouble making NFL-type decisions and throws. God love Flutie, but you let that guy play too much and he'll divide that locker room faster than the San Andreas fault. Besides, most of San Diego's base pass package is designed for straight drops. To see the field, Flutie needs to roll outside the pocket, which screws up all the timing and direction of the routes. Go with Rivers. Ruin him. Then, if you're the Chargers, draft another QB next year and ruin him, too.
Jeff Merron:
The best athlete of the three is behind Door No. 2; and even though he's probably not quite yet ready to be an NFL starter, he's the best option. The Chargers go nowhere with Drew Brees. Flutie's over, but he's a good man to stand beside a rookie between sets. This is a rebuilding year for the Chargers -- a nice way of saying they haven't got a chance. Rivers won't turn the team around this season, and maybe not even next. But at least the Bolts season will be interesting with Rivers behind center. And LaDainian is always a threat.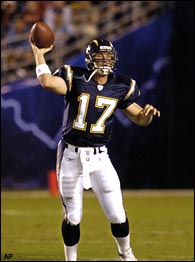 Philip Rivers is clearly the future in San Diego -- why not play him?
Alan Grant: The Chargers weren't competing for a playoff spot when they started camp in August, they aren't competing for one now, and they still won't be in December. For the 2004 Chargers, there is no tomorrow, but there is a next year. Don't wait for next year. Play him now.
Eric Neel:
I start Flutie every game until I think Rivers is ready. If he's ready now, start him, get him some work, sell some tickets and t-shirts. If he's not ready, go with the old man, give him some work, sell some tickets and t-shirts.
Skip Bayless:
The truth is, Eli Manning should be playing every down this season for the Chargers. They won, or lost, the right to draft Manning fair and square, and they should have called the Manning family's bluff and taken him. After all, they always force their first-round picks into ugly holdouts, so why not have Manning missing camp instead of Philip Rivers? Now, why isn't Rivers playing every down? Obviously because Marty Schottenheimer is trying to save his job and because a narrow-minded, too-old-school organization wants to "bring Rivers along slowly" so his confidence isn't destroyed. Please. The confidence this organization should worry about is what's left of the fans' faith. Rivers is a tough kid who will learn quickly from his mistakes. Every down Drew Brees or Doug Flutie play is a moment wasted in the growth of Rivers. He isn't quite Manning, but he's very good. Or will be, if he ever gets to play.
Patrick Hruby:
This is like trying to pick high-end rims for a Ford Festiva: No matter what you choose, you're still driving a jalopy. After all, we're talking about the Chargers, a team with LaDainian Tomlinson and, well, a bunch of guys who were probably really good in college. What difference does the QB make? In fact, forget about high-end
anything
-- you have to wonder about a signal-calling troika that can't get anything done despite seeing a plethora of eight-and- nine-man fronts. Then again, that might be an indictment of the Reche Caldwell-led receiving corps, especially since that David Boston experiment worked out about as well as the David Lee Roth-Van Halen reunion. So, to answer the question: I'll take Door No. 4. Tomlinson. His 38-yard lob to Drew Brees was a nice-looking pass, as far as halfback options go -- tight spiral, soft touch, leading the receiver just so. Plus, there's little doubt LT would make a heck of a scrambler.
---
QUICK HITS FROM WEEK 3
Best Throw of The Week:
Take your pick of the David Carr litter: His mid-range jumper to Jabar Gaffney (one-step drop, lob to the outside corner of the end zone), or his 20-yard strike to Derick Armstrong on third-and-17 to keep the game-tying drive alive. We're partial to the lob.
Runner-up:
Donovan McNabb to Freddie Mitchell, 48 yards for a first down on the 9 midway through the first quarter. A great read of a mismatch.
Second runner-up:
Trent Green's fourth-quarter toss to Jason Dunn on third-and-goal from the 5, in which he pump-faked twice while toeing the line of scrimmage and forced three Texans to bit on the pump.
---
Worst Throw of The Week:
Steve McNair's overthrow of Derrick Mason on a two-point conversion attempt. Mason was alone in the back of the end zone, but McNair -- struggling with a bruised sternum -- missed badly. Seems the Titans' QB isn't totally cybernetic, after all.
I know now why you cry.
Runner-up:
That 911 ball Jeff Garcia threw to Quincy Morgan.
---
Fourth down:
The Monday night game, Dallas at Washington, features coaches who've each taken three different quarterbacks to the Super Bowl. Joe Gibbs, of course, won Big Games with Joe Theismann, Doug Williams and Mark Rypien. Bill Parcells won with Phil Simms and Jeff Hostetler, and made it to the Super Bowl (but lost) with Drew Bledsoe. Let's turn the equation around. Out of THIS game (Vinny Testaverde for the 'Boys, and either Mark Brunell or Patrick Ramsey for the 'Skins), who's likeliest to take his coach to a fourth Super Bowl?
Skip Bayless:
I can't believe I'm saying this, but right now the likeliest QB to take one of these coaches to a fourth Super Bowl is Vinny Testaverde. He can still wing it as well as any second-tier NFL quarterback. He understands and respects that Parcells basically wants to control the clock with ball-control passing and win with his defense. And he has two sly targets who still have enough game left -- Keyshawn Johnson and Terry Glenn. Testaverde's offense will suffer without the occasional pop that rookie back Julius Jones was providing before he got hurt. The human body can take only so many head-on collisions, and Eddie George is down to his last two. But if Testaverde can keep his body out of harm's way -- an 'if' bigger than Parcells' ego -- the Dallas defense could carry his offense a long way.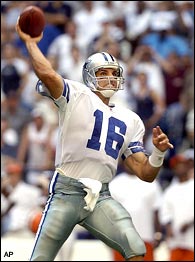 Who thought Testaverde had something left in the tank?
Patrick Hruby: Brunell is old, Testaverde carbon-dated, and neither the Redskins nor the Cowboys are making it to this or next year's Super Bowl. So that leaves Ramsey, pretty much by default. The kid has a rifle arm, even if he's shellshocked and happy-footed from playing under Steve Spurrier. Give the former Tulane QB a few years under Gibbs, unlearning what he learned in the ol' Ball Coach's uniquely goofy system of pass reads (throw to open areas of the field, not to specific receivers), and he could be better than just serviceable. If Rypien is any indication, that's all Gibbs needs.
David Fleming:
Vinny was washed up IN BALTIMORE. Ramsey may never recover from his experience in Ball Coach's Fun-n-Gun-n-three-n-done offense. So, by default, because I don't think either team sniffs the Super Bowl this year, I guess it's Brunell, who has really been diminished by injuries the last several seasons.
Alan Grant:
Some folks say that they'd take talent over experience. I tend to agree. But if the question is quarterbacks with an equal level of talent, I'll put my money on the guy who has seen every defensive front and every coverage scheme invented in the past 15 years: Testaverde.
Eric Neel:
I look at that list and I see a bunch of guys who are solid but unspectacular. I see a bunch of guys who were capable of great games, but who relied, week in and week out, on strong running games. So give me Brunell or Ramsay, because I like Portis a whole lot more than I do Eddie George at this point.
Jeff Merron:
My heart is with the Redskins, and they're going to win tonight. But if I were a betting man, I'd put my postseason money on Vinny and the 'Boys. Testaverde has already proven the naysayers (just about everyone, that is) wrong. Parcells has already shown what he can do in Dallas. And I think, all things considered, it's just a more comfortable situation down there. Vinny knows he's playing on borrowed time, so this has got to be a joyride for him. He's got nothing to lose, and he's playing for a coach he knows is just the little edge he needs to make this his career year. Other factors working in the Cowboys' favor: a relatively easy schedule, the lack of a QB controversy like that brewing in Washington, and the receiving corps of Terry Glenn, Keyshawn Johnson, Antonio Bryant, and Jason Witten.