Commentary
Kareem Abdul-Jabbar finally gets statue!
Originally Published:
May 23, 2011
By
Kurt Snibbe
| Page 2
Editor's note: There's a statue of Jason White at Oklahoma. There's a statue of Danny Wuerffel at Florida. The Phillie Phanatic was feted with no fewer than 20 statues last year in Philadelphia -- and he hasn't even won a Heisman Trophy! If these guys have their own statues, something must be done to honor more deserving sports figures whose artistic immortalization is long overdue. So each Monday, Page 2 will proudly unveil its Fictional Sports Statue of the Week.
Page 2's Fictional Sports Statues of the Week:
Week 1: Jim Tressel | Week 2: Charles Barkley (golf) | Week 3: Zach Randolph
Week 4: Kareem Abdul-Jabbar | Week 5: Chad Ochocinco | Week 6: Miami Heat
Week 7: Mavericks forward Brian Cardinal | Week 8: Canucks goalie Roberto Luongo
Week 9: New York Yankees | Week 10: Bye | Week 11: Deron Williams
Week 12: Legendary caddie Steve Williams | Week 13: The invocation of pastor Joe Nelms
Week 14: Randy Moss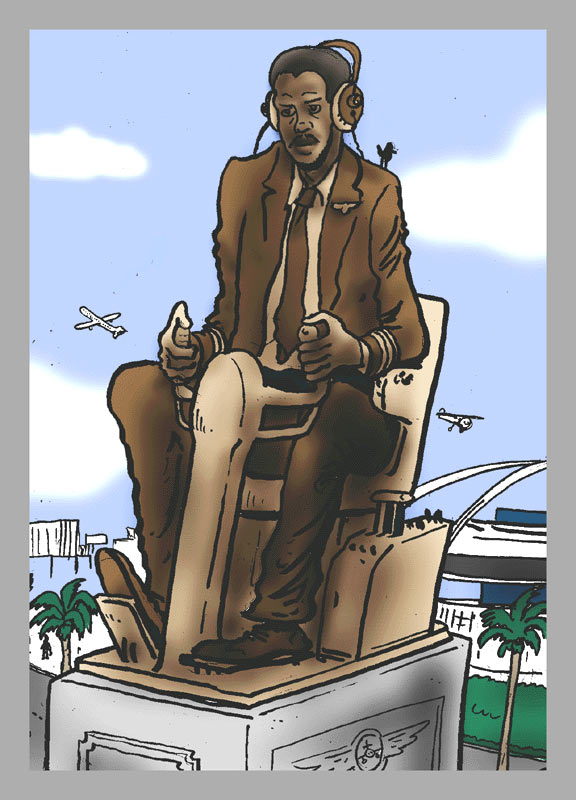 Location: Los Angeles International Airport.
Design Inspiration(s): The Amelia Earhart statues located in North Hollywood, Calif., and at Purdue University in West Lafayette, Ind., in a nod to aviation history; the John Wayne statue at John Wayne Airport in Santa Ana, Calif.; in a nod to airline industry swagger.
Plaque Inscription:
Roger Murdock
Co-pilot emeritus
Trans American Airlines
Legendary aviator served with dedication and valor -- except in rare cases of scombroid food poisoning. … NBA's career scoring leader with 38,387 points. … Never referred to colleagues as "Shirley," except in cases in which that was their actual name. … Won five NBA championships with Los Angeles Lakers. … Has seen grown men naked. … Won three NCAA championships at UCLA. … Never picked wrong week to quit amphetamines. … Led the Milwaukee Bucks to a world championship. … Never been in a Turkish prison. … Owns more championship rings than Mark Madsen and Adam Morrison combined. … Nineteen-time NBA All-Star. … Dragged Walton and Lanier up and down the court for 48 minutes. … Six-time NBA MVP. … Former Los Angeles Clippers assistant coach. … Speaks jive fluently.
Text by Thomas Neumann.