Commentary
Figure skating with the NHL stars
Originally Published:
October 15, 2009
By
Randy Sobel
| Special to Page 2
Television reality shows have provided a perfect stage for former sports stars to keep their competitive juices flowing and garner a few more moments in the spotlight. "Dancing With the Stars" in particular has given American athletes another opportunity to shine.
[+] Enlarge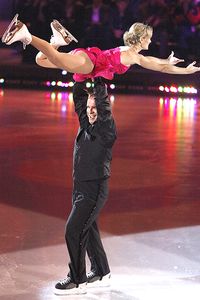 Courtesy of CBCBet you never thought you'd see Tie Domi doing this.
Now our friends north of the border are getting into the action. For the past two weeks, the CBC (Canadian Broadcasting Corporation) has been raking in viewers for its brand-new reality show dubbed "Battle of the Blades." It features several former NHL stars -- but these former hockey greats aren't taking slap shots from the point, or dropping their gloves and throwing down. No, they're doing something they probably never pictured themselves doing on the ice:
Dancing.
"Battle of the Blades" pairs retired NHL players with former figure skating stars, with the duos performing pairs-skating routines with a different musical theme each week. Amongst the NHL stars, you have a combined 17 Stanley Cups -- including Hall of Famer Glenn Anderson, who won six Cups in his career. But the women also have very impressive résumés. All eight women have competed in worldwide skating events, including the Winter Olympics, and contestant Jamie Salé won a gold medal in 2002 in Salt Lake City.
Just like on "Dancing With the Stars," the performances are scored by a panel of highly acclaimed judges, including figure skating legends Dick Button and Sandra Bezic. There's also a special guest judge each week, as well. (Last week it was legendary hockey commentator Don Cherry.) After the judges rate each performance, it comes down to who Canadian fans choose to go home. The finale will air on Nov. 16.
Most of the "Battle of the Blades" contestants weren't known for their skating skills. Take Tie Domi, Ken Daneyko and Bob Probert, for instance -- all three collected more than 2,500 penalty minutes during their NHL careers. Players who were once known as the NHL's tough guys have now been reduced to the role of teddy bears. Unfortunately, we won't see a fight between Domi and Danekyo for the upcoming Canadian sweeps week.
Domi's partner, former Olympic skater Christine Hough-Sweeney, had no fear of teaming up with the well-known Toronto Maple Leafs enforcer. Her marriage to former Boston Bruins defenseman Don Sweeney means she's used to being around hockey players. This team, one of the early favorites, has a definite on-ice chemistry that has wowed the Canadian crowd. "Tie is a closet performer -- he's actually quite fun to work with," Hough-Sweeney said of her partner. "He takes a lot of pride in what he does and wants nothing more than to be at his best and win the competition."
[+] Enlarge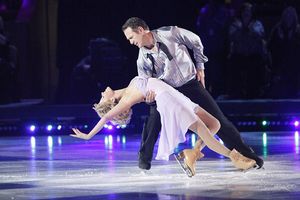 Courtesy of CBCClaude Lemieux looks like he's got some skills out there too.
Before appearing on the show, former New Jersey Devils and Colorado Avalanche star Claude Lemieux got one more chance at NHL glory, playing 18 games last season for the San Jose Sharks at age 44. But after winning three Stanley Cups, and a Conn Smythe trophy as playoff MVP in 1995, Lemieux said he didn't end his career on the right note. Now, officially retired for good, he's trying to enjoy himself by learning this new trade of figure skating -- but he admits it's a completely different feeling then hitting the ice with pads and a helmet. "I was a nervous wreck on the first night," Lemieux said. "We were selected to perform first, and the only thing running through my head was, 'Just don't make any mistakes.' It's a different expectation in this competition. You're playing to a crowd, and if they're displeased, then you go home. It's that simple."
Two weeks in, Lemieux and his partner, Shae-Lynn Bourne, are one of the six teams still alive in the competition. Bob Probert and Kristina Lenko were eliminated in Week 1, voted off after skating a routine to "Born To Be Wild." And after being the strongest team in Week 1, Glenn Anderson and Isabelle Brasseur's Week 2 routine to Frank Sinatra's "Ain't She Sweet" fell flat after Anderson took a couple of bad dives on the ice, and they were eliminated. This week, the teams will be performing to salsa music.
For all of our Canadian friends, you can check out the show every Sunday night at 8 p.m. on the CBC for the first leg of competition, and then tune in Monday night at the same time to find out which team gets eliminated.
Sorry, my fellow Americans -- unless you have a satellite dish that picks up Canadian programming, you won't be able to watch the show live. But there are plenty of YouTube clips out there that will give you the same thrill Canadians have been getting the past couple of weeks!
MOST SENT STORIES ON ESPN.COM