MALMO, Sweden -- When I learned Glamour magazine was sponsoring a race of young Swedish models running in stiletto heels, I didn't picture this: a runner with a pirate cap, an eye patch, red eyebrows drawn with a magic marker and, gulp, a beard.
"Trust me, this is the first time I've ever run in heels," contestant Erik Ponnert said. "My friends signed me up. It's part of my bachelor party."
Yeah, sure. Whatever you say, Erik. I believe you.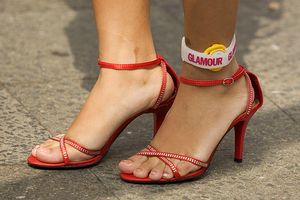 Christian Jakubaszek/Getty Image
At what other event can you find stilettos and electronic timing chips in the same place?
I was in Copenhagen, Denmark, working on a story about boxer Esther Phiri this summer, when I heard about the stiletto race in nearby Malmo, just a 35-minute train ride across the Oresund Bridge to neighboring Sweden. Swedes in high heels? You didn't have to ask me twice.
The Glamour Stiletto Run was held in cities across Europe this summer with (mostly) women competing for roughly $23,000. Each competitor was required to wear a true stiletto heel at least 7 centimeters high (close to 3 inches). The most amazing thing was not that you could encourage people to sprint approximately 50 yards in high heels across European squares and cobblestones without fearing a lawsuit over broken ankles. (What, do they not have personal injury lawyers in Europe?) It was that you could actually attend a footrace anywhere on the planet without seeing a single swoosh on any of the runners.
"I wore Miss 60," contestant Karin Nilsson said of her shoe label.
"I think these are no-name heels," Ponnert said of his shoes, which held up only slightly better than his feet. "They cost about 100 kronor [about $16]. The worst part is they made me put them on a half hour before I ran, so my feet were killing me."
Given the shoe requirements, I expected to see a rather slow race, with runners striking a "March of the Penguins" gait. Instead, they bolted from the starting line and sped along the Malmo city square course as if they were running for Olympic gold. Usain Bolt might be the world's fastest man, but I'd like to see him race in 4-inch heels. Or maybe that's the plan for his next race to even things up somewhat.
Nilsson was within a few steps of winning her heat when she stumbled and face-planted on the street. Race coordinators helped her up, escorted her to a chair and patched her up with a cross-shaped bandage on her forehead. She was smiling and in good spirits by the time I spoke with her. She said she runs but wears normal running shoes when she does, so this was a new experience. "I think I tried running too hard at the end."
Oh, well. There's always next year. And if not the Stiletto Run, there's always the Nordstrom semi-annual sale.
Jim Caple is a senior writer for ESPN.com.