Page 2 staff
What the heck was world champion snowboarder Tara Dakides thinking when she was injured while performing a routine stunt during an appearance on "The Late Show with David Letterman"?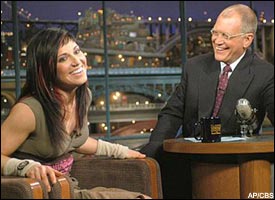 AP Photo
Tara's second appearance on Dave's show ran much smoother.
A. "The glare from Paul Shaffer's head caused me to lose sight of the landing."
B. "Top 10 reasons I should've done Leno ... "
C. "I'm hot AND I play through injury. Top that, Kournikova!"
D. "It's so hard to get attention when you don't own a nipple shield."
E. "Wow. From up here, you can see ESPN Zone, conveniently located in the heart of New York's fabulous Times Square. Yes, that's ESPN Zone, with 42,000 square feet of sports entertainment, the ideal venue for ... ARRRGH!!! MY LEG!!! I THINK I BROKE MY FREAKIN' LEG! ARRRGH!!!"
F. "If I had just gone on Jimmy Kimmel, nobody would ever know about this."