Page 2 staff
What the heck was Phil Martelli thinking when his Hawks came up on the short end of a frantic final minute against Oklahoma State?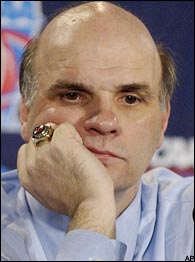 Phil should vent by using that ring on a certain TV analyst.
A. "That's what happens when our mascot is the only one with his hands up on Oklahoma State's last shot."
B. "I'm all for burying the hatchet, but did Billy Packer really need to start high-fiving Big Country Reeves after John Lucas' shot?
C. "It's cool. I had OK State in my bracket anyway."
D. "After Jar Jar Binks, I didn't think it would be possible to resent any Lucas more than George, but what do you know."
E. "The only good news is I had promised Jameer I'd match him tattoo for tattoo if we went to the Final Four."
F. "At least we're heading home now, back to a city full of fans who appreciate effort and don't put too much stock in who wins or loses."