Page 2 staff
What the heck was Rockies' pitcher Denny Neagle thinking when the team terminated his five-year, $51 million contract (which has one year left to run) after he was ticketed for soliciting a woman for oral sex in Denver? (Because of injuries, Neagle hasn't pitched since July 2003.)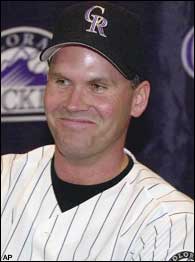 "That radio station in Texas gave one of those cars to Clemens!"
A. "I guess I should've gone with Plan B and just made that sex tape with Paris Hilton."
B. "My career is really at an all-time low. Now I won't even be able to get an interview with Notre Dame."
C. "Oh, good. I can use the extra time off to finish reading Bill Clinton's autobiography."
D. "Apparently, what happens in Denver, doesn't stay in Denver."
E. "You know, I don't need those millions to be happy. All I need is an occasional 40 bucks."
F. "Dang, if I'd just signed with the Mets, I might've gotten a freebie from Anna Benson."