Page 2 staff
What the heck was Angels' owner Arturo Moreno thinking when he announced that the team's name would change to the Los Angeles Angels of Anaheim?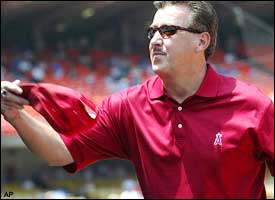 "Say Anaheim Angels of Los Angeles three times fast and win a free Corona!"
A. "We're also going to re-name the ballpark 'Angel Stadium at Chavez Ravine,' serve 'Angel Dogs' and hire Vin Scully to broadcast the games."
B. "It's still better than the 'Washington Nationals of Probably Las Vegas But Really Anywhere That Will Build Us a New Stadium'."
C. "That's the last time I let Gwyneth Paltrow name our team."
D. "I just wanted to be the first team in sports history to require more than three letters for its ESPN Bottom Line abbreviation. Picture this: 7th OAK 4 LAAOA 3."
E. "I'm hoping that in all the confusion, we'll qualify for the NL wild card, as well."
F. "We think the name change will have all sorts of positive effects. Similarly, we're changing Jarrod Washburn's name to Johan Santana."