Page 2 staff
It's time once again to ask the question -- What The Heck Were They Thinking?
We'll admit it. We're tired. We just can't keep up with these people. If Page 2 ever put out a DVD, the deleted scenes would have 2,500 "What The Heck Were They Thinking?" questions that we just didn't get to.
Don't believe us? Take a look at the latest crop -- there isn't a Hilton, a Simpson, or a Kournikova to be found.
Of course, this is because we continue to only bring the best of the best to our readers. (Pause for reader vomit.)
OK, we're back! First up on the docket -- the leader of the America's Finest Receivers On Sunday -- Mr. Randy Moss.
What the heck was Randy Moss thinking when he pretended to moon the end-zone stands at Lambeau Field after he caught a touchdown pass in the Vikings' wild-card playoff win over Green Bay?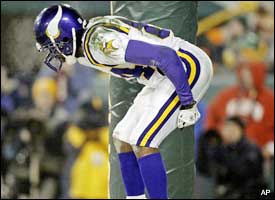 "I came up with the idea when Daunte ordered a pressed ham sandwich from room service."
A. "I have a helmet on, so sticking out my tongue and putting my thumbs in my ears isn't really an option."
B. "Let's see ... how can I get Tony Dungy to laugh and disgust Joe Buck at the same time?"
C.
"For my next trick, I'll pretend to throw a downfield block."
D. "You guys have been watching Favre's performance today and you think this is offensive?"
E. "Actually, I was really going to drop my pants. But I remembered at the last minute that my butt isn't nearly as nice as Mickey Rooney's."
F. "These people should just be glad I'm not Warren Sapp"