Page 2 staff
What the heck was Pete Rose thinking when he allegedly slapped the face of Las Vegas Review-Journal gossip columnist Norm Clarke at a tony restaurant? (Apparently, Rose was upset over a passage in Clarke's guidebook, "Vegas Confidential: 1,000 Naked Truths" in which Clarke rated Rose as the city's fifth-worst tipper.)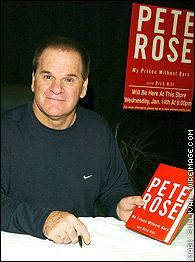 It's about time for another Pete Rose book, right?
A. "That's why they call me 'The Hit King' bitch."
B.
"Incidentally, if you wanna buy any of those dollar bills I stingily withheld from a waitress, they'll be up on eBay in about an hour."
C.
"You'll be able to read all about it in my new book, 'My Prison Without Getting Satisfying Assistance from Service Professionals'."
D.
"Wait. So you're saying there are four people cheaper than me?"
E.
"What's the big deal? A-Rod slaps people all the time."
F.
"Here's a tip for you: Don't go to my barber. Seriously. He's horrible."