In the heyday of flopping, we rate the performers
We've all been in our fair share of testy pickup games, right? How often were you knocked to the ground trying to defend someone of similar size in the post? Almost never, right? The NBA is at a critical juncture, people, one where the term "bang" is on deathwatch. What's going on down in the trenches? What do you call that? Tantric hoops? Remember dudes like Wes Unseld, Dave Cowens, Michael Cage, Rick Mahorn, Adrian Dantley and Charles Barkley who met contact with contact. They were bangers. But these days, we can see Robert Horry, in a YouTube clip called "The Flop of all Flops", practically fainting in last season's Western Conference finals; or Andrei Kirilenko making like an extra in a Steven Seagal action scene.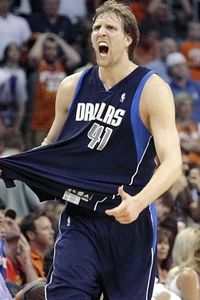 AP Photo/Paul Connors
Even if Dirk Nowitzki can flop Tyson Chandler into foul trouble, the Mavs still have to contend with Chris Paul.
Oh, there's some skill and science to flopping, as
Page 2's Patrick Hruby documented
a couple of years ago. But make no mistake, flopping has become a menace, in some cases potentially changing the outcome of games. I spent the first week of the NBA playoffs taking special note of the level of audacity and suckaness that flopping has reached. Here were the week's most egregious, Razzie-worthy flops and where they fall on thespian scale:
Dirk Nowitzki, Game 1, Dallas vs. New Orleans, 5:36 left in the third quarter. Quiet as kept, Tyson Chandler is a bit of a renegade. He goes around roughing up cats on the reg. Don't let his slight build fool you. Dude is an an enforcer, fit with a mean scowl and scraggly facial hair. After Dirk scored seven straight to give Dallas a 62-56 lead, Chandler picked Dirk up on a switch, crouched low and pressed Dirk. So, Dirk turned to the official and yelled, "Hey!" … as in, "Hey, tell him to get his crotch off me!" The ref let it go, however, so Dirk dribbled left and threw a sneaky 'bow. Chandler responded with a light shove that, back when men played like men, would have earned a foul, maybe a warning. But this is 2008, so Dirk jumped in the air, performed a horizontal pirouette and careened out of bounds. I thought I was watching a football scene from "The Last Boy Scout." The ref hit Chandler with a tech, of course. That series of events could have forced Chandler to play more passively and removed the Hornets' presence from down low. Unfortunately for the Mavs and Dirk, Chris Paul is a Hornet. Still, it was the penultimate flop of these early playoffs. (Thespian scale: Sly Stallone in Rambo III)
Deron Williams, Game 2, Utah vs. Houston, 1:52 left in the third quarter. Williams is the most physically imposing point guard in the league. He's big, strong, tough and aggressive. He's 6-foot-3, 208 pounds and plays basketball like a cowboy-quarterback. He also plays with Andrei Kirilenko. That can be the only reason why, when hit with a cornball shoulder from 6-0, 160-pound Aaron Brooks, Williams flew back 10 feet like he got punched by Wesley Snipes in "Blade" and nearly backflipped. Surprisingly, the refs didn't call anything. Williams, however, had to come out of the game and had to take a trip to the locker room, having aggravated a bruised tailbone. Those drama-queen antics could have cost Utah its best player. Why not just take the contact, keep playing and save the performances for MLS and stunt-doubles? (Thespian scale: Nicolas Cage in "The Wicker Man")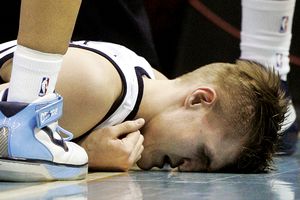 AP Photo/Douglas C. Pizac
Utah's flopper extraordinaire, Andrei Kirilenko, is logging lots of playoff minutes on the hardwood.
Andrei Kirilenko, Game 2, Utah vs. Houston, 45 seconds left in the fourth quarter.
It's as if they want us to forget that basketball is a contact sport, ya know? So there's Kirilenko, chasing down Tracy McGrady, who quickly zips the ball to Bobby Jackson, who drains the trey and ties the game at 85, right? Houston, without its starting center and point guard, might make it to Utah with one win under its belt. The only problem is that Luis Scola reaches out and puts his hand on Kirilenko's chest. But check this: The ref really didn't see that minimal contact, because he's looking at Mac's feet to make sure he's in bounds. Kirilenko knew that he was gonna have to make a scene to get a call, lest Mac rise up and drain this triple, so he flails both arms and jolts backward into the cameramen like the Ghostbusters just yapped him with their proton packs. You might call that gamesmanship, but I call it the most despicable flop of the season.
(Thespian scale: Kiefer Sutherland in Season 6 of "24")
Andrei Kirilenko and Carl Landry, Game 3, Utah vs. Houston, 1:42 left in the fourth quarter. In the NBA, as soon as two players get tangled up, it has become the norm for them to behave like dancers in music videos. By that I mean that they do all they can to draw attention. They battle each other in an attempt to yell louder, grimace harder, convulse more violently and fall to the court before their opponent. That's what made the Kirilenko-Landry tussle so pathetically entertaining. Kirilenko was called for the foul, but it was difficult to determine who was purposely creating the most contact and reacting the most dramatically. Had it gone the other way, Houston could have been looking at an 0-3 series deficit. (Thespian scale: hoodrats in old 2 Live Crew videos)
DeShawn Stevenson, Game 4, Washington vs. Cleveland, 10:52 left in the third quarter. Other than Chris Paul and Kobe, Stevenson has been my favorite player in these playoffs, simply because his antics, words and general hubris are sort of throwback to the days when cocky role players harbored only moderate respect for the game's stars. I liked that Stevenson challenged LeBron verbally and physically and did his part to maintain the grouchy, combative and semi-street atmosphere of the series. In a lot of ways, the Cavs-Wiz series has been this spring's no-bull series -- full of hard fouls and jawing. Then Stevenson negates all his swaggering and macho-woofing by going Ginobili on us. It's not like Stevenson is above flopping, but in a series where he downright challenged Bron's cred, you'd think he'd leave the thespian garbage for Anderson Varejao. But when Bron sprinted down the court and sought to clear out some space, Stevenson clutched Bron's forearm to his chest, threw up his arms, spun in the air like Michelle Kwan and fell to the hardwood wincing. That's how you man up? Shameful. (Thespian scale: Ja Rule in "Assault on Precinct 13")
Kurt Thomas, Game 1, San Antonio vs. Phoenix, 12.6 seconds left in overtime: Sure, Thomas is savvy, crafty and clever, but there's no valor in a big man dropping to the floor. Amare Stoudemire is intimidating and nearly uncheckable, but he shouldn't be hit with a charging call whenever he makes any type of forceful contact. Thomas fell like a frantic chick in a horror flick. (Thespian scale: Jennifer Love Hewitt in "I Know What You Did Last Summer")
Shaq, the greatest victim of flopping in league history, summed it up best when quoted in the Arizona Republic as saying: "All they got to do is flop. It's frustrating that the referees don't allow two guys to fight. It's supposed to be two guys fighting, and one guy's out there flopping. A lot of times, I didn't do anything. But [expletive], I guess all you got to do is just walk next to me and fall."
Vincent Thomas writes "The Commish" column for SLAMOnline and features for SLAM Magazine. He's also an ESPN contributor. He can be reached at vincethomas79@gmail.com.