By Wright Thompson
ESPN.com
Every good star will tell you that the real party is the "after" party, the one that starts when the show ends. Sunday night in Indianapolis was no exception. So after the Colts came back to beat the Patriots, one of Manning's buds, country star and noted beach bum Kenny Chesney, headed for the shindig at Manning's home, hosted by Peyton and his wife, Ashley.
When he got there, Chesney saw an unfamiliar look on his friend's face: joy. Manning finally had won the big game, earning a spot in the Super Bowl. Other players were already there, joining in the celebration with the Manning family. A day later, as he got back to planning six summer dates of his own at NFL stadiums, Chesney was still laughing at the memory.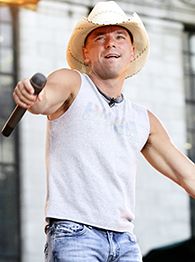 AP Photo/Jeff Christensen
With hits like "Beer in Mexico," how could Kenny Chesney not be a Peyton Manning fave?
"Peyton was very happy," he said late Monday afternoon. "He was very, very happy. It was a great moment. I'm glad I went."
The singer and the football player have been friends since Chesney was a musician just about to hit the big time in Knoxville and Manning was the toast of the town at the University of Tennessee. They've remained close. Most people don't know it, but Manning sometimes goes on tour with Chesney. Instead of staying backstage at a Chesney concert, Peyton pulls a cowboy hat down low, "plays" an unplugged guitar and blends in with the rest of the band. It's loud on stage, but nothing like the noise in the RCA Dome Sunday night when Marlin Jackson picked off Tom Brady to seal the Colts' victory. "When he intercepted that pass," Chesney said, "the stadium erupted. It was unbelievable." Everything afterward was just a long celebration. Like many Manning cronies, Chesney bristles at the talk of his friend not being able to win the big one. "I think it feels great, if there was a monkey on his back, to get that off," he said. "Last night, I think, put some of that to rest. I've never been more proud." He'll be at the Super Bowl, of course. "He promised me I could punt at least once," Chesney said, laughing.
Wright Thompson is a senior writer for ESPN.com and ESPN The Magazine. He can be reached at wrightespn@gmail.com.