Behind the scenes of the Stingley game
Editor's note: Former Cowboys and Raiders defensive end Pat Toomay originally wrote the following piece about being on the field when Darryl Stingley was paralyzed for Page 2 in September of 2002.
The exhibition game in which Darryl Stingley was paralyzed was played in Oakland. It was one of those sloppy exhibitions played early in the preseason, when everyone's legs are dead and everyone's minds are numb.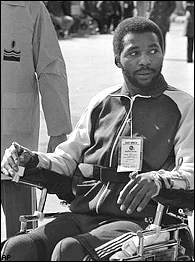 Darryl Stingley's life was changed forever by one play in an exhibition game.
It was one of those games in which everything is out of sync, out of kilter, a comedy of missed passes, overthrown balls, dropped punts, fumbled snaps, unnecessary penalties. That's the way it is when too many nervous rookies vie with too many aging vets for too few open positions on their respective teams. That's the way it is when new systems have been implemented and nobody's sure how to execute them.
This confusion and uncertainty, a near lethargy, also afflicted the organizations. The Patriots were in the second week of a West Coast road trip. The previous week, they had played in Los Angeles, and then practiced near San Francisco. Normal people, with responsibilities in their communities, would find a reason to go home. So it was with the New England team physician, perhaps, for he departed after the L.A. game, leaving the club without an orthopedist for the game in Oakland.
Because of his absence, game day found both teams under the medical supervision of our two physicians: Dr. Robert Rosenfeld, a Beverly Hills orthopedist, and Dr. Donald Fink, a local internist.
Dr. Rosenfeld was a gruff, insensitive man, whose typical response to a player's injury was, "You're OK, it's just a bruise." (In 1987, Dr. Rosenfeld's operating privileges were suspended at Cedars-Sinai Medical Center in Los Angeles, where he practiced, because of a high complication rate and an unusually large number of malpractice cases.)
Doc Fink wasn't much better. Though affable and in possession of a medical license, he was lugging around players' medical records in the trunk of his car. The plaque on Doc Fink's office door read: "Investments." His physicals sometimes consisted of a single question: "How do you feel?" If the answer was, "Good," that was all he needed to hear.
This was the backdrop, then, of that fateful game. The ancient Greeks would see hubris here, on an epic scale. They would warn us. In fact, there was a sense of warning on the sidelines. Only a play or two before Stingley went down, Raiders coach John Madden, who was growing more and more upset because all night long the Patriots had been probing the middle of the Raiders defense with passes, turned to the guy beside him and said, "They'd better stop doing that or somebody's going to get hurt!"
It happened in the second quarter -- a hurried pass launched over the middle for Stingley, who was slanting into the secondary. It was high and too far in front of him. Leaving his feet, Stingley was prone in the air, arms outstretched, as the ball sailed past him. In my memory, there he hangs.
For his part, Jack Tatum seemed fooled. Having started back to his right, he pulled up as the ball was released. The receiver, he realized, was coming from the opposite direction. Jack turned, but managed only three or four strides before the action was upon him. He crouched over, sort of leaning into Stingley as the Patriots receiver drifted toward him. They collided. Stingley, in an awkward position, fell to the turf. There was no explosive hit. No flying helmet. Yet Stingley was down. He wasn't moving. He wasn't getting up.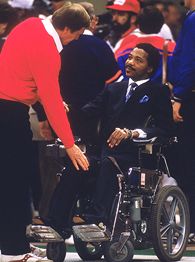 Focus on Sport/Getty Images
Stingley, seen here on the Patriots sideline during Super Bowl XX in 1986, died on Thursday.
Trainers from both teams rushed out on the field. They tended to Darryl for a long time. Then an ambulance was summoned. Darryl was carefully loaded up and carted off. The game resumed, but under a sickening pall.
After the game, Madden went directly to the hospital. It was Madden's first instinct to go to Stingley. At the hospital, Stingley had been found to have fractured vertebrae in his neck and was being fitted with a halo brace to stabilize the injury. Our physicians, thankfully, had risen to the occasion. Having overseen a safe transport, they had summoned the appropriate specialists. Experts were now at hand.
But even at the hospital something was dissonant, out of sync. Expecting to find himself among concerned New England officials, Madden found himself alone. No one from the Patriots was there. Not the owner. Not the coach. No one.
Grabbing a phone, Madden called the Oakland airport. Immediately, he was patched through to the New England charter, taxiing out to take off. A more-than-animated discussion followed. The plane returned to the gate. The business manager was put off.
In the hospital, Stingley was conscious, as doctors worked to fit the halo. Having donned surgeon's garb, Madden appeared beside him, leaning close. "Everything's going to be all right," he whispered. If only it had been true.
Meanwhile, a second disaster was averted. On the New England charter, now airborne and headed east, players were struggling to understand Stingley's injury when an engine started gushing fuel. Immediately, the flight was diverted to San Francisco. A dozen fire trucks lined the runway as the plane touched down.
In the days and weeks that followed, Madden visited Stingley, if not daily, then as often as he could. During one visit, Madden discovered a malfunction in Stingley's ventilator. In summoning a nurse to fix the problem, Madden might have saved Stingley's life.
Football is about assault and survival as much as it is about anything. Collisions are where each play starts and ends. Grace exists on the field to elude savagery. Men are meant to smash into each other, the harder the better. But they are supposed to get back up, if not instantly, then in seconds, or minutes. After an injury, they come back. It might be months later, or even a year later. But they come back.
When this fails to happen, as it did in the case of Darryl Stingley, our frailty shows through the masquerade of pads and numbers and facemasks and helmets, the fake armor of invincibility. In such a moment, we don't like what we see. An explanation outside the norms of the game is needed, and so scapegoats are sought. Disturbing feelings are pushed aside. Only the rarest among us grasp the depth of our frailty and still love the game.