By Jason Whitlock
Page 2 columnist
We're into overhype. That's my only regret about my column last week blasting the fuss made over Candace Parker's "victory" in the McDonald's slam dunk contest. My argument appeared to be that only women's athletic accomplishments get overhyped.
Not true.
Parker's Brother
When Jason Whitlock wrote about Candace Parker and her win in a dunk contest over some of the best male high-school ballers in the country, the column clearly struck a nerve, as Page 2 received tons of email about it. One response was particularly compelling -- it was from her brother.
We're into overhype. I'm talking about sports writers, sports broadcasters and even sports fans. We overhype everything. It doesn't matter whether it's men or women, we'll overhype it. And needless exaggeration is probably the first sign that a sport is in trouble of losing some of its TV relevance.
Take college basketball, for example. It's dying. We can all see it lying on the side of the road injured, writhing in pain, wondering what hit it. Just 25 years ago Magic Johnson and Larry Bird turned college hoops into the near national pastime. A little more than a decade ago, Michigan's Fab Five was nearly as big as the Jackson Five. Now most of college basketball's future stars head straight for the pros, and we're left to pretend we're witnessing greatness once a year at the Final Four. It's getting rather embarrassing.
Last Monday night we tried to turn Emeka Okafor into a modern-day Akeem Olajuwon. It was nothing more than overhype intended to mask an inferior product. The public, intelligently, didn't buy it. Monday-night's championship tilt featuring Connecticut vs. Georgia Tech, Okafor vs. Luke Schenscher -- an alleged re-enactment of UCLA vs. Houston, Lew Alcindor vs. Elvin Hayes, or Georgetown vs. Houston, Patrick Ewing vs. Akeem Olajuwon -- was the worst-rated NCAA title game in the modern era.
Those of us who participated in the overhype of this matchup should be embarrassed. But that's what we do now, particularly in college basketball. The product is so weak and we so desperately long for the good old days that we'll pretend Emeka is Akeem and Luke is Patrick.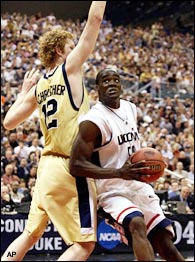 Akeem and Patrick they are not.
There's no reason to dissect Schenscher. His championship game performance left little doubt that he's more Rik Smits than Ewing. It's Okafor who is truly being hyped beyond his skill. And it's totally unnecessary.
Okafor is the ideal college athlete. He's going to graduate in just three years. He's an academic All-American. He's a gentleman on and off the court. He helps old women cross the street. He comes from a supportive family.
He's the next Pervis Ellison. You remember Never Nervous, don't you? He led Louisville to the national championship and then became the No. 1 pick in the 1989 draft. The Sacramento Kings plucked Never Nervous. Ellison showed a little early promise, could never stay healthy, bounced around the league and eventually fizzled into oblivion.
Okafor isn't nearly as gifted as Ellison. Okafor reminds me of Adonal Foyle, a sound athlete with lots of brains. Okafor doesn't have a polished low-post game. He doesn't have a move that will consistently produce points at the next level. He'll score on dunks and put-backs. He doesn't put the ball on the floor well enough to excel facing the basket. And he doesn't have Carlos Boozer's big butt to muscle guys in the paint.
Okafor is a top-flight college player. There are a dozen high school kids with more basketball upside, and there are probably a half dozen more kids overseas who will outplay him on the next level.
But, hell, we talked about Okafor Monday night like he was the second coming of Karl Malone. I guess you have to say something, especially when your game is in the toilet and no one is watching. Might as well overhype. No one is listening anyway.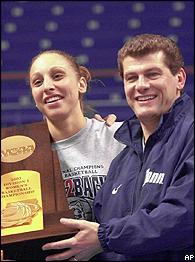 The combo of Diana Taurasi and Geno Auriemma has brought success to UConn.
I watched the women's championship Tuesday night. And as the Connecticut women were having their way with Tennessee, the conversation somehow turned to Diana Taurasi's place in history. She's a two-time All-American, a national player of the year, a three-time NCAA champion, a four-time Final Four participant and UConn's third all-time leading scorer.
She's not the greatest player of all-time. Why was this discussion even held? Must we grasp at every straw? The women's game isn't in a downward spiral like the men. In fact, the women are on an upswing. Their stars actually stay in school for four years. The NCAA can actually market and exploit the women more effectively than the men. There's no need for the overhype.
Taurasi's an excellent player. But we don't know if she's any better than Sue Bird or Nykesha Sales or Rebecca Lobo. Let Taurasi win the UConn debate before she steps into the ring with Cheryl Miller, Lynette Woodard, Nancy Leiberman, Sheryl Swoopes, Chamique Holdsclaw and Ann Meyers.
Look, if the women's game needs a bump, start arguing that Geno Auriemma is the equivalent of John Wooden. Both coaches dominated their games when there was very little wide-spread, legitimate competition.
Jason Whitlock is a columnist for the Kansas City Star (kcstar.com) and a regular contributor on ESPN The Magazine's Sunday morning edition of "The Sports Reporters." He also hosts an afternoon radio show, "The Doghouse," on Kansas City's 61 Sports KCSP. He can be reached at ballstate68@aol.com.