By Jason Whitlock
Special to Page 2
There's no mystery to what's wrong with Tiger Woods' game. He's been compromised by fame, fortune and business relationships in a way we've never seen before. It could only happen in golf, a game ruled by its equipment even more than NASCAR is.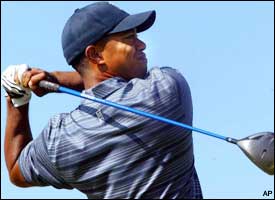 Unless Tiger figures it out, Jack's record is safe.
For the first time since the 1997 Masters, a major golf championship -- the British Open -- will tee off with hardly anyone expecting Tiger to win. He might still be one of the favorites, according to the oddsmakers; but Woods-against-the-field, once a solid proposition, is now a sucker's bet.
Tiger hasn't won a major in two years. For the life of me, I can't figure out why Vijay Singh or Ernie Els haven't overtaken Tiger in the world rankings. Imagine the outrage in college football if a team -- say, Team Tiger -- still held the top slot in the BCS rankings after a two-year slump in conference play. Why do we insist that the BCS be tweaked every year, and yet say nothing about a golf-rankings poll nobody understands?
I apologize. I digress.
We're discussing the cause of Tiger's fall to mortal status on the golf course, and why it's different than his decline in 1997, when he chose to rebuild his swing. Let me begin the discussion by dismissing the popular and entertaining theory that Tiger's "slump" has something to do with his Swedish fiancÚ, Elin Nordegren.
This notion is fun to kick around at a party and is always good for a laugh, but it's total hogwash. I refuse to believe that Tiger Woods is in any way whipped. A true "playa" might get sidetracked for a month or two, might allow his work to slip for a brief moment. But two years? Doesn't happen. That only happens to losers. Tiger Woods is not a loser.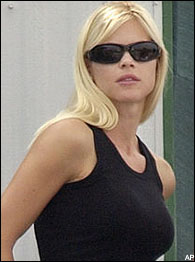 Would you still practice five hours a day?
He's the greatest golfer we've ever seen. He began his career committed to proving that. He told us at the outset that nothing would stand between him and Jack Nicklaus' record 18 major championships. Tiger still has the eye of the tiger; it's just that he never imagined the obstacles that Nike, his management group (IMG) and fame's constant friend -- paranoia -- would place before him.
It's obvious now that Tiger's golfing peers were right when they began to whisper about his equipment. The whispers were true. Tiger is working with inferior equipment. Thursday at Scotland's Royal Troon, Tiger is debuting a new club, Nike's Ignite Driver. Actually, he's been using it for a couple of weeks, but this will be the club's Broadway opening. It's the first time he's riding it for real money.
Tiger has been experimenting with Nike drivers and clubs since 2002, when the company famous for making basketball shoes arrogantly decided it could make golf clubs, too. Nike making golf clubs is the equivalent of McDonald's making ribs. Nike is unqualified to make golf clubs, especially Tiger Woods' golf clubs.
But Tiger can't walk from Nike Golf. He is Nike Golf. He's been bought and paid for.
They say a good craftsman should never blame his tools, and maybe that's why Tiger is being so stubborn about this. But if that's the case, then Tiger needs to shoulder some of the blame. After all, he's supposed to be on the Nike club design team, and he insists that the contract doesn't force him to swing Nike's clubs if he doesn't like them.
This isn't an uncommon occurrence on The Tour over the past 20 years. In the good old days, Ping had a points system to pay the golfers who used its clubs. The more they won, the more top-10 finishes they managed, the more Ping paid them at the end of the season. Callaway, Taylor Made and all the rest started handing golfers fat guarantees, too; and it changed the game and undermined a few careers (see John Daly.)
Golf is unlike any other sport, with the possible exception of auto racing. Equipment is king. A shortstop can fall in love with his glove, but it doesn't compare to the way a golfer feels about his putter or driver or wedge. The feel of the clubs can totally dictate how much confidence a player will have on the course. And confidence is everything in golf.
So why would the world's greatest golfer allow Nike to experiment on him in the prime of his career?
Money. What else?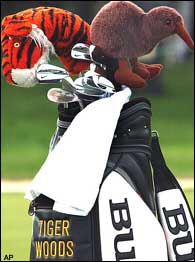 With his new clubs Tiger can't "just do it" like he used to.
Tiger and Titleist were well on their way to smashing Nicklaus' record when Nike decided it needed to squeeze a few more marketing dollars out of Eldrick. Now, he plays with a Nike driver, Nike clubs and Nike balls. And it isn't working. Yes, he's won two majors with Nike equipment, but he isn't dominating like he once did.
And instead of blaming Nike, Eldrick and his caddy Stevie Williams are blaming clicking cameras and noisy galleries. I wish I was joking. The economic forces controlling Tiger -- Nike and IMG, which tells him which tournaments to play -- are causing him to crack just a little. Mr. Clutch can't put together two rounds and intimidate the field the way he used to.
Tiger should've ignored Fluff's media flirtations and stuck with his free-spirited caddy. Fluff would turn down the pressure rather than hijack Minoltas. Fame makes you paranoid. You think every loose lip is going to sink the ship, and that isn't true. Some lips are perfectly harmless.
Take Butch Harmon, Tiger's former swing doctor. His comments about the current state of Tiger's game were insignificant ... until Tiger responded. If Eldrick wants to stay true to his pledge -- and not let anything get in the way of his golfing legacy -- he'd reconcile with Harmon. Under Harmon's eye, Tiger had the greatest run in golf history, perhaps the greatest run in sports history.
You think Michael and Phil never disagreed on the Bulls? Never got mad at each other?
Pride and money have made Tiger mortal. There's no mystery to what ails his game.
Jason Whitlock is a columnist for the Kansas City Star and a regular contributor on ESPN The Magazine's Sunday morning edition of "The Sports Reporters." He also hosts an afternoon radio show, "The Doghouse," on Kansas City's 61 Sports KCSP. He can be reached at ballstate68@aol.com.