By Jason Whitlock
Special to Page 2
Beginning this week during the Major League Baseball All-Star festivities, the city of Detroit will be brutalized by sportswriters from across the country. The maiming and name-calling and dissing won't stop until the completion of Super Bowl XL.
By the time it's over, the victims will include Kid Rock, Eminem, Madonna, Coleman Young's unborn great-grandchildren and Flint's Michael Moore.
Why shouldn't the All-Star game be held at Comerica Park? Detroit's the best sports town around.
Beating up on Detroit is easy. As the center of the free-falling automotive industry, known chiefly for crime, high unemployment and urban blight, Detroit is an easy target. Motown's 30-something mayor wears an earring, zoot suits and, if you believe the whispers, throws a house party that would make Snoop blush.
Yeah, making fun of Detroit is about as trouble-free as cracking a fat joke on Kirstie Alley. I've done both. It's really nothing to brag about.
But the truth is, especially when it comes to sports, Detroit is as good as it gets.
Yes, if we're buried under 10 inches of snow during Super Bowl XL, Paul Tagliabue should be forced to stand outside Ford Field butt naked apologizing to every fan as he/she enters the stadium. In fact, instead of looking to pass steroid legislation, Congress should pass a law tying the Super Bowl to three cities.
One: San Diego: Best weather in the world.
Two: New Orleans: Best food in the world.
Three: Tampa Bay: Only Mons Venus in the world.
But I digress. The fact that Detroit has lured sports' biggest showcase twice, while New York and Chicago have yet to host a Super Bowl, says all you need to know about Motown as a sports town.
Laugh all you want, but the Motor City gets the job done. Detroit is the old high school sweetheart who landed the boy who went on to win the Heisman Trophy and put together a Hall of Fame career. Yes, she lost her hourglass figure three kids ago, and suffered through some painful public infidelity. But now, in her 40s, she's still on the arm of the man of most women's dreams, controls most of his money, and has the freedom, emotional leverage and confidence to come and go as she pleases.
It's a good life. A very, very good life.
Let's see … in June, Detroit hosted three games of the NBA Finals. This week it will host baseball's All-Star game. And in February, the world will descend on Detroit for the Super Bowl.
Want to make fun of Detroit? Go right ahead. But what's so funny?
The Pistons won a championship last year, and should've repeated this year. The Red Wings have won three Stanley Cups since 1998. Yes, the Lions and the Tigers stink. But the Lions and the Tigers play downtown in brand-new, state-of-the-art stadiums that sit within blocks of each other. The Pistons play in a 17-year-old Palace that still looks and feels new. And Joe Louis Arena, home of the Red Wings, is part of the reason Detroit is called "Hockey Town."
Detroit is the best sports town in America. It blows away New York, Chicago, Boston and Philadelphia. With the car industry dying and Motown dead, sports is all Detroit's got.
And it's got sports stories in abundance, so much so that Detroit scribe Mitch Albom carved out a reputation as the nation's best sports columnist long before he earned worldwide fame with "Tuesdays with Morrie" and "The Five People You Meet In Heaven." Heck, Mitch's sportswriting peers/rivals, Bob Wojnowski and Drew Sharp, have become Detroit celebrities. Wojnowski, a columnist for the Detroit News, has a wildly popular radio talk show. And Sharp, Mitch's colleague at the Free Press, has developed a rep as the city's tough-talking contrarian.
When sportswriters start dissing Detroit, keep that in mind. They're jealous. We all wish we had the Pistons, Red Wings, Tigers, Lions, Wolverines and Spartans to cover. In the last decade, Michigan football has won a national championship, and Michigan State basketball has won a national title as well.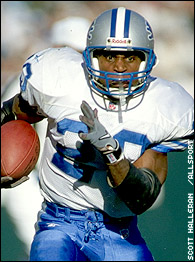 Detroit's been blessed with tons of stars, like Barry Sanders.
In the 20 years Albom has owned Detroit, he's had Barry Sanders, Isiah Thomas, Thomas Hearns, the Fab Five, The Flint Stones, Steve Yzerman, Dennis Rodman, Desmond Howard, Charles Woodson, Jud Heathcote, Cecil Fielder, Scotty Bowman and Sparky Anderson to write about.
And I haven't even mentioned Detroit's high school basketball scene.
Now I grew up in Indiana. There's nothing better than Hoosier high school basketball. The teams and the coaches are incredible.
But the individuals, the stars, and the unbelievable stories make Detroit prep basketball second to none. Detroit is the only city in the world that could produce Antoine "The Judge" Joubert, the greatest prep basketball player of all time. Detroit is the only city that would legalize for athletic competition the Jheri curl The Judge sported.
Detroit has style, a swagger, a confidence that belies its condition. Detroit is the big, sweaty woman squeezed into a size-10 dress, daring anybody to suggest her body ain't booming.
When I was playing college ball, you could always tell the difference between an athlete from Detroit and everybody else. Detroiters had an attitude. When I was at Ball State in the late 1980s and early 1990s, we had three basketball players from Detroit -- Paris McCurdy, Curtis Kidd and Scott Nichols -- and they damn near willed our team to a Sweet Sixteen victory over Larry Johnson and Greg Anthony's UNLV championship team. We were the only team to play the Rebels close that year. Our best football player was from Detroit, too, an undersized linebacker named Timmy "Shoe" Walton.
Detroit has a spirit, an energy that's infectious. It's an awesome place to take in the sports world. You have the whole package -- great teams, bad teams, terrific talent, wonderful characters, championships, two newspapers, two all-sports radio stations, good facilities, passionate fans.
There's nothing funny about Detroit when it comes to sports.
Jason Whitlock is a regular columnist for The Kansas City Star. His newspaper is celebrating his 10 years as a columnist with the publishing of Jason's first book, "Love Him, Hate Him: 10 Years of Sports, Passion and Kansas City." It's a collection of Jason's most memorable, thought-provoking and funny columns over the past decade. You can purchase the book at TheKansasCityStore.com. Jason can be reached by e-mail at ballstate68@aol.com.