By Steve Woodward
Special to Page 2
CHICAGO -- The serious (insufferable) professional football analysts in Chicago are starting to sound and act like Vermont's bombastic presidential hopeful, Howard Dean. Sleeves rolled. Faces red as beets -- in other words, just slightly more crimson than normal. Voices raspy with indignation.
They are mad at Bears general manager Jerry Angelo because he hired a head coach named Lovie Lee Smith. If they could, the analysts would wring their wrists over this move. But they can't. Their wrists are too sore from all the table and keyboard pounding going on around here. The experts believe that yet one more unproven defensive coordinator from another team's staff is not what the Bears need right now.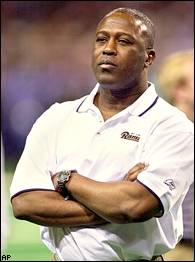 Lovie Smith turned the Rams into one of the best defensive teams in the NFL.
Of course, they're missing the silver lining in Smith's arrival. The real spin on this story is that Angelo is truly an angel for luring Lovie. The devil is the controlling ownership of the Bears, the McCaskey family, who seems to lack the will or depth of resources to resurrect the team. Angelo might actually be on to something that can offset that miserable trend. In other words, if mediocrity is to be the rule, at least the franchise has the opportunity now to make its mediocrity entertaining.
So vast is the potential for comic relief in the months (perhaps, years) ahead that it hardly matters what the Bears accomplish on the hallowed turf of the New Soldier Field. To borrow from The Beatles, "All you need is Lovie."
Believe me, this is one town that needs some laughs. Something. Anything. The Bulls are one of the worst teams in the National Basketball Association. The Blackhawks? Maybe the worst in the National Hockey League. Cubs fans keep mumbling, "Five outs away ... "
Yes, friends, in saving the team millions of bucks by falling short in his pursuit of the coveted Nick Saban, Angelo has become Chicago's Patron Saint of Headlines, One-Liners and Lyrical Adaptations.
Just when you assumed a reference to "The Man from Big Sandy" could only mean Saddam Hussein, along comes Lovie from remote Big Sandy, Texas, by way of a spider hole we like to call the Edward Jones Dome in St. Louis.
Mike Ditka (and spouse) have their Levitra smiles. But Ditka's beloved Bears now have Lovietra, which is sure to inspire marketers, pundits and talk radio personalities -- if not provide the stamina to win an NFC title.
The comfortable judgement here might be the dis-connect between someone named Lovie and a team fabled as the big, bad, savage, ferocious Monsters of the Midway. But before you reach that conclusion, consider the facts and ask yourself this question: What else is in a name?
Bears' lore is a gritty tapestry of legendary monikers like Red (Grange), Bronko (Nagurski), Bulldog (Turner), Ditka, Butkus, Dent and Urlacher. But this also is a franchise equally proud of its Papa (Bear), Paddy (Driscoll), Feathers (Beattie); and, of course, the celebrated ball carriers Piccolo, Gayle and Sweetness.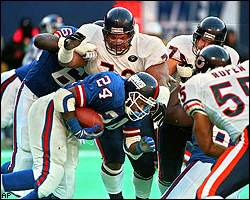 The image of William Perry's mammoth No. 72 bursting through the line left an indelible impression on many an opposing back.
For every Butthead, there is also a Refrigerator; and who provided more newscast highlights mileage than William "The 'Fridge" Perry shaking it to the epic music video, "Super Bowl Shuffle," back in '85?
Now, with this new head coach, a whole and brave new world of vocal themes opens up for the Bears' future:
-- "Lovie Stinks, Yeah, Yeah." (When the Bears go O-for-October.)
-- "What's Lovie Got To Do With It?" (Angelo's query when the Bears start to win and the GM's name suddenly drops off the media radar.)
-- "Where Is The Lovie?" (Local newspaper headline, circa 2006.)
-- "Might As Well Face It: You're Addicted to Lovie" (If the Bears make the playoffs next season.)
If you are a member of the Bears' marketing brain trust, Lovie is the answer. But, alas, they've already missed an opportunity. They scheduled the annual Bears fan convention for Feb. 27. Hello! Here's your promo: "Bring Your True Love to meet Lovie (and the Bears) on Valentine's Day. The New Bears: All Heart."
Augusta National (Hootie Johnson), the University of Kentucky (Tubby Smith) and various NBA teams (Penny Hardaway), all have missed the mark as far as I'm concerned. Hootie, Tubby and Penny each remain vastly under-marketed. To make sure this doesn't happen at Halas Hall, the Bears first must adopt the Brazilian soccer tradition of assigning every player and coach a single name only. Start with Lovie, naturally. A-Train is already on board. So is Slash.
And why not get creative with some newly-invented selections including: Coin (R.W. McQuarters), T (Rex Grossman), Oahu (center Olin Kreutz, a Honolulu native) and, of course, Halo (Angelo).
But that's the easy stuff. There is much more to do. Lovie needs a weekly radio relationships advice show with co-host and former Bulls' great, Bob Love. "Lovie and Love, Saturdays at 8."
Too, he must write a book (working title: "Lovie Story: Dreaming Big in Big Sandy") and do all of his signings exclusively at Victoria's Secret retail locations. Luxurious lingerie and Lovie.
Meow, baby.
And when naming rights bidding heats up again for Soldier Field, the Bears are nuts if management does not seize upon the Lovie connection. FTD Soldier Field comes to mind. Or, McDonald's Extra Value Soldier Field, "I'm Lovie-n' It."
If things don't work out (and they probably won't -- see bios on Gibron, Pardee, Armstrong, Wannstedt and Jauron), Lovie Lee Smith can always head back to his native Lone Star State of Texas, and to Big Sandy. Via Dallas, of course. He'll fly into Love Field.
Steve Woodward, a writer who has resided in the Chicago area since 1990, answers to "Cuddles", but only when covering ice dancing and rhythmic gymnastics.
Steve
Woodward
TONYA & NANCY