I believe Serena Williams to be a bold and bright woman. She knows her power, she knows her skill level, she knows her influence with the youth of America. If she smoked, the world would offer her a light.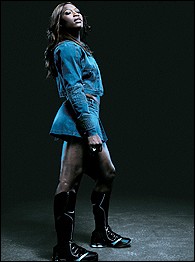 Perhaps Serena has had a little too much time off between matches.
So, she won't think us impertinent asking the musical question, "At what point did she think her fashion future lay in Nancy Sinatra impersonations?"
Serena has decided, with the help of Nike's "Hey, Why Don't We Make Knockoff Doc Martens?" division to wear boots. Well, not boots exactly, but sneakers with an outer sleeve that give the impression that she is wearing boots.
And not just regular old boots. Not work boots, Wellingtons or hip-waders. Go-go boots. Yes, she has decided that as her fashion statement for the U.S. Open, she wants to look like the most unsettling Nixon campaign volunteer ever.
Nike also sent in its press release a list of her other U.S. Open accoutrements, information on a pleated skirt (Catholic schoolgirl look), a black double-layer mesh dress (Halle Berry meets Natalie Wood), and a bra that matches her skin tone (don't want to think of a corollary there, thank you very much indeed).
Apparently when she first tried them, she deemed them (oh, Geez, when did my career descend to this) "nonsexy," and complained to The New York Times' Ginia Bellafante, "I thought they were going to be hot."
But she decided they were too comfortable not to wear (Nike claims they offer extra support for calf muscles, which sounds like marketspeak arglebargle of the first water), and now, she is thinking about wearing them in actual matches.
Only, however, if Justine Henin-Hardenne wears five-inch pumps, and Amelie Mauresmo wears lead clogs.
But that's another story, and hopefully for somebody else. This one landed here only because I was alive the last time go-go boots were in fashion, and when I say fashion, what I mean is, "bleargghhh."
Go-go boots were supposed to be a symbol of innocent sexuality, but given that they were part of a full-vinyl-ensemble fetish, what they mostly did was make women look like freshly waxed kitchen floors. Which is fine, if your perfume choice is Mr. Clean.
But as a style advancement, they were something of a detour into a ditch, and one that helped the burgeoning plantar fascitis detection industry gain its hold on the American public.
Now in fairness, Williams' boots might be more along the line of boxers' boots, although they still borrow as liberally from Lennox Lewis as Laila Ali. But they still have that essential go-go boot look to them, and one of the ways Serena passes her time between tournaments is deciding how she wants to look in those tournaments. This stuff is important to her, and well, all well and good. Everyone should have interests outside the job.
And they're practical too ...
Although the focus of Serena Williams' U.S. Open outfits will be on the fashion, Nike officials say all of Serena's on-court gear are rooted in enhancing performance.
The denim skirt is actually made out of proprietary wicking material and the sleeve that connects to the shoes in order to look like a boot helps support the calf, said Mindy Grossman, Nike's vice president for global apparel.
"This is not just about making a style statement," Grossman said.
Although many might see Williams' U.S. Open attire as a possible distraction for her, Grossman said Williams told Nike representatives that she plays well when she feels she looks good.
While Serena's Puma catsuit caused a stir at the U.S. Open two years ago, Puma did not release the outfits on a mass merchandise scale. Grossman said that Nike plans for Serena's outfits from this year's tournament to be unveiled to the public at a later date, though it's not yet clear if the sleeve extension to her black Nike tennis Shox, which create the look of a boot, will ever hit the market.
-- Darren Rovell, ESPN.com
But go-go boots? Frankly, we think someone from The Dave Clark 5 or another of those second-tier British pop bands coat-tailing The Beatles in the mid-'60s got to her, smothered an ether-soaked rag over her nose, and brainwashed her into thinking that Carnaby Street is making a comeback.
(Oh, and if at any time these obtuse '60s pop references become too dense to penetrate, you can always duck out to the Obstinate Cheaters And Idiot Gasbag Officials section of this Website, under the heading, "2004 Olympics.")
But give her this: she has moved the bar with this one, and though it seems to be an idea whose time came and went, it does make you think what avant/retro/outre/what-the-hell-is-THAT idea she might come up with next year:
The Patrick Macnee Avengers Look: A three-piece button-down suit with a bowler hat and a flower for the lapel.
The Dean Martin Perpetually Half In The Bag Look: A tuxedo with the tie undone, and a glassy stare that looks like the brandy fairy came to visit and ended up staying the winter.
The Tim Leary/Wavy Gravy/Rummage Sale/Meets/Paint Box Look: Tie-dye, head to foot. Yes, yes, I know. Fey.
The Muriel Humphrey Sunday-Go-To-Meeting Look: Matching coat and skirt, a hat that looks like a nacho bowl, and sensible low-heel shoes. Uncomfortable, yet dull.
The Janis Joplin Look: Insufficient sleep and lots of Bushmills over corn flakes give this ensemble that slept-in-shoved-in-a-bag-and-pulled-out-when-the-tour-bus-reaches-Lubbock statement.
The Gene Roddenberry Look: In which everyone ends up looking like William Shatner, even if they look like Nichelle Nichols.

That's the beauty of Serena Williams. She is not only the best women's tennis player on the planet, but she is bold, unafraid, willing to take a fashion right in Turn Three at 140. It's just that not all nostalgia is good nostalgia. Time marches on, you see, mostly to get the hell away from the bad ideas of yesteryear.

Ray Ratto is a columnist with the San Francisco Chronicle and a regular contributor to ESPN.com