Out of Biscayne Bay he emerged, dripping and naked.
A door, he said, was supposed to be left unlocked for him. A pair of shorts were to be waiting as well.
So he walked across the lawn and sprawled himself out, spread eagle, in the lawn chair by the pool. That's where police found William Lepeska. Where they found the 40-year-old homeless man who once repeatedly stabbed a college student about the head and neck. Three doors down from Anna Kournikova's $5 million mansion on Sunrise Island 3 in Miami Beach.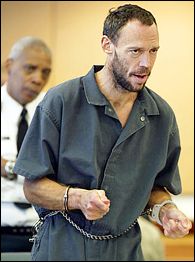 William Lepeska was on the prowl one more time, questioning Anna Kournikova while acting as his own attorney in court.
"Anna! Save me!" he screamed as he wrestled with police. The tattoo on his right biceps screamed "Anna" too.
Before Lepeska errantly arrived in the backyard of Kournikova's neighbor's home, his letters, sexually explicit in nature, had begun arriving in the mailbox last summer. They were followed by messages, written in a similar vein, posted on her Web page. He later told police that he was "in love with Ms. Kournikova," that he was "desperate to meet her."
"My first reaction was disgust," Kournikova said when she confronted Lepeska from the witness stand in Miami-Dade County Circuit Court. "It was beyond my comprehension how you can write these kinds of things to a stranger."
But in Lepeska's mind, tangled and twisted as it may be, she was hardly a stranger.
Search for "Kournikova" on Google and within .07 seconds there are 2,000,000 results. On her official Web site, www.kournikova.com, you can view the photo of the day. One day she's pictured wearing black Spandex shorts and a matching bikini top; another day she's clutching the bottom of a blue sundress to her knees, in classic Marilyn Monroe pose, while standing over a street ventilation grid. The site duly notes her participation in January's "Serving for Tsunami Relief," as well as her appearance in Sports Illustrated's 2004 swimsuit issue. There's also an invitation to order the 2005 Anna Kournikova calendar, as informative of what she looks like in various skimpy attire as it is for keeping track of upcoming weekends and holidays.
"Every athlete, actor or musician, anyone in the public eye, makes the decision," said Summer Sanders, a former U.S. Olympic swimmer turned broadcaster. "You make the decision – it's a Catch-22 – and you open yourself up to anything that happens.
"People can get more and more info these days. The bad side of that is that it's easier to become obsessed with someone if you have that kind of personality."
Sanders has her own harrowing stalker story to tell. So do many other high-profile female athletes: Tennis players Serena Williams and Martina Hingis, golfers Michelle McGann, Annika Sorenstam and Laura Davies, Olympic athletes Shannon Miller, Janet Evans, Gabrielle Reece, Katarina Witt and Paralympian Aimee Mullins, basketball players Lauren Jackson, Jamila Wideman and Kyra Elzy – among many others.
STALKER SERIES
Anna Kournikova, Kyra Elzy and Annika Sorenstam are among female athletes who have been victims of stalkers. In our special series, P3 takes a closer look at the mind of the obsessive fan.



• Double fault: Sex sells the female athlete, but many stars have found it attracts unwanted attention.


• Object of unwanted affection: From the frenzy surrounding the Lady Vols, former star Elzy found herself in the crosshairs of a stalker.


• The obsessive obsession: Most stalkers are males in their 30s with checkered pasts.

"In a perverse way, it goes to show you that women athletes have arrived," said Christine Brennan, USA Today columnist and a leading authority on women in sports. "They're so much more popular. Ten, 20 years ago, they weren't on TV the way they are now. It's sad to say but [stalking] is probably the price of higher exposure, more publicity and more money. These kooks see this athlete out there now in a way they never did. It's easier for them to fantasize. It's so much easier for the stalker to do his thing – whatever that is."
Stalking, by definition, is a serious subject. Clinical definitions invariably invoke the word "malicious" in association with repeated harassment. Yet no definitive study has attempted to quantify the stalking problem facing female athletes, though the anecdotal evidence continues to mount. Still a number of athletes and their agents, citing the danger involved, declined to be interviewed for this report.
"Late Night" host David Letterman, who was the frequent object of a female stalker who once claimed to be his wife when she was found driving his car, had another close call earlier this month when police foiled an alleged plan to kidnap his 16-month-old son. "Fortunately," he said during his first studio appearance since the incident, "everything turned out fine."
But it doesn't always turn out that way.
A quarter century ago, Mark David Chapman gunned down musician John Lennon. A year later, John Hinckley shot President Ronald Reagan, purportedly to impress actress Jodie Foster. In 1989, Robert John Bardo killed actress Rebecca Schaefer after she answered her door in California. Well-known entertainers who have grappled with stalkers include Madonna, Janet Jackson, Brooke Shields, Gwyneth Paltrow, Sheryl Crow, and Catherine Zeta-Jones.
More than 30 years after Title IX insisted on a level playing field for women in sport, female athletes are now counted among the celebrities. They not only have become part of SportsCenter's highlights with increasing frequency, but are featured on shows like "Entertainment Tonight" and "Access Hollywood," and in magazines like "People" and "Us."
"Not only do we have some of the most recognizable faces in sport, but in the world as well," said David Shoemaker, the WTA Tour's chief legal officer. "Fans know them by their first name alone. Without question, our highest priority is the health and well-being of our players, but you're right, it creates some issues for us."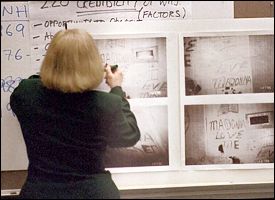 Prosecutors show pictures of graffiti on the walls of Robert Dewey Hoskins' jail cell that read "The Madonna Stalker," "I Love Madonna," and "Madonna Love Me."
While male celebrities, athletes among them, are also susceptible to stalkers – Chicago Cubs first baseman Eddie Waitkus was shot by a female stalker in 1949, an incident that inspired the movie "The Natural" – women are four times more likely to be stalking victims than men, according to the National Institute of Justice. A 2000 study found that 8 percent of American women – approximately 1 million each year – will be stalked in their lifetime.
The majority of the stalkers who enter the arena of athletics appear to be what experts call "delusional" stalkers, suffering from erotomania. They typically have little or no contact with their victims and most suffer from some form of mental illness. Like Lepeska, they believe they are destined to become romantically involved with their victims.
Dr. J. Reid Meloy, an associate professor of psychiatry at the University of California at San Diego, is one of the nation's foremost experts on stalking. Recently, he and a colleague attempted to research a scientific paper on those who stalk professional athletes.
"We could not find the keys to the door, in terms of professional sports organizations saying, 'Sure, we'll give you access,' " Meloy said. "I think they're under the misguided impression that if you don't talk about it, it will go away. Stalking has followed the pattern of child abuse and spousal abuse. Think about where those issues were 20 years ago and that's where stalking – athletes included – is today."
A new, dangerous era
Guenter Parche, an unemployed lathe operator from Germany, watched the rise of Monica Seles with an equal measure of fear and loathing. She was the No. 1-ranked tennis player in the world for 178 weeks and in a span of 41 months during 1990-93 she won eight of 12 Grand Slam singles titles. Parche, a fan devoted to former No. 1-ranked player Steffi Graf, decided to do something about it.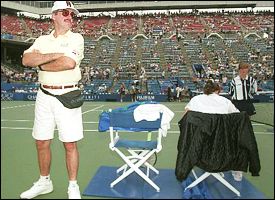 After Monica Seles was attacked, security stood vigil behind her whenever she took the court.
At the 1993 German Open, he approached Seles during a changeover and stabbed her below the left shoulder blade. She didn't play for more than two years and never fully returned to her championship form; in more than a decade of subsequent play she won only a single Grand Slam.
"From the day this happened, my life has been occupied by this," Seles said in 1995. "When you're sitting in a chair and somebody does this to you ... it's pretty hard.
"I got stopped at the height of my career. A lot of things could have been different. It was very hard for me to get going. It's too weird for me to go back to something that's already happened ... I put it in a box in my head and I live in the present."
The Seles attack signaled a new era in women's sports. Nine months later, it seemed to happen again.
On the same day figure skater Nancy Kerrigan was attacked after practicing for the upcoming 1994 U.S. Championships in Detroit – igniting what would become a scandal that commanded tabloid headlines throughout the Winter Olympics in Lillehammer – Seles told reporters she would not be playing in the upcoming Australian Open. Who could blame her?
Suddenly, the exuberance that accompanied the implementation of Title IX had congealed into the reality of the world at large.
A subjective chronology of that loss of innocence:
June 1992: Harry Veltman III, a former crop-duster, is sentenced to 37 months in prison after threatening the life of German skater Katarina Witt. Veltman sent her nude photos and hundreds of obscene love letters and once awakened her at 3 a.m. to profess his love for her.
"Please don't be afraid when God allows me to pull you out of your body to hold you tight. Then you will know there is life beyond the flesh," Veltman wrote in one letter.
Veltman, a diagnosed paranoid schizophrenic, believed he was married to Witt.
"If I ever find my wife having sex, or sexual foreplay with another man," he wrote in another letter, "I will kill him first, my wife second and myself third."
| | | |
| --- | --- | --- |
| | | When I was young, I was a big fan of [actor] Kirk Cameron. I sent him a letter, but that's the point you should take it to. -- Summer Sanders, on being stalked |
January 1993: Mason Crist is arrested on New Year's Eve on the porch of Summer Sanders' family home in Placer County, Calif.
Crist, who had emotional problems since breaking up with his college girlfriend 16 years earlier, had visited the house several times and attempted to contact Sanders – a two-time Olympic gold medalist in swimming – through the registrar's office at Stanford University.
"When I was young, I was a big fan of [actor] Kirk Cameron," said Sanders, a co-host of ABC's "NBA Inside Stuff." "I sent him a letter, but that's the point you should take it to. It's the strangest feeling to have someone who is obsessed, who feels they know you."
July 1995: It is disclosed by the British media that golfer Laura Davies has been stalked for more than a decade by Henry Lee, a wealthy Vancouver surgeon. Lee reportedly proposed several times and hand-delivered his divorce papers in an attempt to prove his sincerity. A month later, police arrested Lee on an Arizona golf course.
"That made me a little nervous," Davies said. "I feared those around me were at risk. The FBI said he was under the impression that it was others poisoning my mind against him. It's become very irritating. He's a nutcase and a fruitcake."
December 1995: Patrick Hallett, who had caddied for golfer Michelle McGann in her early days on the LPGA Tour, is arrested for stalking McGann near her Palm Beach-area home.
According to police records, Hallett was infatuated with McGann and said he believed they would become engaged. On several occasions, he referenced a weapon. Hallett's family told police he suffered from manic depression and refused to take his medication.
Hallett never threatened McGann, but a judge issued a restraining order that requires him to stay at least 500 feet away from her. McGann hasn't heard from him since.
September 1998: Joseph Vogt, a former classmate of Shannon Miller at the University of Oklahoma, is convicted of stalking the gymnastics star and fined $500.
Vogt was charged seven months earlier when he crashed his vehicle into the back of a truck driven by Miller's boyfriend. This followed several months of following the Olympic gold medalist and making a series of telephone calls. Investigators found 115 newspaper and magazine clippings, and 16 videotapes featuring Miller when they searched his home.
Miller described the sensation of being stalked as "claustrophobic."

Albrecht Stromeyer
June 2001:
Albrecht Stromeyer, a 34-year-old college student in Frankfurt, Germany, pursues a romantic relationship with Serena Williams. He sends e-mails, makes telephone calls and follows her at a number of European tournaments. He calls out "I love you," in both German and English.
Stromeyer is arrested at Wimbledon, and in 2002 he is spotted at the Italian Open and ordered to leave the country. He is arrested at the U.S. Open when a Queens policeman spots Stromeyer watching Williams practice through a chain-link fence.
August 2001: Lauren Jackson of the Seattle Storm, who repeatedly had been harassed by a love-sick fan, changes her phone number several times, directs WNBA officials to intercept her mail and considers quitting basketball. She was 20 years old.
"This guy just kept calling me constantly and he kept sending me these love letters that really ... made your skin crawl," Jackson explained later. "It was very scary. I didn't even know who this guy was, and when you get letters like that you think 'Oh, my God.' And all those details – no thank you."
When she left the Seattle area for her home in Australia, she was confronted by another stalker and forced to move from her house in Canberra.

James Conyers
June 2002:
Sheila Taormina, an Olympic gold medalist in swimming, is first contacted by James Conyers, who introduces himself as a fellow triathlete and extracts an invitation for a bike ride. For the next year, she was hounded by Conyers, whose behavior became increasingly menacing. In November, he sent Taormina a postcard that described his raping her.
"I was always doubting myself," Taormina, who finished sixth in the triathlon at the 2000 Sydney Olympics, told the Orlando Sentinel. "I worried that I was overreacting. I would be training and I'd be worried, 'Am I going to get killed today? Am I going to get raped?' "
At Conyers' sentencing hearing, Taormina was forced to sit a few feet from her stalker in a Michigan courthouse. "I'm shaking right now," she told the judge. "I cannot describe what it does. I stood at the start line at two Olympic Games and won a gold medal at one.
"Never did I feel – the fear I feel now."
Different surroundings
Larry Buendorf, the chief security officer for the United States Olympic Committee, has an intimate knowledge of stalkers. Nearly 30 years ago, he saved the life of President Gerald Ford.
During a walk to the California state capitol in Sacramento on a crisp fall day in 1975, Ford encountered Lynette "Squeaky" Fromme, a member of Charles Manson's notorious family. Fromme pulled a .45-caliber automatic pistol from a leg holster and pointed it at Ford's heart as he neared. Buendorf, working for the U.S. Secret Service, knocked the loaded gun from her hand.
After 21 years in the Secret Service, where he earned the prestigious Secret Service Valor Award, Buendorf joined the USOC in 1993.
| | | |
| --- | --- | --- |
| | | In today's world, that's what we're continually preaching: Be aware of your surroundings. -- USOC security chief Larry Buendorf |
"[Stalking] was always a concern in my years in the Secret Service – it was ingrained in me," Buendorf said from his Colorado office. "I probably brought that into the Olympic arena. You can't forget that this is out there. I've been involved in some of these issues with our athletes. You use it to bring it to the attention of other athletes who may not be aware.
"In today's world, that's what we're continually preaching: Be aware of your surroundings."
Experts say that female athletes, for several reasons, are at risk more than males.
"One of the ways women's sports markets itself is that they don't remove the athletes from the fans," said Mary Jo Kane, director of the Tucker Center for Research on Girls and Women in Sport at the University of Minnesota. "They say, 'We are part of your community.' This contributes to what I'd call a false sense of intimacy and is something that breaks down barriers and puts athletes in a position where they don't seem as inaccessible.
"Women athletes tend not to travel with posses or security, which is part of their charm. If a male athlete thinks he's being stalked, it doesn't have the same psychological fear factor as a female. I imagine a female could fear being raped – I can't imagine a male worries about that."
Another factor that plays into athletes' fears is that their tormenters often remain within striking distance.
Parche, who stabbed Monica Seles, incredibly never served any jail time; he was merely placed on probation after passing through the German legal system. Patrick Hallett, who harassed golfer Michelle McGann, avoided jail time by agreeing to the restraining order that required him to stay 500 feet away. James Conyers, who wrote of raping triathlete Sheila Taormina, could be released from prison as early as next spring.
According to Eugene Rugala, supervisory special agent at the National Center for the Analysis of Violent Crime, the global nature of stalking makes it hard to prosecute offenders.
"When Robert Bardo killed Rebecca Schaefer in 1989, it changed everything," Rugala said. "California passed a stalking statute and now every state has one. While the FBI has national jurisdiction, if it's determined that an individual can be prosecuted, every state is different. The threshold to cross in some is a lot higher than others; it's a misdemeanor in some states, a felony in others."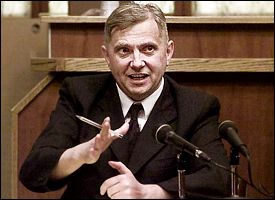 Dubravko Rajcevic, in court for violating a restraining order, was sentenced to two years in prison for stalking Martina Hingis.
Restraining orders aren't always effective. When Dubravko Rajcevic violated a 500-foot order in March 2000, he was arrested for stalking tennis player Martina Hingis and sentenced to two years in prison.
Since Albrecht Stromeyer was charged with three counts of stalking Serena Williams in 2002, he pled guilty to a fourth-degree charge, a misdemeanor. Judge Suzanne Melendez ordered Stromeyer to stay away from Williams and her family and at least 1,000 yards from any WTA Tour event.
"I think that encourages him to keep doing what he's doing," said Williams' father, Richard. "It makes me wonder, 'Could he hurt Serena?' "
"I'm not afraid, but I'm cautious," Serena told the New York Times. "It might be scary sometimes, but at the end, I have to live my life. As popularity grows, there is a price you pay ... You can't complain about it. This is the life I've chosen."
After Seles was stabbed, security for female athletes has been increased in all venues. A number of prominent athletes have hired personal bodyguards.
But a public records inquiry by ESPN.com revealed that Stroymeyer is the only known stalker of either an ATP or WTA player with an active restraining order on the books in Queens County, N.Y., home of tennis' U.S. Open. That's a fact that leaves the game's top female players in the crosshairs of stalkers, a common dilemma for those who travel from one event to another, from one jurisdiction to another.
"The world we live in has forced us to reevaluate security," said Danny Zausner, managing director of the National Tennis Center. "We've done background checks on all credential holders and we've elevated the level of checks on employees. The whole process has received more attention."
"Unquestionably, there's more diligence," said Shoemaker, the WTA official. "The challenge for the tennis tour is that we've got 64 tournaments all across the world, with different public settings, political climates and religious cultures. As a result, we consider it imperative that tournaments have detailed security plans."
For Kournikova, the gnawing fear of being stalked may never completely subside.
In a quirk of the U.S. legal system, the victim was actually cross-examined by the defendant on Feb. 24, when Lepeska represented himself in an hour-long hearing.
"I had all kinds of delusional assumptions about Anna's feelings toward me," admitted Lepeska, who has a history of mental illness.
Lepeska is currently being held in a psychiatric unit at the Miami-Dade County Jail awaiting charges of stalking, burglary, resisting arrest and battery of a law-enforcement officer. Convictions could bring as much as 30 years in jail.
"I was absolutely shocked and fearful and I was very much concerned for my safety," Kournikova said. "It was very frightening and scary just knowing there is someone out there who's obsessive.
"I really started to look at the whole world different. It's crazy to think what would happen if he had the right house."
Greg Garber is a senior writer for ESPN.com. He can be reached at greg.garber @espn3.com.