Super Bowl commercials might be entertainment for us, but for those jumping into the big game, it's serious business.
The ad spots are pricey -- as much as $2.3 million for some 30-second slots this year, or $76,667 per second. That's up from $30,000 a second a decade ago.
And while there's always plenty of coverage concerning the creative results of the commercials, little attention is paid to another behind-the-scenes strategy: placement of the ad in the broadcast.
Budweiser hopes to score another big commercial hit like it did with its infamous frogs.
Anheuser-Busch will own the first in-game spot, known in advertising circles as "1A," because the beer maker is buying five minutes of commercial time, the most by a full two minutes more than Pepsi. Anheuser-Busch buys so much commercial time and produces so many Super Bowl commercials that the company never pays the going rate for a 30-second spot or the usual $400,000 it costs to produce each commercial.
"Our strategy is to lock up the first spot in any pod in any quarter," said Bob Lachky, vice president of brand management for Anheuser-Busch, which will run nine ads during the game -- five for Bud Light, three for Budweiser and one public service announcement. "As soon as the action stops, people are looking for the commercials, so you've got your best shot in the first slot."
To some extent, return on investment is contingent upon the audience's response to the commercials. Lachky said Anheuser-Busch -- which bought its first Super Bowl commercial in 1975 and multiple commercials beginning in 1989 -- will put its best two spots in the "1A" slot and in the first spot in the second quarter.
Last year was the fifth consecutive Super Bowl that the company won the USA Today Ad Meter, with a spot that featured football-playing Clydesdales waiting for a review call from a Zebra referee. This year, Anheuser-Busch will reportedly have a spot in which a donkey wants to be a Clydesdale. Lachky wouldn't say if that's the "1A" commercial, but he did mention that the commercial that will air in that spot is "a simple story that we think is a home run." Anheuser-Busch even goes as far as testing its commercials for audience response, with 600 people in four cities reviewing its ads and voting on how much they like them weeks before the game.
"The very first commercial always does really well, even if it isn't the best commercial," said Dave Burwick, chief marketing officer of Pepsi-Cola North America, which has been advertising during the Super Bowl for the past 19 years. "It just seems like people like it because they are ready to go and they turn up the volume automatically."
Because Pepsi bought three minutes of time to air five commercials, it was able to get four "A" positions and four of its ads in the first half, including the "2A," the first commercial in the second block of commercials in the first quarter.
If you have to ask how much ...
In the past seven years, Super Bowl advertising has gone up $1 million for a 30-second spot:

1998 -- $1.3 million
1999 -- $1.6 million
2000 -- $2 million
2001 -- $2.3 million
2002 -- $2 million
2003 -- $2.1 million
2004 -- $2.3 million
"You don't want to follow a commercial from another advertiser if you can help it," said Burwick, who noted that the Super Bowl is the second largest soda consumption day in the United States behind Fourth of July. "And you also want to be up front because you want to get to people before they get tired and all the ads become a blur."
There's no lack of data or opinions on what the "right" strategy is for those companies looking for optimal placement of a single ad.
Fifty-four percent of Americans watch the Super Bowl, half of them for the commercials, according to InsightExpress, a market research firm. Its data also show that 58 percent of those who watch the game pay more attention to the advertising than they do commercials on other programs.
That might convince a company to buy a commercial, but what about timing?
"Our research shows that the highest-rated quarters of the game are always the second and third," said Larry Novenstern, a senior VP for Deutsch Inc., an advertising firm that has three clients, including Monster.com, which have bought ads during the Super Bowl. "But if it's a close game, the fourth quarter will be higher rated."
Fourth-quarter spots also could be a better value. CBS was selling last-minute spots in the fourth quarter for about $1.8 million for 30 seconds, about $500,000 less than the prime spots that were purchased by companies earlier in the year.
"For companies that want to be in the Super Bowl but are concerned about the money, they might want to wait until the end because the game will still be highly rated," Novenstern said.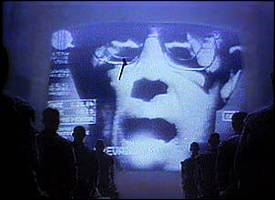 Apple reportedly paid $500,000 for its famous minute slot for the MacIntosh in 1984.
But late advertisers have to be wary of blowouts. Last year, the Tampa Bay Buccaneers cruised to a 48-21 victory over the Oakland Raiders and 28 percent of the people who watched the opening kickoff weren't watching by the end, according to a poll commissioned by InsightExpress.
"In a close game, a fourth-quarter spot could be very valuable," said Kelly O'Keefe, chairman of Emergence Brand Labs, a brand strategy consulting firm. "But for some companies that are using the majority of their advertising budget on that commercial, having an ad in that position is not worth the risk, because you can't afford to wait another year to try and sell your product."
An unbalanced game might make advertisers wish that they spent the money they forked over for their Super Bowl ad on other programming. Media buyers say one fourth-quarter Super Bowl spot could be worth four or five advertisements on the Daytona 500 or on "Survivor: All Stars," which will debut on CBS following its Super Bowl coverage.
As parity has dominated the NFL the past several seasons -- as evidenced by the Carolina Panthers' turnaround from 1-15 two years ago to reach the title game -- the Super Bowl has become more competitive. Super Bowls played from 1984-1993 were won by an average of 22.6 points, but the final margin of victory has been cut to 15.6 points in games played from 1994-2003 and three of the last six games have been decided by seven points or less.
The Panthers won 11 of their 14 victories by less than a touchdown; the Patriots prevailed by less than a touchdown in seven of their 16 wins.
Although there is the thought that a close game might keep viewers' attention through the end, some marketing experts believe there's risk the audience might be more interested in the game than the late-game advertisements.
"Pure football fans are going to be less tuned in for the advertising if the game is tied at 17 with a couple of minutes left," said Peter Land, general manager of sports and entertainment marketing at Edelman, an advertising and public relations firm. "Those guys just want to get back to the game and see if they can still win their office pool."
There's also another reason why fourth-quarter spots are cheaper.
"A lot of these games are taking place at parties and as the game progresses, so does the alcohol intake and so does the lack of retention," said Tom McGovern, director of sports television at OMD, a media buying firm, which bought time for 13 spots in this year's Super Bowl for clients Pepsi, Visa, FedEx and Cialis. The latest spot purchased by OMD will debut early in the third quarter.
Two other commercial buys around the Super Bowl exist.
One is the halftime show, a property that has had plenty of turnover. In the past eight Super Bowls, the halftime show has been sponsored by six different companies -- including Oscar Mayer, Royal Caribbean, Progressive Auto Insurance, E-Trade, AT&T Wireless, and this year's by America Online.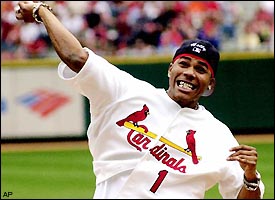 AOL is hoping Nelly will make a successful pitchman during the halftime show.
"People have had a million chances to pick up a free disk from us and if they are not interested, we have to find other ways to show them what we have to offer," said Len Short, executive VP for brand marketing for AOL, which is allowing its consumers to download the halftime performances soon after they are finished. "This is a shortcut in trying to get the audience to pay attention."
The company is hoping that a star-studded cast of performers including P. Diddy, Kid Rock, Nelly and Janet Jackson will keep viewers on CBS. But, as always, there will be plenty of competition to draw the viewer away.
NBC has scheduled a special edition of "Fear Factor" with centerfold models, which will run at halftime and continue after the game. Fox has a Super Bowl halftime show featuring U2. Then there's the Lingerie Bowl, a pay-per-view event that will feature scantily clad models playing seven-on-seven tackle football.
If enough people don't watch the halftime show, AOL -- which is launching its new Web accelerator -- is hedging its $10 million bet by buying one spot in the first, second and third quarters, with the first commercial in the "1B" slot following Anheuser-Busch.
Subway, the nation's sandwich shop chain, hopes it has found a cost-effective spot to air its 60-second commercial, immediately after the game's end and prior to CBS' postgame coverage. "It's a lower price, same audience, and twice as long" as a spot during the game, Subway marketing director Chris Carroll told the Wall Street Journal.
Buying spots leading up to the game is Pizza Hut's strategy. The market-share leader among pizza chains is the title sponsor of the pregame show on CBS and has eight spots leading up to the game in order to cash in on prime-time pizza ordering, said Tom James, the company's chief marketing officer.
Unlike the game itself, the spots themselves cost less than seven figures, James said.
But that doesn't mean that Pizza Hut isn't spending big money to advertise its newest product, 4ForAll, four individual pizzas with different toppings. With 70 spots on other networks running throughout the day, the investment around the product's launch comes to about $50 million.
That's a lot of faith to put on America's most watched game.
Darren Rovell, who covers sports business for ESPN.com, can be reached at darren.rovell@espn.com.