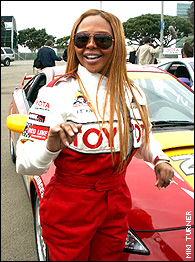 Umm, is this some kind of mistake? There's no stereo in this car.
LONG BEACH, Calif. -- Rapper, fashion icon, actress, music producer, and now race car driver. Is there any end to Lil' Kim's talents? We think not. Perhaps best known for her skimpy attire and affinity for "pasties," the Grammy-winning raptress is now part of the 17-driver field of this year's
28th Annual Toyota Pro/Celebrity Race, a 10-lap event
held on a 1.9-mile strip of downtown Long Beach. Page 3 had the opportunity to share some quality time with the "Notorious K.I.M." in between practice sessions for her upcoming April 17 race. The 28-year-old Brooklyn native shared her thoughts and concerns on competing, chatted about her favorite sports and even made a confession or two.
1. How was your first experience on the track?
Lil' Kim
: Oh, it was great. I was just sort of getting a feel for the road. I didn't want to go into fifth gear or sixth gear or anything. I just kind of stayed between third and fourth and got the feel of the road.
2. With a name like Lil' Kim, how can you manage one of these big race cars?
Because big things come in little packages! Don't let the 'little' fool you. It's a big mama thing, baby.
3. Was this experience at all intimidating?
You know what, at first it was because I didn't know how to drive a stick until I got involved in this mess. Actually, it's a really good thing and I'm kind of more comfortable with it now.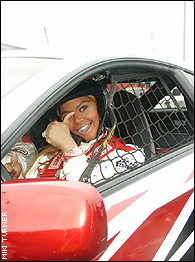 Lil Kim says she's looking forward to winning the race so she can strip out of her jumpsuit.
4. You know there is no stereo in the car, right?
Yeah and that sucks! If I had Sean Paul or "Magic Stick" in there, I would whip everybody's a- -! I could get around that track in like 10 seconds with "Magic Stick" and Sean Paul.
5. Are you a speed demon on the streets?
Yes I am! That's why I'm like damn. But then I never knew how to drive a stick. If the cars were automatic, just forget about it. I'd be gone!
Do you ever get stopped by the police?
Shhh. Don't say nothing! But you know what? A lot of times they see me and say "Get out of the car. We want to see how short you really are!" Most times they'll let me go. Don't tell anyone because then they won't let me go next time!
Are you an auto racing fan?
Yeah!
Who do you like?
I don't know!
Just say Dale Earnhardt Jr.
OK. Dale, who? My favorite sport is actually boxing. I think boxers and basketball players are really sexy.
Do you have a favorite boxer?
No, not really. I'm waiting for a really fine one again! Mike (Tyson) is my boy, but he's crazy! I mean, he's
really
crazy! And you see my girl over there, Laila (Ali)!
6. What's up with the outfit? You're all covered up.
I know. I told them they had to cut mine a little close here (points to her chest and then unzips her jumpsuit to expose her ... Toyota T-shirt). Surprise!
7. How many cars do you have and what's your favorite?
I have a lot of cars. But my favorite, I'd have to say is my Mercedes 500, and I have a truck I like a lot. I like the truck better than the Mercedes, but they both get up. That's why I like them. I want the new Phantom!
8. Why do you think a lot of rappers want to cross over and do different things within the entertainment industry?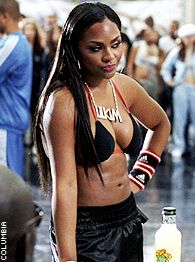 Look for more of the Notorious K.I.M on the big screens. "I was born to be an actress."
I think when you come into the industry you're in the industry and some of us were born to do both. You have rappers who are actors, producers and dancers. I don't see any problem with it.
Have you seen any athletes who were pretty good rappers?
Athletes who are good rappers? Wow. I'm not saying anything!
9. What else do you have going on now besides music and movies?
I've got my jewelry company. I'm making these Royalty watches (points to her wrist). I make them in pink and green because they're my favorite colors. I call it Royalty because everybody wants to feel like they're part of something. I've got a couple of movies coming up next year, and I'll be going back in the studio soon. Right now I'm trying to make my way in Hollywood. I think I was born to be an actress. I don't know how this rapping came about!
10. Will you have any pre-race rituals you'll go through next week?
Yeah, I'm just going to pray like hell. I'm going to be prayed up! I'm going to have on like 80 beads!
Miki Turner is a day and night laborer in L.A. She can be reached at dmiki@aol.com
.