LOS ANGELES -- I know what you're wondering: What in the name of Snoop Doggy Dogg is someone as hip and cool as moi doing getting up before noon to cover the Academy of Country Music Awards nominations? Could it be that it's all a facade -- that all this time I've been a closet country-music fan?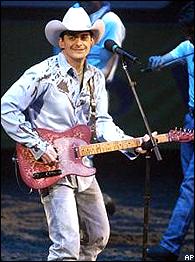 Brad Paisley picked up three nominations for this year's Academy of Country Music Awards.
Well, the answer is sorta kinda. I dig the old schoolers like Dolly, Reba and Johnny Cash. And, oh yeah, I always thought Garth Brooks looked good in his jeans and his baseball pants. I dug them because they sang pure down-home country back in the day. You know the stuff about cheatin' hearts, dead pets, patchwork coats, boys named Sue, and mama's cooking. Early Wednesday morning, however, I was introduced to some of the new kids: Brad Paisley, Terri Clark and Eddie Montgomery and Troy Gentry (Montgomery Gentry), who were sporting some old school garb. It's a rare occasion indeed to see anyone in L.A. wearing a cowboy hat and cowboy boots in public unless they're going to some kind of theme party. So in an effort to find out what's going on in country music these days, I cozied up to Paisley, Nashville's hunk du jour. The award-winning West Virginia native, who is married to "According to Jim" star Kimberly Williams-Paisley (their country-themed wedding was recently featured on "InStyle Weddings"), really broke it down for all you other closet country-music fans. C'mon. I know I'm not the only one!
1.
You got three nominations this year and one of them is the Home Depot Humanitarian Award. If you win, they'll build a playground named for you in the city of your choice. How cool is that?
Paisley
: That's my proudest nomination, for sure, because it has nothing to do with music. It's really something to be up for (an award) like that. I totally don't know if I deserve that yet. I really don't think so. Country music exists to sort of do good things in its most current incarnation.
2.
You do a lot for charity, including a recent appearance on "Celebrity Jeopardy."
(Laughs) I'm sure that's what clinched this. No doubt in my mind! They said, "Now this guy is really taking it on the chin."
And the nominees are ...
Here are some of the nominations for the 39th annual Country Music Awards:
Entertainer of the Year:
Brooks and Dunn
Kenny Chesney
Alan Jackson
Toby Keith
Tim McGraw
Top Male Vocalist:
Kenny Chesney
Alan Jackson
Toby Keith
Tim McGraw
Keith Urban
Top Female Vocalist:
Terri Clark
Sara Evans
Patty Loveless
Martina McBride
Shania Twain
Top New Artist:
Dierks Bentley
Pat Green
Buddy Jewell
Josh Turner
Jimmy Wayne
Top Vocal Group:
Alabama
Diamond Rio
Lonestar
Rascal Flatts
Trick Pony
Single Record of the Year:
"American Soldier" (Toby Keith)
"It's Five O' Clock Somewhere" (Alan Jackson and Jimmy Buffett)
"Red Dirt Road" (Brooks and Dunn)
"Remember When" (Alan Jackson)
"Three Wooden Crosses" (Randy Travis)
Album of the Year:
Honkytonkville (George Strait)
Martina (Martina McBride)
Mud on the Tires (Brad Paisley)
Red Dirt Road (Brooks and Dunn)
Shock 'N' Y'all (Toby Keith)
3.
You're also up for Album of the Year for "Mud on the Tires" and Video of the Year for "Celebrity." Your buddy Alan Jackson got eight nods. Non-country folks like Jimmy Buffet and James Taylor are also in the mix. What's this say about country music today?
It says that country music is all inclusive -- especially these days. There was a time when it was a little more close-minded, but it's very important to recognize the other people out there who do what would be considered another type of music. (They bring) the influence of country music to their type of music. We've got enough of that in our format. We've got a lot of people bringing the influences of rock 'n' roll, jazz and hip hop, or whatever you want to call it, to our format. It's time that we do that because we have people like Sheryl Crow, Tom Petty, James Taylor, and (Jimmy) Buffet who really do blur the lines of what is technically country music. It's nice to see them recognized when they venture into our format.
4.
Ever think about a hip hop career?
(Laughs) Not yet. I'm no threat to Outkast yet.
5.
I hear you're a big West Virginia University fan. Do you have any sports fantasies?
I'd love to play football for the Cleveland Browns ... but forget it; unless they need a kicker which I'm not any good at.
6.
Did you play in high school?
No, I played in junior high. By (high school), I was playing music and couldn't afford a broken arm or anything like that. I was much better at music. I learned early on what my talent was and stuck to it.
7.
You're friends with William Shatner. What kinds of things do you do when you're hanging out with him?
When it's football season -- especially any Monday night -- you can find me over (at his place) when I'm here in L.A. He has great parties, and everybody's there from Ben Stiller to Patrick Stewart, you name it. It's a blast. It's really amazing to watch the enthusiasm that this Canadian guy (Shatner) has for the (NFL) game. Watching it with a guy like him, it's really hilarious. I love those parties.
8.
Could you please explain that song ("Little Moments," No. 2 on the country charts) you presumably wrote about your wife wrecking your truck and burning your birthday cake?
That's just funny. By the way, this song is absolutely meant to be endearing. Every now and then someone will say, "Are you making fun of her?" And I'll say no, this is not making fun of anybody. This song is meant to say that those things that you do wrong make you who you are, and that's a good thing. I think people get that. I, for one, think those idiosyncrasies are the most attractive thing about her.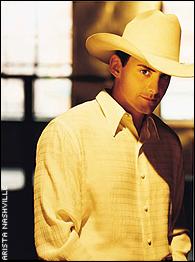 With football-watching buddies like William Shatner, who needs anything else?
9.
You and Kim are one of those white-hot celebrity couples. (They celebrate their one-year anniversary on Monday.) Have you been approached about being the next Nick and Jessica?
No way. They can forget it. There's no way on Earth I'd ever think about doing something like that. Marriage is enough of a challenge -- even though ours has been easy -- it's enough of a challenge without everybody in America getting to vote on it.
Will there be any blending of the careers? Will we hear her sing or you get into acting?
No, I doubt it. I really doubt it -- especially the her singing thing. I don't think you'll hear that anytime soon unless she has a part that calls for it. And I have no desire to act either. I've done it and I could probably learn how to do it, but I don't have time, and I'm probably better at this.
10.
Have you ever thought about composing a sports theme song for "Monday Night Football" or something?
I have thought about that because it's rare that you hear a sports song, but they've always done well. I remember like "Centerfield" with John Fogerty. They play that at every stadium in America. That's got to be a great feeling.
The ACM Awards, held at the Mandalay Bay Resort & Casino in Las Vegas, will air May 26 at 8 p.m. ET on CBS
.
Miki Turner is a day and night laborer in L.A. She can be reached at dmiki@aol.com.