BEVERLY HILLS -- There are at least a dozen or more black-tie charity benefit galas in this town every week. They're all for noble causes, all glamorous and usually there's a nice sprinkling of celebrities to put the "funds" into the fundraising.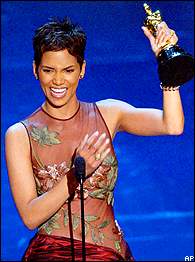 Yes, she's beautiful and accomplished, but is Halle a little accident prone, too?
On Sunday, Michael Chiklis, Laura SanGiacomo, Wallace Langham, Michael Beach, Paula Abdul, and Oscar winner Halle Berry were among the stars who lent their support to "Shane's Inspiration's 3rd Annual Gala: Casino, Cocktails and Comedy." The organization seeks to raise the quality of life of disabled children by building universally accessible playgrounds, and also by providing educational opportunities and outreach programs throughout the country. Berry, who was there to present an award to her attorney and his wife (Neil and Laura Meyer), provided the lion's share of the glam. Dressed in a stunning winter white corset and skirt combo with strappy silver stilettos, the Cleveland native had pacemakers working overtime as silver-haired men abandoned their wives and gravitated toward Berry. She's a charmer, for sure. Berry, who recently finished shooting "Catwoman," in Vancouver, posed for every picture, answered every question and made everyone in the room feel as though they had a new friend. That's really the one thing that distinguishes Berry from her peers. It's not all about being the strikingly beautiful A-lister. It really is about what's going on inside. Yes, she's flawed, but she's a genuinely warm and compassionate sister. Throughout the years I've had the opportunity to watch Berry, the first African American woman to nab a Best Actress Oscar, grow personally and professionally. That's been a real treat. But the best times have always been when we get to hang out for a few minutes and just be silly homegirls from Ohio. That's kind of what we did on Sunday at the Regent Beverly Wilshire Hotel, until Berry's publicist reminded both of us why we were really there.
1.What brings you here tonight?
Halle Berry
: This charity has been near and dear to my heart for several years now and I got involved because both of my lawyers are members. The more and more I've gotten involved in it, the more I've realized that it's a great organization because it doesn't just build playgrounds for disabled children, but it builds playgrounds with the hope that disabled children and able-bodied children will be able to play together, which will create more tolerance and acceptance.
2.You know a little something about tolerance and acceptance, right?
Yes. Being a woman of color, I'm all for being compassionate to our neighbor and understanding our differences and accepting our differences. I can't think of a better cause to lend my time to.
Now comes the really awkward segue where I ask the quirky questions that just pop off the top of my note pad while I'm peeping the crowd peeping us. Even the waiters are leaving their stations to catch a glimpse of the sister who rocked Billy Bob's world in "Monster's Ball."
3. So, athletes or musicians -- who's sexier, and why?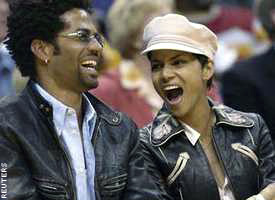 Berry's got a touch of bad luck in the hubby department -- she recently separated from Eric Benet.
Oh musicians (laughs). Technically, I should pick neither one of them with my track record! (Berry was once married to baseball player David Justice and is currently separated from singer Eric Benet.)
3a. OK, well who then?
(Laughs) I'll say doctors or lawyers. That's the safe bet!
4. For the guys who hit ESPN.com daily and will inevitably write and ask what they have to do to get next to you, what should I tell them?
Not to hit on me right now! No, just kidding. What would they have to do? Try to call me up somehow and ask me out on a date.
At 1-800-HIHALLE?
(Laughs) I don't want any pick-up lines. I don't want any flowers. I don't want any gifts. I just want someone who would be sincere. Someone who would call up to talk to me and see what's on my mind -- see who I really I am.
5. Every time you're on a set these days you're always getting hurt. What's up with that?
I'm a hard-working gal who really throws herself into her work! In all fairness, the accidents that I usually have, they never happen when I'm doing stunts or things where you think one might get hurt. It's always fluke things.
6. What happened on the "Catwoman" set?
I'm standing there and the light hits me in the head. That's nobody's fault. That's just fate. That falls into that category of s--- happens. That's kind of what happens. It's not a lack of safety or concern for safety.
You're just one of those girls...
S--- happens.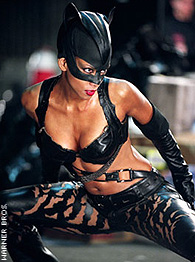 Catwoman is not Berry's first turn in a catsuit. There's a bearcat in her past.
7. How much fun was "Catwoman?"
It was a lot of fun. It's probably the most physically demanding role to date. And even emotionally it turned out to be a real acting job. Yeah, it's a comic book character but we fought real hard to bring some gravity to the character, to bring some weight to it and make it realistic -- set in the real world. It's a lot of fun.
8. How close is your portrayal to the other actresses who played "Catwoman?"
It's very much like some of the Catwomen of the past. We tried to touch on some of those great characteristics that those other ladies brought to her and also tried to find some new ones for myself. That was the challenge.
9.Are you purring like Eartha Kitt?
I do a little purring. Not nearly like Eartha -- nobody can do that Eartha purr. But there's a little purring going on -- my way!
10.You were a cheerleader in high school; were you into athletics at all?
I was a cheerleader and we were pretty athletic at that time! I ran track and I was the school mascot as well.
The mascot?!
A Bearcat. See, I was a natural for "Catwoman," huh?
Miki Turner is a day and night laborer in L.A. She can be reached at dmiki@aol.com
.