Among the hundreds of non-roster players invited to major-league camps this spring is a gray-haired, 42-year-old outfielder with a .025 career batting average (Cactus and Grapefruit leagues), a distinct lack of speed and, oh yes, more than 100 million album sales.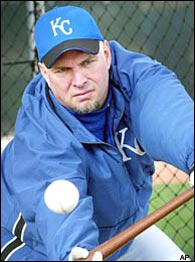 Garth and other rockers should stick to making hits in the studio.
After training with the San Diego Padres and New York Mets in previous springs, Garth Brooks is with the Kansas City Royals this month, as part personal fantasy camp and part promotion for his charity, "Teammates for Kids.'' (Brooks says he has more than 450 major-league athletes involved in the charity, which has reportedly raised $37 million for children.) Brooks won't make the team but he's having a good spring -- he singled off Mariners reliever Mike Myers last week, doubling his career spring-training hits and boosting his career average to .045. Page 3 caught up with Brooks this week.
1.
Were you a big baseball fan growing up?
Brooks:
Oh, yeah. Roberto Clemente. Boog Powell. Brooks Robinson. Al Kaline. I just loved Roberto. The story was he died doing charity work for kids, so this (charity project) just made sense.
2.
What's your background as a ballplayer?
I wore the uniform -- but that's about it -- in high school.
You just wore the uniform? You didn't play much?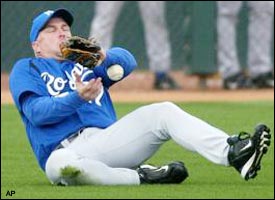 Uh, Garth, we now understand why the Royals won't let you play center.
I just didn't take anything serious in my life at that time. I wish I would have. I really wish it now.
3.
What's the best part of training with a major-league team?
Everything is fun, but the locker room is the most fun. It's nonstop. These guys are on each other just all day long. But if someone outside says something about them, they let them have it.
Do the players get on you?
Oh, yeah. I've already heard several renditions of "I've Got Ice in Low Places." They take my songs and just tear me up pretty good.
4.
What's your natural position?
Probably sitting down and eating. They have me in left field. I like center, but I'm nowhere near fast enough.
5.
Which is more nerve-wracking, singing on a stage in front of thousands or stepping into the batter's box against a major-league pitcher?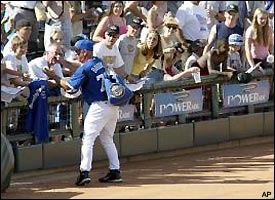 An .025 hitter has never been more popular with autograph-seekers.
This is as scared as I'll ever be. I tell these guys they're doing it all wrong. I can take them to a stadium where everyone on the stage is
for
you. You feel that out here, too, though. No matter what happens. Strikeout, groundout ... I flied out to shallow center and got a standing ovation. It sure is nice. I don't see them doing that for anyone else.
6.
How much harder is it to hit than you thought it would be?
It's not that hard to make contact, but hitting the ball where they're not is hard. And just to get prepared, that's scary. I am dumbfounded by the people who sit and yell crap and stuff at these players. You've got to be kidding me. To play the game is easy -- that's why we all love it. To play it well, I would say it's impossible if these guys didn't show us everyday it was possible.
You've gained newfound respect for them?
No -- I always had respect for them. I was not one of the guys who sat and yelled at the players. I always knew how hard it was.
How much longer will you do this?
Who knows? As long as I can. I took three, four years off from the last time I did it because I got divorced, and let me tell you, there's a big difference between 38 and 42.
7.
What's the best music for a sporting event?
A lot of it depends on the sporting event. But if you want to get hyped up to do anything, Freddie Mercury is your guy. Just take your pick from Queen. Anything from "Who Wants to Live Forever" to "Tie Your Mother Down." Anything like that just works.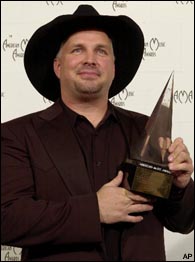 Brooks isn't big on hardware, but he's got plenty of it.
How about John Fogarty's "Centerfield"?
That's almost the national anthem of baseball. It almost makes you want to write something else to try to match it. If you ever do music for movies, you try to do what Phil Collins did for "Tarzan," and if you ever do a baseball song, you try and do what John did with "Centerfield."
8.
Which would you rather have on your mantle, a Grammy or an MVP award?
You know, neither one over the other to tell you the truth. I'd just like the respect of baseball players and respect of fellow musicians. I've never been much for hardware.
9.
If you could see any sporting event in history, any at all, what would it be?
Boy, that's tough. I'd like to see my older brother play or my dad, he was a Golden Gloves champion, I'd like to see him box. If it's something not involving my family, it would have to be Jesse Owens in Berlin at the 1936 Olympics.
10.
Which four musicians, living or dead, would you pick to record an album with or have on your baseball team?
My mom was a singer, so I would take her first. After that, I don't know. My guys, (George) Jones, (Merle) Haggard, (George) Strait, thank God they're all still living. Of the dead, Freddie Mercury for sure. I guess (John) Lennon and (George) Harrison maybe.
Who's the best athlete you know of among musicians?
I don't know, that's tough. It could have been Conway Twitty. Charlie Pride was great, too. And I'm probably forgetting guys who were great athletes. There are a lot of athletes who can do what I do for a living better, I know that.