WESTWOOD, Calif. -- One of my most enduring memories of Cedric the Entertainer is the time I saw him stroll down the red carpet with a bucket of KFC. The brother obviously needed to get his grub on, and so he did. He's real like that.
One-on-one without the lights, action and camera, the Jefferson City, Mo. native (birth name Cedric Kyles) is a rather laid-back, always dapper family man with old-fashioned Midwestern values. That's not to say he never cuts up, but unlike other comedians such as Robin Williams, Ced's not always "on."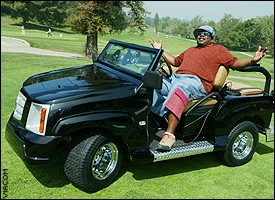 It's all good in the golfing hood when you're riding in this tricked out Escalade golf cart.
Page 3 caught up with Ced, one of the "Kings of Comedy," on two different occasions recently. The first time we chatted with the star of the "Barbershop" franchise, "Intolerable Cruelty" and "Johnson Family Vacation" (premieres Wednesday) was on a golf course in Griffith Park where he was taping a segment for Spike TV's "Ride with Funkmaster Flex." The Funkmaster had taken Cedric's ordinary golf cart and redesigned it with an Escalade facade and installed an 8-cylinder engine. It was pretty fierce. The second time was at the W Hotel during the NCAA Tournament where we talked exclusively about his new movie, his golf game, his glorious athletic past, and what's coming up down the road. He's currently shooting "Be Cool" with John Travolta and Uma Thurman, and next up he'll be playing Ralph Kramden (Jackie Gleason's role) in the big screen version of "The Honeymooners" opposite Mike Epps.
1. Before we get into the movie, let's talk about that tricked out Escalade golf cart. Is it one-of-a-kind?
Cedric the Entertainer
: They've got them in Germany, but they're not really rocking them in the U.S. yet. It's Italy. I'm sorry; they're way more high fashion. I've got the custom leather interior, the chrome wheels, the serious stereo system and wood-grain steering wheel. It's hot. It's going to be a beautiful thing. I'm about to set it off. I'm going to keep this for the back lots and the golf course. I can do about zero to 60 in about four seconds in it. It's fast and furious for sure. I'm Tyrese!
2. Are you out there to play golf or cruise around in your baby Caddy?
It's a combination of both. It's all about styling and style points. A lot of times if you can't play golf really well, at least you look the best. I'm Tiger in the hood. He's Tiger Woods; I'm Tiger Hood.
3. So what's your handicap??
I'm right around 110. I'm not super great, but I'm getting there. I've been playing golf for about three years.
4. "Johnson Family Vacation" is the first time you've ever been the top dawg in a movie, and you also produced it. Was there a lot of pressure involved, and what attracted you to the role?
Mainly I liked the script. I thought it would be cool to see this sort of middle income African American family just with a story. It didn't have a lot of the stereotypes and the ghetto-isms. I just thought that this character would be a good character to do for my first lead movie. And then getting this cast together helped put me at ease. We had a wish list, and we were able to fulfill almost every spot.
5. Was Vanessa Williams the first choice to play your wife??
She was. I mean, Halle, of course, just because there were a few kissing scenes. I was like my first choice was going to be Halle (laughs)! But it was going to be a little hard for people to believe she had a 17-year-old daughter (played by Solange Knowles).
It's a movie, the audience could have played along!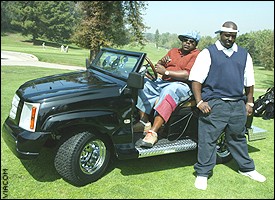 Cedric's gotta thank Funkmaster Flex, right, for hooking up his golf cart "2 Fast 2 Furious" style.
Yeah, she's a good actress. She's got an Oscar and all that (laughs), you know what I'm saying! I would have gotten to kiss her five times in this movie. I'm looking for that! But Vanessa was one of the early choices, and we thought that she would be great. She was someone who hadn't done a movie in a while and wasn't oversaturated. And also, we wanted someone the audience would believe had teenage kids.
What about the rest of the cast?
Bow Wow was our initial choice for the young, hip teenage boy who was giving his daddy a lot of flack about being corny. With Solange, we were kind of looking at the Christina Milians and the Meagan Goods and all that, but Solange just kind of came from out of nowhere.
She came in and read and just blew everybody back. We thought she was fresh, different and of course, being Beyonce's sister, we thought, "Hey, maybe we can get Beyonce to come by the set a few times (laughs)!" We'd just happen to shoot her while she was there. No contract, nothing! Just shoot her, put it in the trailer! And when it came to my brother, Steve Harvey was just a natural choice. There were a lot of things that were on the page, but I told him we were going to go off the script and create some stuff, too. He and I can do that because we just have a natural shorthand with each other that just works.
6. Did you have to deal with Rick Fox coming around the set to check on his wife?
I told Rick, "I know you're going to be getting mad because I keep writing in these extra kissing scenes," but I was taking advantage because Rick had hurt his leg at the time. It was like, what you gonna do? You can go only go in a circle, you can't go forward, dawg! You can't run! We had some fun with that. But I did meet him a couple of times, and he's a real cool cat.
7. You've worked with some rappers and a few athletes on the old "Steve Harvey Show." Who do you think are better actors?
Right now, I think that rappers have the edge. They get a lot more opportunity, but Ice Cube is definitely someone you can consider a pretty good actor. LL is a strong actor and DMX is very believable. As for the athletes, Rick Fox is pretty strong. He did well on "Oz" and in a couple of places.
But most of the time the athletes seem a bit awkward when they try to get into acting roles. I think musicians are just more in tune with performing in front of an audience even though the athletes are used to being in the public eye, but not in the sense that they're performing for them. They're usually just playing a sport and getting the job done.
8. What's your favorite spectator sport?
I'm a big basketball fan. I love the NBA and the NCAA Final Four. I love football. I'm not so much into baseball even though when I was growing up in St. Louis that was our only professional sport for a while.
Are you a Laker man or a Clipper fan?
I like both of those teams actually for different reasons. I do like the Lakers. I think they're one of the best teams in the league, and they're fun to watch. I root for the Clippers, too, being such an underdog with such great, young athletes like Quentin Richardson, Corey Maggette and Elton Brand. You just kind of hate that they always get pounded on because they're such great dudes.
People always talk about the vast differences between the Laker and Clipper fans. What have you noticed?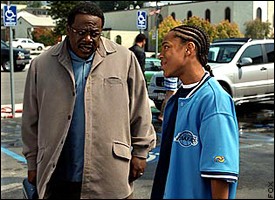 Bow Wow (don't you dare say Li'l) plays Cedric's wannabe-rapper son in "Johnson Family Vacation."
The Clippers crowd, they're like your true-blue sports fans. They're the blue-collar fans with the beer just coming out to enjoy themselves at the game. The Lakers game is more like having to put on the right throwback jersey, the clean tennis shoes. It's all about the hotness! It's all about going to the hot club. It's a wonder they don't have a doorman in front of Staples Center looking at your outfit and saying who can come in!
9. Is there any more television in your future or are you just going to focus on movies now?
I'm going to stay more in the film world for a minute. Television to me is just in a rut right now. The only thing that is really hitting and I've definitely fell victim to it, is the reality thing. All the situation comedies seem to be really blasť, and that's on major networks as well as cable. It just all seems to be like, "So what?" I don't really want to be in that environment right now. I've had some offers because there are a lot of big shows coming off television this year, but I just don't see it right now.
What about your singing?
I'm co-hosting this "Motown 45" thing with Lionel Richie, and I'm going to sing a song with Vanessa (Williams). I've also been taking some vocal lessons, and I have a natural singing ability. But I think that it's very rare that a comedian can come in and make a serious run at recording. I've got a couple of unique approaches, some things that are comedically driven that I can use my voice on so that people will know that I can sing. The lyrics will be comedy, but the tracks and the beats will be serious.
Will there be another "Kings of Comedy" tour?
We're talking about it. Guys are just kind of looking at schedules and seeing if there's a way we can do it. I don't know if everyone will be involved. There might be a flipping of a few of the names or something, but we'd all like to do another movie.
10. Did you play sports as a kid?
Yeah. I played a little basketball in high school and football until I blew out my leg. You know I grew up in a single-parent household and after I got hurt my moms was like, "Uh-uh, my baby ain't playing no more!" I couldn't explain that to my boys; my mama said I can't play no more (laughs)! My biggest thing was playing in the pre-conference finals in football, and I was known for great balance and I caught a little 7-yard pass. I was running and a dude hit me head on. I backed up but I didn't fall. I ran and jumped over him and ran for 15 yards for the first down, and then they knocked me out of bounds. But I was like in his face "booya!"
Miki Turner is a day and night laborer in L.A. She can be reached at dmiki@aol.com
.