MARINA DEL REY, Calif. -- It's early Saturday morning, and Carmen Electra looks as though she just strutted down some runway in Paris. She's wearing a skin-tight, spaghetti-strapped, fuchsia dress with stilettos. Her skin is perfectly bronzed, her hair highlighted and styled in large, loose Shirley Temple curls.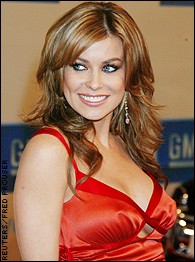 Carmen Electra remains a Baywatch babe in our hearts and minds.
She seems almost too perky for this planet, or at least for this setting. Yes, she's one of those people whose claim to fame is her looks (and being married to Dennis Rodman for a minute). Yes, she's the ultimate in eye candy -- particularly in her new role as top babe in the upcoming flick "Starsky and Hutch" opposite Ben Stiller and Owen Wilson, opening March 5. But despite her rather odd matrimonial choices -- not you, Dave Navarro, we're talking about Rodman-- the newly wed Cincinnati native, who has an affinity for junk food and an aversion to blue eye shadow, is possibly a lot smarter than people give her credit for. She was cunning enough to accept a gig as the pretty white girl fronting a rap band; a move that subsequently attracted the attention of the elusive music master Prince. He signed her to a record deal in 1992. When that didn't work out, Electra (born Tara Leigh Patrick) transformed herself into the sexpot du jour in the mid '90s, starring in "Baywatch," appearing in "Playboy" magazine as well as spots in a whole slew of forgettable feature films as the blonde babe who had more beauty than brains. Electra, 31, is now on MTV with rocker hubby Navarro in their turn at reality TV, "Till Death Do Us Part." The show gives us a peek into the Electra and Navarro's personal lives as they plan their wedding. Electra spoke candidly about that experience, her wedding, her most embarrassing moment, the on-screen kiss with costars Amy Smart and Wilson, the '70s, and what it was like being Mrs. Rodman.
1. Is there anything about the '70s you're nostalgic about?
Carmen Electra
: Yeah. I love the fashion. That was exciting ... just trying on all the costumes. Most of the ones we used in the film were original. They were cool, and I got to wear platform shoes, which is always good in my book (laughs). And I actually got to wear clothes in this movie -- usually I'm in something really skimpy.
Was there anything or any place from that era you would like to have experienced?
Actually, Studio 54 looked really interesting to me. It looked like people were having so much fun when you look back at footage.
Were you a fan of the blue eye shadow and the other '70s makeup?
I'm not such a fan of the blue eye shadow. ... It kind of freaks me out. I have some relatives that came out to the wedding who are still wearing blue. Blue eye shadow -- it just takes me back and I'm not feeling it.
1a. Are you even old enough to remember "Starsky and Hutch"? And if so, how do you feel the movie treats the old series?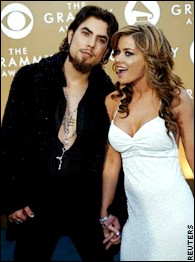 If you want to be happy for the rest of your life, take a little Viagra with your wife.
I remember two guys in a car and that's it. ... It was almost like a spoof in itself because if you look back at some of the old footage with the action shots and they'd roll and it was really dramatic -- so you stay true to it and it's still a spoof.
2. We were saying that this movie lends itself to MTV Awards category of best kiss -- between you, Owen and Amy. Did you have a glass of wine beforehand?
All day I was nervous sitting in the trailer thinking I had to kiss Amy in bed. I was actually excited thinking it was going to be a lot of fun ... and it was (laugh).
Which one was fun, Amy or Owen?
Both. Poor Ben, he passes out in the bed.
3.
How's married life?
It's amazing. We're a team, and that's important, especially in a marriage. He's my best friend, and I couldn't be happier with him. We've been together for three years. We took it slow -- for Hollywood -- and now we're married, and we have a show, and it's great.
How did he propose to you?
It was very traditional and romantic. He got down on one knee and proposed -- very sweet. We try to keep as much tradition in the whole process as we could.
3a.
What were some of the traditions you held on to?
From the dress to something old, something new. Of course, a lot of things did go wrong in the wedding. We wanted to release doves, and instead we got two big squawking birds (laugh). They were quiet the whole time until the ceremony started. So Sharon Osbourne, one of the bridesmaids, hit one of the birds with her bouquet.
4.
What has been your most embarrassing moment in life?
It's not that I married Dennis Rodman (laugh). One time I was at an event not too long ago, and I went in to use the restroom and when I walked out, my dress was tucked into my G-string. So I was bare butt and had no idea. I literally walked around the party for three minutes until someone finally had the guts to come up and tell me. I was just lucky that there weren't photographs taken.
5.
Is it better being married to a musician than an athlete?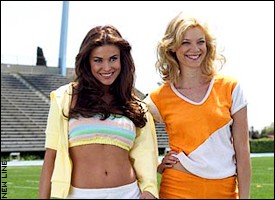 Carmen Electra and Amy Smart (right) play the necessary babes in the upcoming Starsky & Hutch movie.
Yes (laughs). They're both very different. I'll always have a special place in my heart for Dennis. People that know him see a softer side of him, and being with him was a big growth period for me. I learned a lot from that relationship.
5a.
Are you a sports fan?
I'm not. I became a sports fan when I was married to Dennis and went to all of those games. That was exciting -- to see Michael Jordan play. To me, that was the ultimate. But that's about it. Actually, I haven't been to a game since. It was only with Dennis. I'm done (laughs).
6.
What do you think about Rodman's comeback?
Did he win? I heard he won "Celebrity Mole!"
Yeah, he did.
Awww, I'm happy for him. And you know what? He should be happy doing what he does best -- playing ball. He's an amazing player, rebounder, and he's so talented. You just can't let Hollywood and all this stuff get to you. It seems like he's back on the right track. I'm proud of him. Isn't he playing for ...?
Long Beach.
Yeah. I think he has to prove to a lot of people that he's serious and once he does that, he'll be fine.
7.
What's the weirdest wedding gift you and Dave got?
We got Viagra for our wedding. Dave's doctor -- who's the rock 'n' roll doctor -- gave it to us. We decided that on your wedding night, you want it to be extra special. So we both took it -- and everything is great. Great sex for a long time. And then all of a sudden, both of us had the worst headache.
Maybe you were doing something wrong.
(Laughs).
8.
So you want to be the next Nick and Jessica?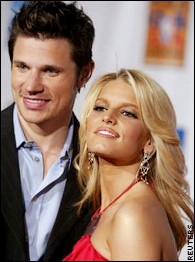 Are Nick and Jessica are setting the trend for Hollywood marriage and Reality TV?
Oh we already are. You're a little bit late on that one. "Till Death Do Us Part." is one of the top shows on MTV right now. There were seven episodes, so it's almost over. Don't worry, we'll do another one. We've been talking with MTV, so we're going to shoot around some ideas and see what happens.
8a.
Speaking of MTV, weren't you supposed to be "Punk'd?" What happened to that?
There is a lost "Punk'd" (episode). It was in Las Vegas and some sort of lawsuit came up with someone in Las Vegas, and that episode was never shown.
What was the episode?
It was the annoying limo driver that picks us up at the airport, gets lost, takes us through this crazy neighborhood. He has pictures of me in "Playboy," and he's talking about it. It was Dax, and he's insane. He stops at a gas station, and we hit a drag queen. But we're good sports!
9.
What are you addicted to right now -- what can't you live without?
Coke. I drink eight or nine a day. I'm going to have to go to rehab for that (laughs). I'm serious; I cannot stop. It gradually got up to nine. You know how Cincinnati is -- I'd have a Coke and a bag of chips for lunch, Skyline Chili ... so, I grew up around junk food, and it's just gotten worse.
The hard stuff or the diet?
The real Coke.
And you stay thin how?
Aerobic striptease, and I eat chicken breast and vegetables everyday and for some reason I don't get sick of it. But I still drink my cokes. That's my vice.
10.
How is your CD going?
Really, really well. You can get it at aerobic striptease.com. We couldn't be happier with the sales.
10a.You're the scantily clad cover girl on "Stuff" magazine this month. Is this a necessary evil for you or are you just having fun?
It's a necessary part of me. I love doing many different kinds of shoots. I've been in "Playboy" and I've always loved all the bombshells of their time from Marilyn Monroe to Ann-Margret. This kind of stuff for me is really fun. That cover is one of my favorites.
Miki Turner is a day and night laborer in L.A. She can be reached at dmiki@aol.com
.