LOS ANGELES -- What's a hip hop star to do when she's already got a room full of awards, gets all the free sneakers she wants, has more cars than she has toes and fingers, has appeared in Gap commercials with Madonna, and runs her own record label? That's easy: She steps into reality TV.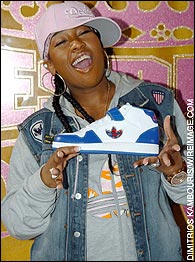 Missy Elliott's "really, really hot" in one of her 1, 000 pairs of adidas kicks.
Missy "Misdemeanor" Elliott has done just that with the upcoming "The Road to Stardom with Missy Elliott." This UPN "dramality," which will likely air sometime in January, features 13 vocalists aspiring to be the next big thing in hip-hop. First, however, they have to survive life on the road with Missy.
Page 3 caught up with the 33-year-old Portsmouth, Va. native during a UPN press party last month to talk about a few of her favorite things: her new venture, sports and music, cars, and sneakers.
1. How are you digging the TV scene? This is something new, right?
Missy Elliott: This was a whole different ballgame coming from off the road and then going to TV and having cameras on you constantly. I'm used to cameras, but not to that degree.
2. There will be the inevitable comparisons to "American Idol." Are you a fan of that show?
You know, I'm a watcher of "American Idol." I most definitely have been since Fantasia won. I was very happy with that. But this is a whole different type of show. You know, reality is reality at the end of the day. You're going to get real, but this right here is just -- it's more than that because you get a chance to see what it takes to be an artist and not just someone getting on stage and performing.
SPORTS & MUSIC

Page 3 will examine the connection between sports and music all summer long.


I wanted to show the behind-the-scenes aspects, to show what it takes. Everybody who can sing or rap is not a superstar. In rap we have a lot of singers and MCs all day long, but are they superstars? It's trying to become that household name where you can go in a Japanese home or you can go to a Filipino home and say Emimen.
3. What kind of a judge are you? Do you crack on the kids and tell them they have no talent?
I'm Missy Elliott. No, I don't get mean; I get real with them. That's the thing. It's not about me trying the say the harshest thing to them. The important thing is to give them realness and critique them in a real way so they can know what it is that they're doing wrong.
4. How much do you think hip-hop music influences sports?
Oh, I think hip-hop music really influences sports. I'm quite sure a lot of athletes -- basketball players -- listen to hip-hop before they go out on the court to try and get themselves revved up. That's a big part of their lives.
Have you heard any athletes who are particularly good rappers?
(Silence, half smile and then full out laughter).
How about Kobe? Somebody once told me could rhyme.
Really? Kobe rhymes? He probably is good. He's great at basketball.
What about your homeboy A.I.?
Oh, I haven't heard his stuff either. But there's a lot of them out there ... Shaq. I heard there are a lot of rhymers. They've got the best of both worlds.
5. How many pairs of adidases do you have?
Oh, I probably have about 1,000 pairs.
Why Adidas and not another company?
I'm a fan of Adidas clothing. And when I did "Under Construction," which was like an old school hip hop album, I felt like when I associate clothing, I thought about Run DMC. That was the first thing, and that's what got me into the whole adidas thing.
6. Do you play any sports?
Actually, I don't play any sports, but I'm trying to keep my cardio up since I've had another birthday. I went outside the other day, and put on one of those black sauna suits and tried to play tennis. I started seeing black and white spots! No, no, never again.
So you were trying to do that Venus and Serena thing? Do you like to watch a lot of sports?
I don't have the body like Venus and Serena so I had to go out there with my plastic suit on. I was trying to go to the Olympics (laughs). I was like no, "I can't do this -- especially with this plastic suit down here in Miami!" That wasn't a good thing. People were like "She's crazy!"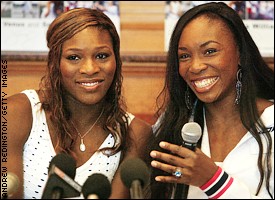 If the Sisters Williams are playing, bet your last dollar that Missy is watching.
I'm not really like into sports actually, but the one sport I have gotten into recently is tennis ... watching Venus and Serena play. If I turn on the TV or something and see them, I'll always watch.
Oh yeah, and I love Shaq. I think he's a funny dude. I saw him on TV the day he joined the Heat in Miami, where I live. He had a huge welcoming and he was up there joking. I don't really know too much about basketball. I know some of the players ... I don't even know what's going on half the time. I'll be at a game and just jump up because everyone else is jumping up!
7. Would you like to write a sports anthem someday?
I would love to! I think that would be hot! Another door-opener! See, you're coming up with ideas!
8. What haven't you done that you really want to?
Probably direct a movie. That's the biggest thing that I want to do next.
9. You just bought your mom the Rolls Royce Phantom. Have you seen her since you bought it?
That's funny. My mom used to always borrow my cars, and my cars have rims and a sound system and all that. My mom's a real church lady and she'd be pulling up to the church with the Ferrari and the Lamborghini and stuff like that. She always wanted something that was more classy. I got that for her for mother's day.
Thanks for making all of us minimum wage sisters look bad!
(Laughs) Oh, no! It took me a long time for me to be able to get her that.
10. Funkmaster Flex told me he tricked out one of your rides. How did you like it?
Actually Flex re-did a Mustang for me that is off-the-hook hot! I wanna say it's a '79. It's purple. It's chromed out. Once he did, I drove it down the street for a few blocks and I said, God, this car is getting more attention than my Aston Martin! Everybody was just going crazy.
Miki Turner covers the good life in LA. She can be reached at dmiki@aol.com.