LOS ANGELES -- Although her nickname is Eve of Destruction, a more appropriate moniker for the rapper/actress/fashion designer would be Eve of Construction. In the past couple of years Eve has become the latest hip-hop phenom to plant seeds in a plethora of fields and watch them bloom successfully.
On the big screen, the 25-year-old Philly native, who made her film debut in 2002's "Barbershop," has since starred in two other movies -- "XXX" and the newly-released "Barbershop 2: Back in Business," with Ice Cube, Cedric the Entertainer and Queen Latifah. Additionally, the Grammy-winning rapper is starring in her own self-titled TV sitcom on UPN, launched a clothing line called Fetish last fall, is currently filming a new film called "The Cookout" and will release her third CD sometime this year. Page 3 caught up with Eve to chat about her entrepreneurialism, the "Barbershop" franchise, religion, crossover success and her Achilles' Heel.
1.
First of all, have you recovered from the Eagles' loss to Carolina in the NFC Championship?
(Heavy sigh) That's crazy. Actually, I'm not a big football fan, but of course, I'm from Philly and it's like ... dang! I think my bodyguard is probably more hurt than I am.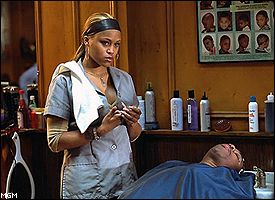 After so many bad relationships, Eve's character, Terri, in "Barbershop 2" is not a woman to be messed with.
2.
Can you at all relate to Terri, your character in "Barbershop 2" -- the angry sister with much 'tude when it comes to dealing with brothers?
Terri is just someone who has been in bad relationships, and in this one, she's just done. Yeah, I've been there.
3.
Do you think it's easier for rappers and singers to cross over into acting as opposed to actors and some athletes trying to sing or rap?
It's unfortunate when actors try to sing because nobody gives them a chance. You know like what's the girl's name? Jennifer Love ... Hewitt. She had a nice voice, but nobody cared! It's much harder for them. It's very easy for singers and rappers to get into movies because it's a fad right now. The door's always open.
A while back, Samuel L. Jackson came under fire for saying he didn't want to be an insurance policy for rappers who weren't serious about their craft. What kind of response have you gotten from trained actors?
I totally get and understand where he's coming from with that. There are people who are trained all their lives and have known all their lives I'm going to be an actor or actress. But at the same time, like he said, there are some people who get into this business and don't take it seriously. I do. I have an acting coach. When I come on set, my acting coach is with me. I have the utmost respect for people who have been acting longer than me. I ask questions, and I take advice. I'm not one of those people who can't be criticized. I understand where it comes from. But a lot of us are good, so give us a chance.
Have you had a fairly easy road of it in terms of getting roles that you want?
It has been pretty easy. There are certain things I have wanted that I haven't got. It's the same process for me, too. I get turned down. It's not as easy as everybody would think, but it's pretty easy to get a meeting.
You're kind of in that pack with a lot of twentysomething black actresses who have to compete for a very small amount of roles. What do you think you have to do to break out of that?
I honestly try not to think about it -- especially when you think of the numbers, it's scary.
How hard is it to adjust to working those long days on a TV show?
Eve says she's completely involved in her fashion line because "I've got to wear it"
It's definitely different. It takes some getting used to. I'm used to being all over the place in a week. Getting up the same time every morning and going to the same place and seeing the same people, it took some getting used to. But now I am, and I like it.
Now that you've been successful in music and acting, do you see yourself letting one go to pursue the other?
I can't choose yet. It's too soon to say.
Does acting come as natural to you as rapping does, or do you really have to work at it to become as authentic as you appear on screen?
It's hard to kind of get into it for me. Rapping is like, OK, it's a mic it's a beat. I'm ready to get on stage, I'm ready to go. Acting, you just have to really be comfortable with it. Sometimes it's kind of hard for me to just breathe and get comfortable.
What do you get out of acting that you don't get out of rapping?
It's totally different. I can't even compare the two. They're both artistic outlets, but they're just different. Music for me is my emotions. It's Eve, it's who I am. Acting is becoming somebody else and having a different kind of emotion-saying words that I probably wouldn't say on a regular basis.
Was it tough being the one female among the ensemble cast in the original "Barbershop" movie?
No, not really because I'm never really the only woman on set. I've always been one of those women who have always been around the boys. I've always been a tomboy. It doesn't bother me.
4.
Are you athletic and do you work out?
I did. When I was younger, I'd rather wrestle than play with Barbie dolls. I played basketball and I was good in gym for a little while, and then I discovered boys. I hung around the boys. I'm not really that athletic, and I don't really work out. I get into a mindset of "OK, I really need to work out, and then I'm on it."
5.
What are you really good at, and what are you bad at?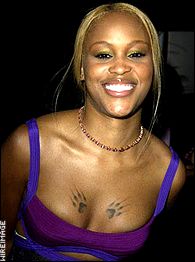 Unlike some other rappers and musicians, Eve says she takes her acting very seriously.
That's funny. Shopping and shopping. I'm really good at shopping and really bad at shopping. It's really my problem.
What's the one thing you've really splurged on?
I've really got a problem! I really do! I don't know. This is bad.
You can't say no to yourself?
I can't. I need other people to be like, "You don't need that, you're not going to wear that." I really do. I just like stuff. I can't help it, I really like stuff. I spend a lot of money on shoes, though. Shoes and bags, I do not mind.
Do you have a favorite designer shoe?
Not really. I wear a lot of people. If it's cute, I'll wear it.
Now you have a clothing line. Can you talk a little about that?
Fetish is the clothing line and it's doing really, really well. I've seen a lot of girls in it and I'm excited when I see people wearing it. It's in stores like Macy's and Marshall Fields and
we have a website
. So, I'm really happy.
Is that sort of a prerequisite for rappers now that you have to have your own clothing line?
I think it's a fad right now, but I think it will weed itself out. I think a lot of people aren't involved like they should be. We are completely involved with fabric, colors, whatever. I have to want to wear it, so I'm completely involved.
6.
Do you have anything on the "Barbershop" soundtrack?
Yes, I've got two songs. One song with Mary J Blige and one song with a new artist named Keyshia Cole.
What do you like to listen to?
I listen to a lot of reggae. That's like my favorite music. I listen to everything from dance hall to Roots and Culture.
Can we expect a little reggae flava in your next CD?
Maybe so. I haven't done it in a long time. I want to do something on this album, but I hate when something becomes a fad -- you know, like reggae's back. But there are a lot of artists I'd like to work with, and, hopefully, I can do it on this album.
Are you going to do more singing?
We're talking about it. But I'm not comfortable there. Singing is a lot for me. But I might.
7.
Queen Latifah opened so many doors for rappers. What does she do for you personally?
Her whole career is motivation for me. I grew up on her music, I watched her sitcom, and I watched her movies. I've been fortunate to be able to meet her. She actually just did a cameo on my show (airing February 23rd) playing my big sister. She's an incredible person. She has incredible drive. For me, it's just motivation. She came from hip hop, and she's very respected in Hollywood.
8.
Is it kind of daunting to be starring in your own sitcom and it's called "Eve"? I mean, if the show bombs, it's going to all be on you. Believe me, I was not trying to go with that name! Originally it was called "The Opposite Sex," which I was loving! But it was a corporate decision to go with "Eve." And thank God it didn't bomb because if it did ... Ugh!!
9.
How do you keep yourself grounded? I pray a lot. God is everything for me. And I have a lot of good people around me. I'm thankful for that.
So, you are religious?
I don't believe in religion. I will go to church to hear a good word. I'm not opposed to that because you always need to hear a good word, but I don't believe in religion. I feel it's separatism. I feel like if we all believe in the same God, who is kind or forgiving -- there's a bunch of different names for him, but it means the same thing. So, why not come together and worship together. I feel like it's judgmental, too. Religion scares you sometimes: "If you don't do this, you're going to go to hell." I read a lot of different books, and I've been a lot of different religions, and I take from all of them.
10.
Would you be down for a "Barbershop 3," or do you think this is enough? Ahhhhh, If it's done the right way, and it made sense ... maybe.
Was there anything you felt uncomfortable doing in this movie as opposed to the first one?
I was supposed to say something about R. Kelly in the movie. It was one of my lines, and I didn't want to do it. Even though it was different -- I was playing a character -- personally, I know him, and I just didn't feel right saying it. But (the line) was funny. It's messed up to say that -- it's just a movie, but I just didn't feel comfortable saying it.
What do you think about what he and Michael Jackson are going through?
(Sighs) They're human, they're people. They just happen to be in the light. There are probably 15,000 other people going through the same exact thing. I don't judge.