Brace yourself, sports fans. As October comes to a close, some folks are in store for more heartbreak. And we're not talking about the Red Sox! We're talking about Jennie Finch fans.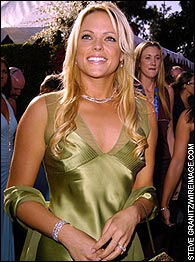 America's favorite softball player is walking down the aisle.
She's getting married!
Yes, the Arizona pitching phenom who, two years ago, beat out Anna Kournikova in ESPN.com's Hottest Female Athlete poll. The blonde bombshell, whose gold standard shone brightly at the Athens Olympics, where she allowed just one hit and struck out 13 while shutting out both Italy and Canada.
Finch will soon be hitched to Arizona Diamondbacks' pitcher Casey Daigle. Sigh ...
The nuptial news unequivocally dashes the hopes of legions of male fans across the country. Not that we ever had a chance, but our heart goes out to the numerous hopefuls who struck out while taking their cut at dating the athletically-gifted beauty. But hey, at least we've got 10 questions.
No softballs here. Jennie discussed some heady topics including George Bush, her take on the MLB playoffs and what it's like to strike out Albert Pujols.
1. Who do you like in the playoffs and World Series?
Well, I'm thinking the Cardinals are going to pull it off. And the Yankees might. I mean, they beat Curt Schilling and they beat Pedro Martinez, so I don't see the Red Sox getting past the Yankees in the ALCS. So, I would say Yankees out of the American League. And then I think the Cardinals are going to pull off the whole show.
The Cardinals offense will be there to put lots of runs on the board like they've been doing all year long. I mean, their offense is just sick, you know -- even their pitchers hit. There's no break in the lineup, so I would say, if their offense continues like they have been, the Cardinals will be there in the end.
2. Curt Schilling talked a lot of trash before getting trashed by the Yankees in Game 1. Do you talk trash before a game or on the mound?
No, I'm not much of a trash-talker. Coach Candrea, our Olympic coach always stressed to keep the talking to your glove and your bat. That's pretty much where I'm at. Plus, I'm not very good at trash-talking, so that's probably why I don't do it. That's just not me.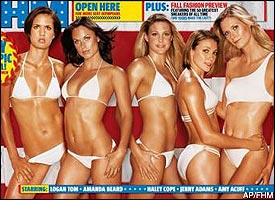 Jennie Finch chose to make a name for herself at the Olympics by displaying her skills.
3.
Were you asked to be a part of the FHM cover featuring other female Olympians? Have any other men's magazines approached you?
I was approached by FHM, yes. And yeah, there have been other male magazines that have approached me. But I just found, everybody has a choice, and I made my choice to say no. But I definitely don't condemn others for doing it.
Has the additional attention been positive or negative for women's competitive sports?
It's great for women's sports. It's great to see female athletes all over the place, and companies investing money in them. And it's great that I've had the opportunity to help out women's sports, and definitely play a part in breaking down all those barriers. We're getting there. We still have a lot of room to go, but it's exciting to see female athletes. It's actually cool to be a female. And muscles on women is sexy, and I think that's exciting.
As an athlete, is all of the sex symbol attention a distraction?
Yeah, it is kind of a distraction. I take it as a compliment and it's flattering, but remember, we train six to seven hours a day to be an athlete, and to be the best at what we do in our sport. But all the media coverage is great, and it's great to see female athletes being cross-marketed.
4. Talk about the mechanics of your riser? Do you throw inside a lot?
I throw pretty hard, so it's a matter of owning the plate, and owning the inside and outside part of the plate. I throw them up-and-in just to keep the hitter looking for that pitch, and then bust them down-and-out, or up-and-out, down-and-in -- but you definitely have to back them off the plate and keep them fearful in the box.
5. You've faced some impressive MLB players. You struck out Mike Piazza and Albert Pujols, and only Scott Spiezio made contact. Why can't major-league baseball players hit you?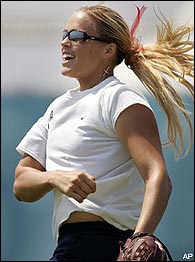 Jennie's popularity has been rising as fast as her heater.
I think it's the distance. They're used to having their big windups and long swings, where in softball, with the mound being closer, you can't do that. The ball is there too quick. Plus, they don't get too many rising pitches, so I definitely have the advantage there. I also think when they step in the box, they're not just looking to make contact. They want to hit it out of the park, so they have that long swing.
How fast are your pitches?
High 60s, low 70s. They say it's comparable to high 90s, low 100s.
6. Softball is clearly your sport, so without shame in your game, what do you ultimately suck at?
Hmmm ... soccer. I'm just not good at soccer, and it's too frustrating of a game. There's no way I could run around for three hours and maybe not even score a goal.
7. When you were growing up did you collect baseball cards or Barbie dolls?
It was kind of a mixture, I had my Barbie dolls, but we had Dodgers' season tickets growing up. So I was there ... and we even had Vin Scully on the radio while watching the game in the stands. So I was on both sides, I guess.
Do you still cheer for the Dodgers now that your fiancée, Casey Daigle is with the Diamondbacks?
Yeah, my heart's with the Dodgers, but I definitely jumped on the Diamondback bandwagon.
8. Have you and Casey ever faced each other on the mound? Can you strike him out?
No, we don't go there, because I don't know if there'd be a relationship if we went there. We're so competitive, we'd rather not. I don't want to hold that over his head and I wouldn't want him to hold it over my head. So we work out together, and he catches for me and I'll catch for him. But that's it.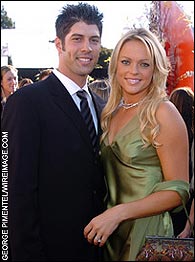 For Casey, life with Jennie makes playing for the D-backs bearable.
9.
Would you and Casey ever consider doing a newlywed show ala Nick and Jessica? Here's the pitch: We'll call it "I Dream of Jennie." What do you think ... you guys in?
I'm a big fan of "Newlyweds." That's the only TV I watch, really. I don't know if our lives are right for TV, but I guess I couldn't say either way. I think it would be fun, and there's not a reality show based around athletes yet, so maybe.
10. You've met President Bush, right? What do you think of his delivery? Does the former Texas Ranger have a decent arm for an old man?
I've met him twice, actually. I commentated a game of T-ball on the (White House) Lawn for ESPN. And then, after we (Arizona) won the 2001 National Championship we got to meet him. He's quite athletic. He's a sports nut, so it's just great to have your president interested in what you do. It was awesome and I look forward to meeting him again. We're (TEAM USA) going there Monday, actually.
OK, speaking of four-year runs, do you see yourself competing in the Olympics in 2008 ... 2012?
Lord willing I'm healthy, I would love to be there.
Shane Igoe is a writer/producer. His first book entitled "Taking the Hill: 100 Presidential Pitches from Opening Day 1904-2004" debuts next year. He can be reached at sigoe@youie.com.