When athletes and celebrities need someone to trick out their vintage rides, they look to one of the country's top DJs: Funkmaster Flex of New York's Hot 97. He is, as the New York Times said, "the evangelist of hip-hop car culture."
Although Flex has been doing the DJ thing since the '80s, his real passion is restoring classic cars, which he does on Spike TV's "Ride with Funkmaster Flex." The hit show returns for its second season May 2. Page 3 caught up with Flex on a golf course in Los Feliz, Calif., while he was taping a show featuring a golf cart he customized for Cedric the Entertainer (more on Ceddy and his baby Escalade later this week). Meanwhile, Flex gives us the lowdown on what he does, why and for whom.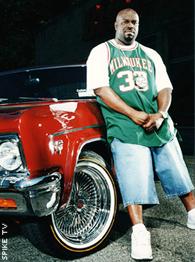 If you want someone to pimp your ride, look no further than Funkmaster Flex. Just remember to bring your checkbook.
1.
How did you get into customizing rides?
Flex
: My father used to have a '72 Cutlass, so I've always been into muscle cars. I own about 20 muscle cars -- Chevy's, Camaros, Impalas, a '41 Plymouth, a GTO, Chevelles -- those are the ones I can remember. I love Chevrolets. I started customizing celebrity cars because I was customizing my own.
2.
Who are some of the people you've worked with?
I've customized cars for Lil' Kim, Donovan McNabb, Tracy McGrady, 50 Cent, Ludacris, Missy Elliott, Puffy and Will Smith. I love cars. I own a body shop and an after-market shop, and I'm close to the public so I just do everybody's cars. I show them how to do it inexpensively. That's my trick of the trade.
3.
Hmm, so what's inexpensive? Are we talking under ...?
Under 75
Seventy-five dollars?
No, not that 75. About $75,000. But most people who restore cars charge about $100,000 or $125,000. I show people how to do it inexpensive like between $50,000-75,000. That includes purchasing the car, everything. I show them how to get parts, how to do things. I'm cheap, so I like to do things the same way.
4.
Who are you having on the show this season besides Cedric the Entertainer?
We've got Dave Chappelle on the show this year. We're riding around with him on his bus. We've got Dave Navarro, Jonathan Davis from Korn, Mariah Carey, Tyra Banks and John Madden. I did the Madden Cruiser. We have people on the show who are into their cars. We just don't have people on who just buy cars; they have to love them.
5.
What's the one thing that most celebrities have to have in their rides?
A booming sound system. No matter who -- actor, ballplayer, musician. No doubt, that's the biggest thing.
6.
What do you do for T-Mac?
We did his '63 Impala, and we did it from scratch -- from start to end. We customized it off the frame and restored it. It was a piece of junk, and we restored it to new.
And what about Donovan?
His is a '69 Camaro RSSS. We're copying the Hot Wheels (model) car for him. Missy (Elliott) has a '79 Camaro, which was a car her mother had when she was young, but we're doing it for her in plum purple with black interior. Mean.
7.
What else are you doing for Madden?
We're doing a 1940 Cadillac for him.
What kinds of engines do you generally put in these rides? What do most people want?
You know what, a lot of people want V8s, and a lot of people want horsepower. That's really what they're into -- horsepower.
8.
Who's pickier, athletes or actors?
I'd say rappers and basketball players.
What's up with the ballers?
They're a little harder to fit. You've got to move the seats back, so they're comfortable. They're young, and they want the world. Sometimes you have to tell them that you can't do that -- that's not safe!
9.
What's the weirdest thing you ever put in someone's car?
A refrigerator. I think that was 50 Cent. We're doing a fiberglass trunk for him now for his sound system. This is the second car I've done for him. We did a '65 Impala, and now I'm doing an '82 Regal for him.
10.
Are the women a little pickier than the men?
Yeah, for sure. They want it feminine but mean. Right now, I'm doing Ashanti's '67 pink Jag with white interior.
Jags have some issues, don't they? Are you replacing the engine and the electrical system?
We're just restoring it -- keeping the electronics and all the original stuff. Jags actually got worse in the '70s, but now that Ford owns the brand they're a lot better. The one (Ashanti) has isn't a rust bucket. It was already running.
Miki Turner is a day and night laborer in L.A. She survived the Valley and can be reached at dmiki@aol.com
.