She's blond, tanned, toned, and she's a professional golfer.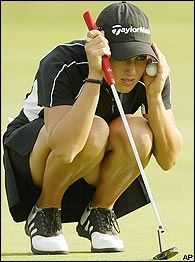 No, it's not raining golf balls. Gulbis is focused on the green.
Pick yourselves up off the green and get back in your carts, men. Natalie Gulbis is for real. The 21-year-old LPGA rising star, who played on the guys' golf team in high school, is not letting her sex symbol status go to her head.
Gulbis is all about staying on course -- even when she's posing for her 2005 steamy calendar (complete with biniki-clad-posing-on-the-green shots), or in a hot photo spread for the November issue of "FHM." But that's totally normal, right?
At 4-years-old, Gulbis found her way to the golf course by tagging along with her Pops. By age 7, she had won her first tournament, and by 10 was breaking par. Now, the former University of Arizona First-Team All-American is looking to add to her $700,000 in career earnings. Page 3 talks to the young hotshot about her provocative poses, her "Friends" obsession and getting the day started with a little AC/DC.
1. How did the calendar idea come about and what are your thoughts on the fuss that was made about it?
Natalie Gulbis
: This is my second calendar, actually. The first one, last year, did really well. It mostly included golf and casual shots. My fans and sponsors were always asking for more workout shots and bikini shots, so we tried it. It worked out well. The USGA, at this year's US Open, they purchased six, seven cases of the calendar, and they were going to sell them there. Then they decided to ban them because they said it was too provocative. I was really disappointed. But we still ended up giving out the calendar to some USGA officials and the fans that week.
2. Fill in the blank: If we looked up ____________ in Webster's dictionary, your picture would be right there.
(Laughs) Energetic!
3.Identity theft is no joke, but if you could steal, just for 24 hours, one person's life, who would it be?
Good question! I want to be Jennifer Aniston ... so I could be married to Brad Pitt and be on the show "Friends." Now I'm going to be thinking about that all day, how I want to be her. I'm addicted to "Friends." I watch the old shows on DVD and I'm excited about the new "Joey" show. Whenever I travel, I have a portable DVD player so I can watch "Friends."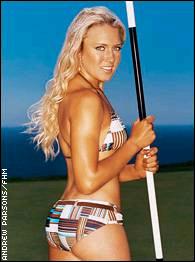 Yeah ... and Natalie Gulbis can kick your butt on the golf course.
4. How would you have spent that $560, 000 Meg Mallon nabbed at the US Women's Open?
I would purchase some more property in Lake Las Vegas. I'd have my mom retire from her job. My mom not working would be a pretty big deal for me. I'd like to take care of my family so they never have to work again.
5. We know you were playing golf basically in the womb, but what else are you good at? You are the All-Time Queen of _____________?
Of anything else, not golf? I'm a very good cook but I wouldn't say I'm the queen. Everything I cook is really spicy and has a lot of flavor.
On the other side of that, what do you ultimately suck at?
Riding a bike. Instead of using the brakes (when I was a kid), I just jumped off. I suck at riding bikes. Hopefully someone can show me how to ride properly and how to use the brakes!
6. Tell us the one secret urge you always get but have never acted on. How close have you ever come to acting on it?
I'd like to be a pilot, fly planes. I haven't had the time yet to go get a license or go to flying school. Someday.
7. You used to eat at McDonald's before every round -- Egg McMuffin and the ol' hash browns combo. Clearly you are not afraid of carbohydrates. What do you think, low carbs: fad or dietary revolution?
(Laughs) I think that parts of the low-carb diets are pretty right on, with adding more fruits and vegetable. I'm not sure about all the low-cab products. I pretty much stick to a low carb diet, but my carbs come from vegetables and fruit. I still do McDonald's, especially when we go overseas. I do more chicken salads and scrambled eggs and pancakes. But one of my favorite desserts is (the) McFlurry. When I have cheat days, I eat McFlurries.
Any other weird superstitions we should know about, like do you have a stuffed baby tiger in your bag?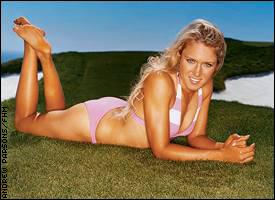 Crank up Tom Petty, Natalie Gulbis is an All-"American Girl."
No, just normal habit routines. Just trying to follow the same routine ... which marker that I use when I play. Oh! There's one other thing. I use the University of Arizona mascot on my driver ... and I won't change it!
8.On your website, you've got some rocking out music, do you listen to anything specific to pump up before tee time?
Anything pretty much on the radio. I definitely like to listen to the radio first thing in the morning. I like Top 40 or classic rock. AC/DC works great. Gets you started for the day.
9. What would be some of the songs on your life story soundtrack?
Bette Midler's "Wind Beneath My Wings," AC/DC's "Back in Black" and ... (Talking away from the phone) Hey, dad, who sings that "American Girl" song? OK, and "American Girl" by Tom Petty.
10. If you could write the headline for this story, what would it be?
Are you gonna use it?
If it's good, sure.
I'm trying to think of all the other headlines I've seen. Hmmm ... I dunno, that's why I'm golfer and not a reporter! Can you use that? (Laughs)