The first time I interviewed Jamie Foxx he was lying down on a couch in his darkened dressing room on the Warner Bros. lot.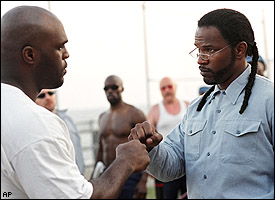 Jamie Foxx plays L.A. gang co-founder Tookie Williams in "Redemption," airing Sunday on FX.
I didn't really know what to think. It could have been he was simply tired, or perhaps that was just his way. By the end of the interview, I'd determined that he was just a weary country boy from Texas who knew his way around a joke. The thing that stuck me most about Foxx then was his inability to be still, even while lying still. He was constantly zigging and zagging. One minute he'd be talking about being a network TV star ("The Jamie Foxx Show") and the next minute he'd answer a question by singing some Isley Brothers tune in perfect pitch. Seven years later, he's still doing that. However, in the interim Foxx has blossomed into one of Hollywood's most versatile performers. He can do comedy; his standup routines are still brilliant. Also, he's a gifted singer and musician. He was the minister of music at his Terrell, Texas church when he was only 12. And he can do drama. He proved that as a disgruntled backup quarterback in "Any Given Sunday" and does so again in "Redemption," as L.A. Crips co-founder Tookie Williams, in an FX biopic based on the incarcerated former gang leader's life. The film, which premiered at Sundance in January, aired last weekend. Who knew the man who played Wanda on "In Living Color" was a true blue renaissance man? Page 3 chatted with the multi-talented Foxx in an exclusive interview about his new movies, his musical collaborations with Kanye West and Twista, his comedy, Michael Jackson, gold-diggers, hosting the ESPYs and his one shining moment in high school football.
1. So you've gone from playing a woman on TV to being a playa's playa in "Booty Call" to tossing the pigskin in "Any Given Sunday" and now you're a gang leader in "Redemption." That's some heavy stuff. What's up?
Jamie Foxx
: At first everybody looks at the film and says why is Jamie Foxx trying to be a Crip? I had to explain to them that it's a stretch for me to do that, but the reason we took the piece was because the piece is not about Crips. It's a human story about a dude who happened to be in an organization and who tragically had things happen to him. He realizes that after getting this death sentence, feeling every day that he's going to die, that he had to do something to show that he was just not here for nothing. It's about him changing his life around. Because you know that (people) were rolling up on me in the streets and going "Whassup, Crip?" I'd be like hold on, hold on!
2. Did you spend any time with Tookie?
Yes. I insisted on that. I got to know him as a man and that's what we wanted to bring out in the movie. We wanted this movie to be a work of art so we had to get inside his head and his heart.
3. You do another dramatic turn in "Unchain My Heart: The Ray Charles Story" (summer release). Your co-star Regina King told me that you're going to blow people away in that movie.
Can I just tell you that this movie is hot? I've never been a part of anything that's so spectacular in my life. We had to pick the right black folks. I was like no, no, no, those are the vanilla Negroes! We can't have them in this movie; they're not going to believe it! This is our movie, our s - - -. So I said get Larenz Tate, get Harry Lennix, Aunjanue Ellis, and Regina King. If you got the wrong people, black folks would be like, why you'd pick him? This is another stretch, Jamie Foxx playing Ray Charles. So we had to do it right. And after meeting Ray, the responsibility was on us to make sure that he was represented, absolutely.
4. What's up with your music? How much time are you going to devote to that now?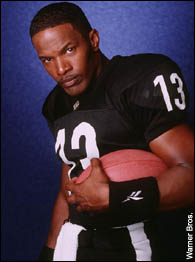 In "Any Given Sunday," QB Willie Beamen (Jamie Foxx) partied harder than most NFLers.
That record I did with Twista, that was a surprise. You know we did that record at my house? That record blew up! That will bring more legitimacy to the Ray Charles thing when we try to do some things musically with that. But music is always going to be a part of my life. I'm going to do a great album. It's going to be a situation, a relationship album. Some of it's going to be funny, some of it's going to be dramatic. Some of the titles will even be funny: "I'll Love You Better When I'm High," "'Til I Met Your Sister" and things like that. Then there are other collaborations that I'm already working on with Tank.
What kind of music do you prefer doing?
I prefer whatever the hit is! It's a hit, it's hot. Now ballads, I can mess around and get up on somebody on a ballad. People ain't seen it yet, but I can mess around and get up in there. I've had Ruben Studdard up in my house, Brian McKnight, Tank. Every once in a while I throw down with them. Think about it. Black folks and music: how great are they? Think about Jagged Edge when he sang (Foxx starts to sing) "drifting down a lonely highway. . ." You just go, "Damn, that (man) is drifting!" (Foxx then breaks into another Isley Brothers song). We do it better than anybody and they keep copying it. Justin Timberlake's the king of pop now. He's sold 2.5 million records. Michael Jackson has turned different colors, sold 46 million albums, and he loses his crown like that? I'm not with it! Whatever Mike did with the little boys, he's still the king of pop to me.
5. What do you think about the situation with Michael Jackson?
Can I just be honest with you? It's not the time to be black and in court. I just got through dealing with my court situation (Foxx was charged with battery against a New Orleans policeman a year ago and pled guilty to one misdemeanor count of disturbing the peace in a plea deal in February. He received two years probation and a $1500 fine).
Tookie Williams told me, "Look Foxx, if you already know that the system is against you, then why give into the system?" He said, "Walk away, just don't do it until the system is fixed. And when it's fixed, don't wreck it by making ignorant decisions." We need people to love each other and help each other stay out of trouble. When you look at Michael Jackson, there's nobody who loves him in that family, nobody. If they did, they'd tell him he didn't have to do all that in order to be famous. All he has to do is keep doing his music and be himself. Michael's been a little touched for about 20 years, but somebody needs to pull him aside and tell him they love him.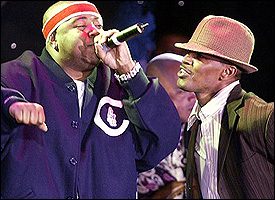 Here with rapper Twista, Foxx is trying to do it all, be a Sammy Davis Jr.
6. Is stand-up still your heart?
Stand-up is my heart and now I get a chance to do that and the music altogether. That's going to be great. I'm trying to be the Sammy Davis Jr. of 2005. I'm planning on going out with Cedric the Entertainer because he's got that musical bone, too. We're really trying to go get 'em so that people say, we have to go out and see these cats!
7. Are you done with TV?
Yeah, the sitcom world is dead. It's all reality.
Is there a reality show in you?
Yeah, I've got plenty of reality shows. I just don't know if I can get them on the air!
8. You've often described yourself as a romantic. Do you have hoochie radar? Can you spot a true gold-digger?
You know what? I appreciate a gold-digger because at least she knows what she wants. You can't blame them.
Are you candy and flowers and all that?
I'm whatever it takes. I'm good times!
9. You're hosting the ESPYs again this year. How cool is that?
Oh man, that's so cool. I love sports. I love the athletes. So to be up there on stage with all of them, seeing the best of the best. It's like having the best of all my worlds.
What's the one memory that stands out about your high school football days?
It was my junior year, and I wanted to be quarterback. You know how it is in Texas. If you play defense, that was it. We didn't go both ways. We were playing our rivals and just before the game the coach said, "You're going to go both ways." I mean it when I tell you we marched down that field, pitched it left, pitched it right, optioned right, optioned left. We got down on the 8-yard line and I called the play myself. I was supposed to hand it to the running back, but I want everybody to do exactly what they've been doing, so I only tell the running back and the tight end the play. I said, "Listen, I'm not going to tell you the play. I don't want these (guys) to know. Tell the tight end. You drag all the back to the end zone." I ran the play and the coach was like, "What the hell?" Then I dropped the ball in the back of the end zone against our rivals. Crazy. I'll never forget it.
Were you good enough to play college football?
Hell no (laughs)! I weighed about 152 pounds! I remember going to a school just to visit and this dude walked by me with calf muscles. We didn't have any calf muscles in our school!
10. At this point what validates the work for you? Is it what other people say or what you just feel instinctively?
You can't worry about what other people say, but you want them to say good s- - -. I know that sounds weird. The only thing I worry about is what black folks are going to say. If I get 75 percent of the black folks, that means I've got everybody. Because those other 25 are just hating because that's what we do. I do, too, sometimes (laughs).
Miki Turner is a day and night laborer in L.A. She can be reached at dmiki@aol.com
.