On "Newlyweds: Nick & Jessica," it often appears that Nick Lachey is standing in the considerable shadow cast by his wife, singer Jessica Simpson. She goes out on tour, he's at home planting sod with his brother Drew. When she's in the studio recording, he's at home downing brewskies while watching his beloved University of Cincinnati Bearcats on satellite television.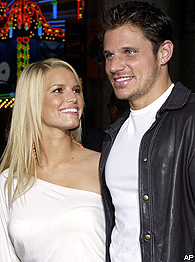 Nick Lachey's days of tending to the lawn are over now that he's got a new gig.
But those lazy, hazy days are over. This season, Lachey, 30, will appear on multiple episodes of "Charmed" on The WB. He'll play the love interest of Alyssa Milano, a woman he admitted to having a crush on during an interview on "Access Hollywood." Page 3, however, was more interested in Lachey's other obsession: sports. In 10 Burning Questions, Lachey talks about his love for his hometown Cincinnati teams, "SportsCenter" and gave us the skinny on his golf game and former classmate Carmen Electra.
1. I spoke with your wife several months ago and she said that "SportsCenter" was on 24/7 in your house. How many times do you actually watch "SC" a day?
Nick Lachey: Well, it all just depends. Usually I watch it at night. But if I'm working out in the morning, it just kind of stays on. She can't understand how I can watch it over and over again -- which I guess is a valid point -- but I never get sick of seeing it.
Do you ever fantasize about being an "SC" anchor?
You know what, if I wasn't doing music or acting or whatever, I think nothing would be more fun as a career choice than to work in sports. It certainly seems like everyone has a great time there on set. It seems like it would be a lot of fun. I'm sure it's a lot of work, too. I would definitely take the opportunity to do that if I could.
2. How good an athlete are you? Did you play sports in high school?
I actually went to a performing arts high school and we had no sports. That kind of sucked but in terms of my career that was a good move. But I was a fairly good athlete. I mean I'm athletic, but it's not like I would have been in the NFL had I not gone to the School of Performing Arts in Cincinnati.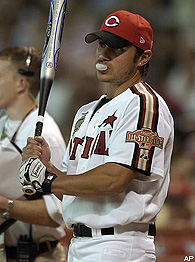 Nick Lachey's passions are the Reds and one red-hot blonde.
3. Let's talk a little bit about the hometown Reds. Can you assess their season so far?
Oh man, well, I'm proud of the way that they've played this year.
How about Ken Griffey Jr.? Is this guy cursed or what?
It's unfortunate. At the time we traded for him he was one of the best guys in baseball, hands down. It's unfortunate that injuries have hampered his career for so long. It's unfortunate for the city and for the Reds, of course, but more so for him. I've had the chance to meet and talk to him and he's a competitor. He really wants to win. Unfortunately, he's the scapegoat at this point, which sucks.
ESPN has a Pete Rose movie coming out soon called "Hustle." What are your thoughts about Pete, a guy who has 4,256 hits, getting into the Hall of Fame?
Hands down, Pete Rose should be in the Hall of Fame. There's no doubt about it. I think when you look at all the problems in sports -- steroids and other drug use and guys who are getting second, third and fifth chances -- here's a guy who was obviously wrong, but it came out of his desire for competition. He was the ultimate competitor. I think at the very least, whether or not they allow him to work in professional baseball again is another story, but it would be grossly unjust if he didn't go into the Hall of Fame while he was still alive.
4. How about those Bengals? It's been a long drought, eh?
With the Bengals, anything less than the playoffs is going to be disappointing considering how they played last year. I'm a firm believer in attitude, and I think Marvin Lewis has brought a winning attitude back to the city and back to the team. For a long time they were just expected to lose and I don't think that's the case any longer. They're now expected to win. You have the combination of the leadership from your head coaching position -- and the kind of flair that Chad Johnson brings to the team -- I think they're definitely on the right track ... This will be a telling season.
Even though you live in L.A. now, are you still a loyal Cincy fan-Reds, Bengals, Bearcats-or do you root for the Dodgers, Lakers or Clippers?
No, no, no. I go to Dodger Stadium with my Reds cap on. I'm a diehard Cincinnati sports fan. That's the beautiful thing about satellite TV. I can catch every game -- every Reds game. With satellite TV, you can really keep up with your teams.
5. Is there one sport that Jessica really gets into more than others?
Uh, I think she's probably more into football than anything else. She's a Cowboy fan, no doubt about that. She grew up in Dallas. I don't think she's really that passionate about sports one way or the other. But for my sake she'll watch a little football with me. She gets involved pretty well.
6. Have you ever regretted doing "Newlyweds?"
No, I've never regretted doing the show. Of course, there are days when it gets old and what not. But it's given us so many opportunities and it's really been an overwhelming positive experience for both of us. We have no regrets. We're signed for one more season, so there will at least be one more. At this point it seems like that might be it, but you never know.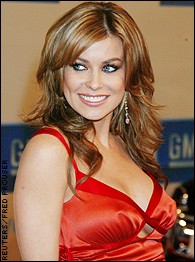 At Nick Lachey's high school, kids studied Carmen Electra.
7. Let's talk about your new role on "Charmed." Who are you and what are you doing?
I play a character named Leslie St. Clair and basically his role in the whole scheme of the show is that he's a ghostwriter for Alyssa Milano's character at the newspaper. She's taking a sabbatical and Leslie comes in and writes for her and then they have kind of this underlying romantic tension going on. It's a pretty good part.
Are you going to be recurring or doing a multi-episode arc?
Right now it's a six-episode arc and then I think we'll probably just take it from there. If we do six and they're happy with me and I'm enjoying it, then maybe we'll go further with it.
8. What gives you more pleasure, singing (he's a former member of 98 Degrees) or acting?
I think singing is much more comfortable and natural for me. I've done it a lot more. At the same time, acting's exciting because it's all brand new. That's a tough question because they're so completely different. I think the rush of being on stage live, and singing is hard to replace.
9. On "Newlyweds" you play a lot of golf. What's your handicap?
Thankfully I've never calculated it because it's embarrassing. I'm a horrible golfer. My only solace is that I've never taken a lesson. I'm just assuming that once I take lessons I'll actually improve. Right now I'm in it for the beer and the camaraderie.
You also did some surfing on the show. How exciting, scary or challenging was that for you?
I'm not a big water guy. I'm not big on the ocean. So that whole experience was pretty wild for me. But the first time I went out I got up on the board. From what I understand those were like world-class waves in Fiji. We were with the best surfers in the world and the best water safety guys in the world helping us out.
10. It has been widely reported that you want to be mayor of Cincinnati. Is that really true?
(Laughs) It's funny because I'm in Cincinnati now visiting Skyline Chili! You know, what it really comes down to is my desire to see things change for the better in this city. We've had some hard times here lately and it really just comes down to me wishing that I could make a difference and positively impact the future of the city. There might be better ways for me to help do that than run for mayor. I'm not sure I know enough about politics to run a city.
Speaking of Cincinnati, you went to high school with Carmen Electra. What do you remember about her?
I did not know her well. She was a couple ... well, I don't want to reveal her age, but she's a little older than me. It was one of those things where I'm sure she was dating older guys and I was just a little kid. But, she was good looking even then.
Miki Turner covers the good life in LA. She can be reached at dmiki@aol.com.