It never fails.
SPORTS & MUSIC

Page 3 will examine the connection between sports and music all summer long. Also, catch SportsCenter's music series all this week at 6 p.m. ET on ESPN.


Athletes who'll make your ears bleed

Coming up:
At-bat songs for all 30 MLB teams

The hip-hop and hoop connection

Peter Gammons' musical bend
Any time a rapper's rep tells you that they're going to call at 10 a.m., don't set your alarm clock. It's all but guaranteed that you'll get at least an extra hour's sleep.
Sometimes, however, when they do call -- and they never apologize for being late -- it's worth the wait. At least that was the case with for Lloyd Banks, the 22-year-old Queens, N.Y., native who, like the title of his hit single suggests, is "On Fire."
Last month the G-Unit pretty boy dropped his first CD under the G-Unit/Interscope banner called "The Hunger for More." According to Banks, the title perfectly describes where he is in his life and in his work.
In 10 Burning Questions, Banks also drops some knowledge about his music, life with 50 Cent, the state of hip hop, his skillz on the basketball court, and his preferences when it comes to pop divas.
1. What's the meaning behind the title of your new CD?
Lloyd Banks
: The meaning for me, it kind of changes what my obstacles are. About two years ago it was the hunger for money. Now that the money's here, I think it's changed. It's like the hunger for respect as a solo artist, the way (people) embrace my solo project.
2. Has the money changed you at all?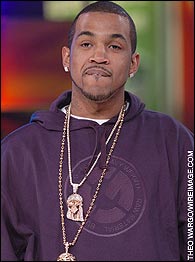 Like his hit single from his new solo album suggests, G-Unit's Lloyd Banks is "On Fire."
Yeah, it made me more of a target as well as it made me more appreciative of certain things. The money can't make me happy because money was never what made me happy. If it takes money to make my mother happy or whatever, then that's what I'm in it for.
What do you mean when you say you've become more of a target?
I was a target when I had no money. When you get money you're always a target because there's always somebody who needs money out there. In my neighborhood there's only so many ways that you can go get money.
So, have you developed a lot of new cousins and friends?
Yeah, as well as relationships with everybody who can benefit off your energy. You have to know how to filter out who's who and what's what.
3. Speaking of targets, there always seems to be some controversy swirling around 50 and G Unit. What's up with that?
You know, I feel that God isn't going to put something in front of me that I can't deal with. Somebody's got to deal with the drama.
But when you're coming out of the club and folks are taking shots at you, isn't that a little too much drama?
It's really not as deep as people make it out to be. If a shot takes place outside while we're performing on stage inside, they shot at us, you know what I mean? A lot of things are blown out of proportion because of the excitement.
4. A lot of the older rappers say today's rap is less about the message and more about the beef. Would you agree?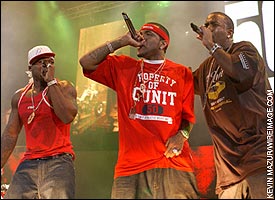 Banks knows that rollin' with 50 Cent, left, means being ready for the drama.
I think that beef has a message, too. If it's real beef, it's one thing. If it's a misunderstanding, then it's another thing. A lot of these so-called beefs in hip hop, they're not even beefs. They're just mistaken situations that take place whether it's you not saying 'whassup' to somebody or you not doing a record with somebody, things of that nature. It's all about how you look at it at the end of the day. I feel like even a negative message is positive. If you're from the suburbs or from out of the country, and you don't have knowledge of what takes place in my neighborhood, and I give you the possible scenarios that you could get robbed, shot and arrested just on your way to the store, if those things don't take place in your neighborhood, then maybe my message will make you appreciate your neighborhood.
5. You work with Eminem on the new CD. How was that collaboration?
I've been working with him for a minute. We've made about six, seven records together. I think that's because we have a respect for each other's music. I really respect him as an artist and a lyricist. We jumped at the opportunity to work with each other because there's a limit on talent out there. There's a lot of hip hop coming out, but not all of it is quality material. When I work with him, some of my best material comes out.
6. How would you describe the state of hip hop today?
It's at its biggest. It's at its peak right now. I'm pretty sure it'll get bigger, but even with all of the bull that takes place, I think that hip hop is in a good state right now because it allows different ways to make money. You have rappers with record companies, clothing lines and any other kind of project you might want to have. People like Russell Simmons opened up the doors for things like this to take place. And even with all of the negative, I think there's a lot of positive that comes out of it. A lot of my friends, they have jobs because of this. I'd be lying to you if I said I got into it for the culture. I didn't. I chose this way because this is what (enables) my mother to wear diamonds. This is what keeps food on my plate and this is what helps my brother go through college. I take it more serious than just a hobby. This ain't no hobby; this is my life.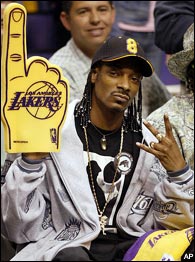 Did Snoop Dogg's laid back style influence Banks? Shizzle.
7. Who are some of your favorite old-school rappers? Who influenced you?
I've probably got about three big influences: The most influential is Snoop Dogg, Slick Rick is next, and Big Daddy Kane. Big Daddy Kane played a big part. My mother had me right after she finished high school, so I grew up on the music that they were listening to at the time. Slick Rick and Snoop were both laid back characters.
Their whole persona is cool and they were able to sell records like that. They didn't have to compromise themselves to sell records. Biggie and Pac, that's really my old school. They were out when I was just in high school. Biggie was one of my biggest influences of my era because I understood what he was talking about.
8. Do you think rappers naturally make good actors, because a lot of them cross over?
A lot of rappers, once they have business sense, don't want to stay in one spot. I don't want to rap when I'm 30 years old. I'm looking at the game like any way I can use my influence, I'm going to use it. Whether it be producing movies or whether it's wearing a sneaker, you might influence someone else to wear the sneaker. If I did get into acting, I don't want to do the typical role. I don't want to play me. I've been playing me my whole life. I want to do something that would challenge me. I think Pac was a good actor, LL Cool J and Treach are good actors.
What do you think about athletes who try to rap?
If you're a basketball player and you like hip hop, then you do that as your hobby if you don't have the natural talent. If that's something that wasn't always in you, then don't do it.
9. What's your sport? What did you play?
I've played basketball since I was around 11 years old. I stopped playing around 16 or 17. I was always athletic coming up. It's just that you have to have good grades for that. Hip hop is about the only thing you don't have to have a GED to be a millionaire.
What teams do you root for?
I'm a New York fan. I like the Knicks. I like the Yankees, the Mets. I like the Giants, and I like the Jets. I like the Rangers, too, and I don't even like hockey! But if they win, I'm going to be at the parade. I do like other basketball teams, but I'm always going to root for my home. Everybody likes to say now that they're not a Knicks fan, but I bet you when they're in that damn parade, they'll be there.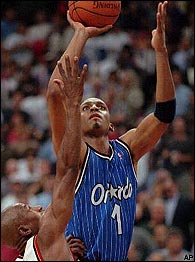 One of Banks' favorite throwbacks is from not that long ago: Penny Hardaway's.
10. Let me throw a few quick response questions at you. Do you have a favorite throwback jersey?
A favorite throwback? I've got so many of them ... I've got a Pistol Pete (Maravich) one that I don't even wear. I just keep it up on the wall. You've got to understand that my era wasn't really that -- the old players. An important jersey for me is like a Penny Hardaway because that's what I was coming up on. All the Julius Ervings and the Wilt Chamberlains, I have knowledge of them, but I wasn't really there to see how they impacted the game.
What was the first concert you went to?
It was a "Back to School" concert. It was in 1996, the same day TuPac died. Nas was there, Bone Thugs and Harmony. I went with my mother.
Who's on your CD player?
Me. You know why I said me? It's because this is my first project. This is my baby and I've got to make sure everything is right. I want it to be perfect. I have 8Ball & MJG in there, too. There's a lot of new artists coming out, but I think people mistake a lot of new talent for good talent. A lot of albums came out last year but 50 was the only one that stood out from the bunch. I'm trying to be the one who stands out this year.
What's the first record you remember buying?
It was "Doggy-style" by Snoop.
Beyonce or Janet Jackson?
Beyonce. I think she's more in my era. When Janet Jackson came up I was too young. Beyonce came up in the era I'm up in. When I was a teenager, she was a teenager. She looks amazing on top of her talent. She's a breath of fresh air. There's going to be a new Beyonce in a few years. She's just what it is right now.
Lil' Kim or Eve?
Eve. I think she's attractive.
Miki Turner covers the good life in LA. She can be reached at dmiki@aol.com.