LOS ANGELES -- Michael Michele, who's currently starring opposite Taye Diggs in UPN's new fall drama "Kevin Hill," looks much more like a model than a former high school hoops star.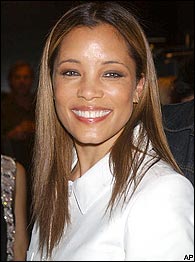 Aren't you glad Michael Michele's face isn't around flying elbows?
In fact, Michele is so stunning that she looks like one of those women who would miss 33 shots from five feet out and then throw up her arms and yell touchdown when finally putting the ball through the hoop. This just goes to show you how deceiving looks can be. Although the Evansville, Indiana native opted to study acting after high school as opposed to learning playbooks, it appears she made the right choice. Since making her screen debut in 1990's "Def by Temptation," Michele has worked steadily, appearing in films such as "New Jack City," "Ali"; and on television in "Homicide" and "ER." In 10 Burning Questions, Michele gives Page 3 the scoop on her hoop life (she still plays recreationally), her favorite NBA teams and her memorable experience in the Hoosier Dome.
1. Do you think some people second guess your basketball skills because of your looks?
Michael Michele
: You know, I think if anyone has even cared to follow me, they know that I play because I've been challenged many times. I've been challenged on talk shows, they've shown footage of my playing ... most people know I can play now.
2. How old were you when you started playing?
Oh God, my father put up a basketball goal before I could even get the ball up. He would teach my sister and me how to dribble around the chair. I was probably 7 or 8.
Was he a coach or just a hoops dad?
No, he grew up in Indiana, went to college in Kentucky and, like so many people in that part of the country, just loved the sport. My mother is the least athletic person in the world and she loves basketball.
3. So you played all through high school?
Yes, I played in high school, and when I was on "ER" I would still play in tournaments in New York City. The last tournament I played in, Michael Wright was on the opposing team with Michael Rapaport and one other woman. I can't remember who she was but I remember when we came out, Michael Rapaport and all the guys were like, "What are you doing here?" I was like, I'm playing! I haven't played that much since "ER" because the movies I've done have all been on location. I wasn't playing in Africa for "Ali."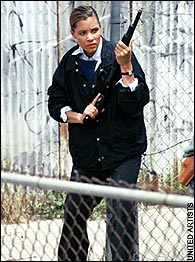 Even in the movies Michael Michele looks for a closer shot.
4. What's your natural position?
Forward. I had a high vertical jump so sometimes they would switch me to center. But I was comfortable at forward.
Do you prefer the perimeter or do you like to mix it up inside?
Inside! Inside! I'm such a bully! Inside!
5. How good are you?
I haven't played in a while, so I'm a little rusty. I need to get back on the court. Now I've got Taye challenging me, too. He's like, "I hear you've got game. I want to see this!" I played once on "Homicide." (Basketball) usually manages to work itself into a lot of my projects. I don't think it will for this one because I'm a single mother who runs a law firm.
6.. How competitive did those "ER" pick-up games get?
Well, you know I played Noah Wylie from time to time. Eriq (LaSalle) would just try and outshoot me from a distance. He'd say, "I bet you can't shoot it from way back here!" But most of the time I was playing with the guys that were working security on the Warner Bros. lot. That's what I was doing most of the time and then finally, the production crew gave me my own basketball so that I could just shoot around by myself in between takes.
Were they initially kind of intimidated by you?
Who? The security dudes? Oh, no, please. The first time I was on the lot they were like, "We need to play full court." I'd be down at the far end of the court and they wanted to bump me off. I was like,"'And?" So they told me that either I had to be a part of the game or get off the court. So, it was really like, "OK, play or get off." But they were fine after a while. They could play. They were security guys!
7. Were they better than the actors?
(Silence)
C'mon, you can go there!
No, because Noah is a really good basketball player ... a
really
good basketball player. I'd heard that George (Clooney) was a really good hoopster. When I met him he would visit the set from time to time, and I remember saying to him, "Now, George, you know Kentucky (where Clooney is from) was the big rival for Indiana. It's too bad you're not on the show anymore because you know you and I would have to go at it!"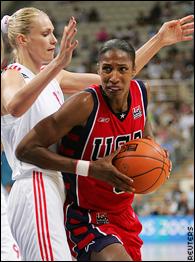 Michele can play ball, but Lisa Leslie she is not.
8. What was your proudest moment as a player?
You're making me seem like I'm Lisa Leslie! I don't have that kind of game!
Well, you might have hit a game-winning shot back in the day!
Ah, probably when we first went to state and we played in the Hoosier Dome. That was a big moment for me -- playing in the big dome in Indianapolis. I couldn't wait to get that first shot up. I'm like taking it ... and I shouldn't have taken it, it should have gone to the guard. I was like way out here and I put it up and the girl came from -- and I remember thinking, Who is this 6-foot-5 white girl coming down the center? She just (smacks her hand down) blocked that shot. I bet the ball didn't get 12 inches above my head. She took the ball and me down. It was a proud moment being there in the Dome playing, but I got smoked.
9. Who do you root for?
I've been a Knicks fan for a long time. But the Knicks ... I don't know what they've been doing. I was always at every Knicks game, and then I got mad at them a couple of years ago and said, "That's it, I'm going to support
Allen Iverson
! I'm going to watch Philly play." And then I got rid of Philly and said, "That's it, I'm going to watch
Jason Kidd
play in Jersey." So it's usually some team in the Northeast, but I've been a Knicks supporter for a long time. Of course, when the Pacers play the Knicks, I'm dead on that. That's a big rivalry.
What about the Fakers?
Did you say Fakers (laughs)?! I have to just say this: My only Lakers experience was when the Knicks came to play Los Angeles and Eriq LaSalle took me to the game. I warned him that I would be cheering for the Knicks. He said, "No, you're not!" and I said, "Yes, I am!" I was cheering for the Knicks and people behind me were throwing ice at me and all kinds of things. That's the only Lakers game I've been to and they abused me at Staples Center! That was it.
10. Have you ever played for the NBA Entertainment League?
No, but I've been asked to participate in different things that they've done. I've even been asked to do some things with the WNBA. They do a lot of charity things. I'm totally intimidated by that. Those girls ... oh, I'm so intimidated.
Miki Turner covers the good life in LA. She can be reached at dmiki@aol.com.