We all know Kurt Russell has starred in dozens of movies since he started as a child actor more than four decades ago (playing everyone from Elvis to Snake Plissken to the Computer Who Wore Tennis Shoes) and also is the partner of Goldie Hawn. Less well-known are his sports connections. He was a minor league second baseman in the early '70s, his father, Bing, was a prominent minor league team owner and his 17-year-old son, Wyatt, is a promising goaltender in British Columbia.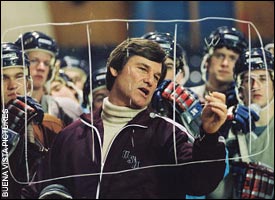 Russell was honored to have portrayed Herb Brooks, a man of greatness.
Russell also currently stars as Herb Brooks in Disney's new movie about the 1980 U.S. Olympic hockey team, "Miracle.''
During the course of two interviews, one last June on the set of "Miracle'' and one last month, Russell talks about what Brooks and Elvis had in common, what he learned from Jim Bouton and how not to turn a doubleplay ...
1. You portrayed both Elvis and Herb Brooks in movies. Whose clothes would you least like to wear in public, Elvis' gear or Herb's plaid sports coats and pants?
Kurt Russell: You've got that right. They're both cut from the same mold, they both had the same greatness.
2. Where were you when you heard Herb was killed?
I don't remember where I was, I just remember being shocked. I really liked him.
When I first met Herb, he asked me, "Do you have a son named Wyatt? I'm going to see him play.'' Herb was still doing hockey, he was a hockey guy. And I was a hockey dad. That was how we originated our relationship. We knew we would get to talking about the movie experience and how he was feeling about it, but neither one of us cared as much about that as about what was going on right now in real life with a real hockey player -- and one who might be a good one.
And then I spent a couple days with him, talking and researching and trying to recapture him as much as possible and what he was thinking at the time and who he was. I'm glad I had the experience.
3. How was he able to take that team to the gold medal?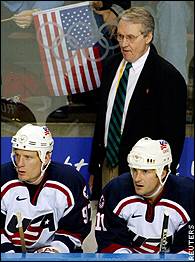 Herb Brooks inspired many youngsters to play the game.
What he did was put the right guys together. He put a group together that became a team. They were not an all-star team. There were better guys available. But those were the best guys for his approach to the game, which was a hybrid of the Soviet school, the Canadian school and the North American style of hockey. He had to get players with abilities in areas that wouldn't have gotten picked by other coaches. And the players didn't like each other, so he had to give them a common enemy -- which was him. And he had them long enough to get his game through to him and they learned to play it.
They also had the skill level to do it. They gave themselves the opportunity to play well against a great team. In that game against the Soviets, they played fantastic and they were lucky. They were close enough (in ability) that if they got the bounces, they could upset them. And the bounces did go their way.
I think Herb put all those pieces together and made that happen. He drove the players way past any point they had been before, or thought they could get to. He just kept driving them, and they hated him, but they all got to wear gold medals because of him. He literally forced them, against their will much of the time, to be the best they could be.
Herb said to me that it was the loneliest year of his life. I find that interesting, and devastating. We all think of the gold medal and the boys standing on the podium and all that, and then here's Herb, who's relishing the victory and realizing it has changed his life forever, but he's also relieved that the worst, loneliest year of his life has finally come to an end.
4. The real players give your portrayal of Herb the big thumbs up of approval. Were you satisfied?
The "Miracle"
"Miracle," about the 1980 U.S. Olympic Team, opens Friday. Check out all our "Miracle" content and then watch a replay of the historical "Miracle on Ice" game against the Soviet Union tonight on ESPN Classic.

Content

I'm anxious to hear what his wife, Patty, thinks. My thing is I wanted Herb to see it. And that's not going to happen now. I'll take what everyone else says but I would love to have heard what Herb thought. He was hard to please.
5. Living the role of Brooks, does it make you start coaching your own son?
No, he's playing real hockey. I'm just acting.
6. You were an athlete yourself. You played minor league baseball for several seasons before a rotator cuff injury ended your baseball career. How serious were you about baseball?
I was serious enough to be leading the Texas League (in hitting) when I got hurt. Sandy Alomar was hitting .138 and I was in the middle of a pretty good year. I made the All-Star team and I was a second baseman who could turn the doubleplay and hit. It was what I did. The fun part of my life was that everyone in baseball knew me from baseball. They didn't understand what I was doing with the acting thing. The acting was what was strange to them.
I played ball from when I was a kid. It's just always been in my family. My dad had minor league teams. My great grandfather was a great ballplayer. I played it as long as I could. And I always thought I could do both. I wasn't really serious about acting -- I was serious about baseball. I don't know if it was more important to me than acting but I was a young man, 22, and I had geared up to play pro ball from the time I was 13 or 14. The acting was something that just came along. But I made good money acting, so it wasn't something that I was just going to put aside and pretend it didn't exist.
7. How did you injure the shoulder?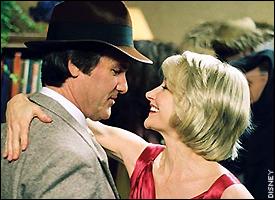 Kurt Russell and Patricia Clarkson showed off their chemistry on screen.
It was a couple things. I used to throw batting practice a lot, and with some injuries on the team, I was playing all the time which I hadn't been earlier, and with throwing batting practice, I think my arm was somewhat tired. But I got hit high on a doubleplay just as I turned it, and it surprised me because we were way ahead in the game and I thought the runner would turn off to right field. So it was my fault. I kind of lackadaisically came across the base and he hit me high. I didn't know what happened but the next thing I knew I was laying flat on my back.
It didn't really hit me how bad it was hurt at the time. I went out that night and played air hockey and I began to feel my arm bothering me. The next day throwing batting practice it didn't feel right and over the next week it just got worse. Frank Tanana told me, "I think you've torn your rotator cuff." I said, "What are you talking about?'' I didn't know what a rotator cuff was, it wasn't that well known back then. Frank said, "Yeah, I know what that is. I think you've torn it and I think you might be done.'' And I was like, yeah, sure.
I went back to L.A. a couple days later and went to the Jobe clinic and the doctor did an arthrogram on me and he looked at the arthrogram and he looked at me and he said, "Aren't you also an actor?'' And I said, Yeah. And he said, "Well, you're an actor all the time now.''
8. Ballplayers being ballplayers, did they give you any grief about your film career?
Most of the ballplayers that I played with, knew me from baseball. The acting thing to them was like, 'Yeah, I don't know why he does that.' Ballplayers used to say, 'You must meet a lot of girls in movies. Can you get me into that?' They always wanted me to get them into it.
Whenever I went to play somewhere where they didn't know me as a player, me and my teammates would get a kick out of watching them, because the other team would be like, 'Hey, that guy can really play.'' I got a kick out of the stands when they would heckle me and I would take the energy from that.
I watched that a little bit with Wyatt this year. I'd ask him if he got any crap out there and he'd say, yeah a little bit. But I taught him to just use it, use it against them, and it gives you a competitive edge. The first year they ran him hard and they realized he could play and it wasn't working, and that he was just another player.
I always realized that it was a unique situation, though. For me, if I was playing for El Paso today and Leonardo DiCaprio was playing second base, I'd go, "What's going on here?''
9. Is there anything in acting that recaptures the thrill of sports competition?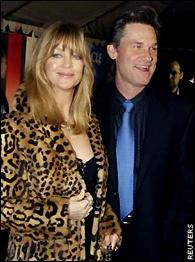 Russell with his longtime love Goldie Hawn at the "Miracle" premiere.
No. This is a different world. You're trying to create a show, to recreate reality, you're inventing. It's creativity. It's like painting, it's fun. But for any guys playing sports at a high level -- playing it for money -- well, I can't put my finger on it, but in a man's world of sport, there is something visceral to beating another man.
10. What was your best moment as a ballplayer?
There were two, really. One was in 1977 when I was in Portland with my dad's team (the Mavericks), a couple years after the injury and I was done playing ball, and I was just up there finishing out the year as a DH. Jim Bouton was on the team and it was the final game of the season, and it was in the seventh or eighth inning of a close game and we were both in the dugout and I was getting ready to hit. And I remember turning to Bouton, and I said, "This is great." And looking at him, I could see he was really enjoying himself. And he said, "Is there any other place you would like to be right now?'' And I said, "I know, what you mean. But you pitched in the World Series.'' And he said, "It doesn't make any difference. This is just as good as anything I ever did. Because it counts. Because it's right now." I remember thinking, "Yeah, it doesn't matter, it's just whatever importance you place on it."
And I've always taken that with me. Even if I was just playing golf by myself and having a really good round, or if I could break my personal best, that moment would become just as meaningful to me as anything else.
There was another moment earlier in my career when I struck out four times in a game, and I knew, I just KNEW that was the last game I would ever play in. I went to the ballpark the next day and I was in the lineup. And I said, "Well, hell, THIS is the last time. They're tossing me a bone here but this is the last game." So I went out to take infield and BP and then the national anthem started to play and I said to myself, "I'm just going to enjoy this. I'm not going to think about the future or the past. I'm just going to go out there and enjoy myself.'' And literally, something went through me and I got three hits that day and things turned around. But I remember realizing right then. THAT'S what they know. THAT'S what the good players know. That you have to just stand back and enjoy it. And I never had a bad day after that. If I had an oh-fer or something, it didn't mean anything because tomorrow was always another day.
I sort of learned an important lesson that I would like to pass on to my son or anyone else who wants to play sports for a living. Whenever the opportunity comes, whatever it is, enjoy it. Just enjoy it. Whatever the outcome may be, it's going to be, but as long as you're enjoying it, you're giving yourself a chance to perform at your best level.