LOS ANGELES -- She's smart, beautiful and can kick your you-know-what.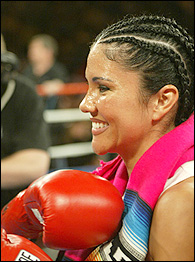 Yes, Mia St. John is foxy, but don't think she doesn't have that eye of the tiger.
Mia St. John, one of the pioneers in women's boxing, steps back into the ring on Friday night to avenge her only ever draw with Imelda Arias at the Telefutura event in Phoenix. The San Francisco native who made her pro debut in 1996, is currently 31-3-1 with 13 knockouts. Page 3 caught up with the occasional ESPN analyst and reporter at a charity event recently at the L.A. Sports Arena. She talked about her upcoming fight, her future plans and her out-of-body experiences.
1. The last time you and Imelda Arias fought it was a draw. What does a draw do to a fighter's psyche?
Mia St. John
: A draw is really strange because it's worse than a loss. At the end of a fight you let out a sigh of relief and you anticipate the decision from the judges. To hear a "draw" is so anticlimactic! It's neither here nor there, and all that training you did was in vain. I believe I beat her the first time. I think the fact that she weighed in 11 pounds more than me was in her favor and really swayed the judges. Now I'm in her weight class, and it will be a fair fight. That fact that she couldn't beat a featherweight tells me she will surely not beat me as a junior welterweight.
2. Who was your most memorable fight with?
My most memorable fight was Christy Martin. Everyone said I'd be knocked out in the first round. Not only did I go 10, but I boxed the best fight of my career.
3. You've mentioned that you might be retiring this year, why?
I'm hoping to retire at the end of the year. I've been fighting for almost eight years as a pro, and I want to preserve some of my brain cells. I'll stay in the entertainment business, for sure. My workout DVD ("Workout with a Knockout") comes out this summer and I'm working on a new TV show with the gorgeous ring announcer Amy Hayes.
4. Are you at all interested in doing any acting? That's kind of a natural step for a lot of retiring athletes.
I don't have any desire to act. My ex-husband (Kristoff St. John from soap opera "Young and the Restless") is an actor, and I truly appreciate his talent, but I'm focused on other things like helping Latinos progress in this country. I am a first generation Mexican born in America, and I believe it's my obligation to be the best role model I can be to my people. I started a foundation for Latino children in California to help fund educational programs. I believe that is why I was put in this position in my career. (I'm not here) to buy another Mercedes or diamond rings -- although I love that stuff (laughs) -- but rather to help my people.
5. How and why did you get into boxing?
I started when I was 6 in Tae Kwon Do. Then at 29, I decided to go pro in boxing and Don King made me an offer, so I took it!
6. Do you think male boxers or the men who run boxing really have any respect for women?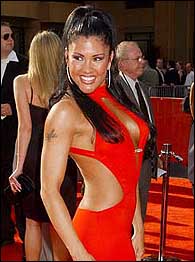 Dealing with chauvinists is the worst part of the biz for St. John.
Women get no respect in this business, which doesn't make sense because most of the females in boxing have better business sense than the male fighters and (we) have more education. Quite a few of us are college graduates.
7. Would you want your daughter to get into boxing?
My kids will never box. They do Tae Kwon Do, which is what I did for 23 years. Boxing is brutal and barbaric. I came from a different era and a totally different upbringing. I grew up poor with a lot of dysfunction in my family. My kids have everything they could possibly want and good parents. They don't need to box. 8. What's the best and worst thing about being a female boxer? The best thing about being a female athlete is that I was able to break into boxing when women's boxing was fairly new and command more money that a lot of men. The worst part is dealing with chauvinistic men. 9. Can you talk about the fear factor? What's going through your mind when you're stepping into the ring? The fear is intense when you step in that ring. The walk from the dressing through the tunnel to the ring is the longest walk of your life. You feel like your going to the gallows. You're sweatin' bullets and your legs feel like rubber. 10. It kind of sounds like an out-of-body experience. You wonder how you'll even be able to fight. I have to separate myself from the entertainer. I'm there to perform and that is simply my job is to perform. Nothing more, nothing less. Whatever happens in that ring is my destiny. Miki Turner is a day and night laborer in L.A. She can be reached at dmiki@aol.com.