STUDIO CITY, Calif. -- Breckin Meyer, star of the hit ABC sitcom "Married to the Kellys" (Fridays on ABC) is talking trash about this week's guest star -- Kansas City Chiefs tight end Tony Gonzalez.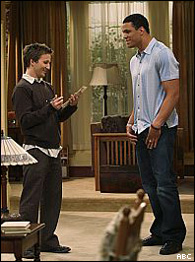 Breckin Meyer said he dunked on Tony Gonzalez when the Chiefs tight end was on the set of "Married to the Kellys" ... and then he woke up.
"He's not going to mention it," Meyer whispers before Gonzalez arrives on the set. "He's not going to talk about it because he's a little embarrassed about it. But ..." and Meyer takes a long, theatrical pause. "I dunked on him. Who pays his checks? The NFL. He's not in the NBA. And I showed him a little something." Hey Breckin, Tony Gonzalez has been in five Pro Bowls and was a first-round draft pick in 1997. He played college basketball with Shareef Abdur-Rahim and participated in the NCAA Tournament. He's known for doing a 360-degree slam dunk over the goal posts after a touchdown. You might want to re-think that. It might be useful to note that when the 6-foot-4 Gonzalez arrives on the set, the 5-foot-8 Meyer looks a little taller than his navel. Who's dunking whom? Gonzalez has always been a two-sport star: Football fans are wowed by his prowess on the football field. He's one of the most successful tight ends in NFL history. College basketball fans remember him from Cal's Sweet 16 run in 1997. Gonzalez raised more than a few eyebrows in Kansas City when he tried out for the Miami Heat in 2001. Page 3 caught up with Tony for a brief chat during rehearsals for his upcoming guest-starring role, where he plays himself.
1. Let's talk about your college years. What was it like to play on both Cal's football team and basketball team?
I played in the Cal/Stanford football game and got on the plane and flew to Maui to play Iowa in the Maui Invitational. I played in the game and scored, and then I flew back and got ready for the bowl game that year. I think I'm the only player who has ever played two games in the same day -- one basketball game and one football game. I did that my sophomore year. I had a football game in the afternoon and a basketball game at night. I didn't score in the basketball game, but I was out there!
2. So, are you really a frustrated NBA player?
Not any more. I used to have that dual identity. After I got out of college and got drafted in the NFL, I had to give up basketball. That was it. It's over. I needed to concentrate and get married to football and make it my first love. Basketball up to that point was my first love, and I had to divorce it.
3. Was that a tough decision for you to make?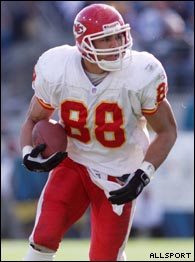 Gonzalez could make a run for the Hollywood Hills if this acting thing picks up.
It was hard because I love basketball, but I told myself to take care of football first. I wanted to be the best that I could be. I needed to establish myself. And I decided that after I did that, I could always go back to basketball.
4.
What was it like to try out for the Miami Heat in the Summer Pro League?
I played in the Summer Pro Leagues after the Pro Bowl in 2001. And it climaxed when I tried out for the Miami Heat and made their summer league team. I wasn't a slouch. I made the cut of 12. I feel good about that. I played in a couple of games and did well. I had 11 rebounds ... and two points! OK, I missed all of my shots. Shots that I should have made. That's what is holding me back. My shot. I need time to prepare for that, and next time I won't be so shy about shooting. I wasn't relaxed at all. Four-hour practices with Pat Riley? God, dawg; I was like, are you kidding me?
5.
Your signature move is dunking the football over the crossbars after your score a touchdown. You've managed to bring the "dunk" to the NFL. How did that happen?
My vertical leap is about 38 inches, and that's when I'm standing. I know if I run I can get that thing high. It's probably around 41 or 42 inches. During my rookie year, I saw film of somebody in the '70s doing the dunk. In the playoffs against the Broncos, I caught a touchdown in the back of the end zone, and I went up and dunked the football. The crowd went nuts, and they've loved it ever since.
It's a great move. But have you ever missed?
Sure, I've missed four or five times. I go up to dunk, and I'm like, Oh (expletive)! I'm not going to be able to make this thing. That's where my skills in basketball come in handy. I just turn it into a finger roll. If I'm tired, I do a little hook shot.
6.
Have you ever done anything to make Dick Vermeil cry?
I don't think so. Dick loves the underdog story. The story of people fighting hard and coming out of situations where they shouldn't have made it. Trent Green is his favorite. Trent will make coach cry in a second. He loves the human spirit, and that's why I think he's the best coach in the league. The way that he is able to motivate people and the way he deals with people. There is nothing fake about him. He has a relationship with everyone on the field.
Yeah, but did you ever make him cry?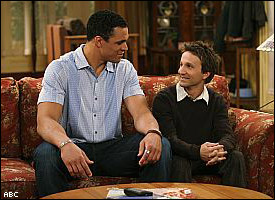 An athlete playing himself? That's impossible. What a stretch!
OK. I made him cry once. He was talking about me and he said, "Tony Gonzalez is a good football player, and you guys should watch him work." And he welled up. He didn't do the full boo hoo though. Not the whole "Trent Green Boo Hoo." Coach Vermeil cries real easy.
7. Who is your favorite quarterback to work with?
Trent Green. I went to the Pro Bowl this year, and we had a great year. We're slowly but surely getting that cosmic connection. The second half of the season we started clicking. I started catching the ball five or six times a game, and that's where I would like to be. The first couple of years were tough. I want to be his guy, though. There's no secret about that. When I go out on the field, I want the ball. Chemistry comes about as a result of working together. Trent comes from an offense where he's not used to throwing the ball to the tight end. Ever. It's a receiver-oriented offense. All of his offenses have never been tight-end friendly. I'm from the West Coast offense. He's not used to looking at a target like me.
8. You're playing yourself in this episode of "Married to the Kellys" (airing Friday night on ABC). Do you enjoy acting?
Yes, I really do. This is my fourth role. I've been on "Arliss" twice. I did "The Jersey" for the Disney Channel with Marcus Allen. But this is by far the most extensive work I've done. I've got 30 lines in this show! The hardest part is to remember all of those lines and to be comfortable, too. I'm able to deliver my lines pretty comfortably, but when the other person is talking I'm a little stiff. I need to work on that. I have to learn to relax when I'm listening.
9.
What has football taught you that you have been able to apply to acting?
It's very similar. You prepare all week in football, and then you go out and play. You rehearse all week in television, and then it all comes down to the taping day and how much you have prepared all week long. It's very much like football. We always have to learn and remember new plays. Our offense is probably the biggest in the NFL; we have at least 1,000 different variations, shifts and numberings. And for each game we go into, we have about 15 new plays. Taping a situation comedy is very much like a football week.
But you're enjoying yourself.
Yes. We'll see how it goes. I'm not going to do anything that I'm not going to be good at. I see some athlete-actors that are trying -- and failing -- and it's horrible. I don't want to be looked at like that. I don't want to embarrass myself. I have a great job. I love playing football: all those different personalities. The fans. Making it happen on the field. It's the best feeling in the world when it works, and the worst feeling in the world when it doesn't work.
Any regrets about not going into the NBA?
Well, they've got the life, don't they? The only drawback is the long season. It's easier on your body. Football is not for wimps. You get beat up. It's a total man's sport. If you have one ounce of holdback, you're going to get your butt kicked. I always wanted to play in the NFL for 10 years, so I've got three years left. But I won't even be 30 by then. I want to win a Super Bowl. It will change a lot of things for me if we can win one. And I feel it in my gut. This is our year. I didn't feel it last year. I felt we were going to go out and win every game, but I knew that we were hurting in some areas of our team. I knew that it wasn't all put together. I knew we were going to be one of the best teams in the NFL. But this year ...
10.
Before you got here, Breckin Meyer said he dunked on you. How did that happen?
He said that? That little (expletive)! I can't believe he said that. I'm going to dunk
him
.
Alysse Minkoff has written for ESPN 360, Ladies Home Journal and Cigar Aficionado and can be reached at AGirlReporter@aol.com.