In Los Angeles it's all about knowing how the game is played and Vivica A. Fox is playing for keeps.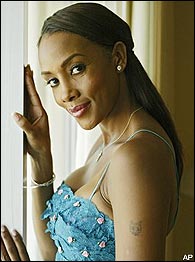 At 40, Vivica A. Fox is still turning heads on and off the screen.
For the past 15 years Fox has starred in blockbusters like "Independence Day," and cult classics like "Set it Off." And with her leading role in "Two Can Play That Game," Fox became one of a handful of African American women to actually open a film.
Most recently she inked a lucrative deal with Lifetime television as the star and executive producer of the crime drama "Missing," and even got an independent film deal as an additional perk.
Page 3 caught up with the vivacious one during an exclusive interview to talk about her career path, her athletic past, and her love life.
1. What is your athletic background?
Vivica A. Fox: I've retired my sneakers for stilettos baby! But you know I grew up in Indianapolis, which you know is Hoosier country, and in 1982 my basketball team won the girls city championship. And then I did "Juwanna Mann." But since "Juwanna Mann" I've retired them. Now I just coach at the celebrity basketball games. I'm not getting out there playing any more. I'll just let the little young ones do that. They can mess up their knees!
2. Another sister from Indiana, Michael Michele, also played hoops. Is that sort of a prerequisite for living in that state -- that everyone must play hoops?
Oh definitely! She was probably a basketball player-cheerleader, you know what I mean? You either played hoops or you might have done both. If you ask her if she was a cheerleader, too, I bet you she'd say yes! I'm sure they've got a picture of her with the pom-poms.
3. When did you become a cheerleader?
I started in junior high doing the splits and flips and that kind of stuff. It was kind of the acceptable thing to do. But I had two older brothers, so I was a tomboy. I was the cute tomboy who could put on the skirt but then go tackle you or something. I was a little rough around the edges for a pretty woman!
Were you a better cheerleader than athlete?
I was very good at both. I went to state in track, won the girls city championship and did well in volleyball. I was a varsity cheerleader. So you know, shoot, I've got a couple of letters and things! Last I counted I think there were eight in my mama's house.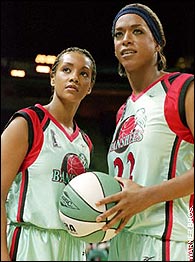 Vivica A. Fox is enough reason to watch "Juwanna Man."
What position did you play in basketball?
I was so short when I was a freshman that I went from guard to center by the time I was a senior. I'd grown six inches and I could jump. I was great on defense -- great rebounder, great blocker. I wasn't much of a shooter even though I had a nice shot.
4. What's your proudest moment as an athlete and as an actress?
As an actress, I have a couple of them. One was when I won the Lena Horne Award at the Soul Train Awards. To have your name associated with a legend, and the fact that my people were honoring me, was very special. Another special moment was when 'Independence Day' opened up at $98 million five years ago! That was huge. They didn't realize that a black (Will Smith) and a Jew (Jeff Goldblum) could save the world. The black woman who was a stripper saved the kid and the dog -- there's a little undertone there. All of these messages that just went over everybody's head, but they loved it. My third proudest moment was when I opened a film, "Two Can Play That Game," and we did well. And one last one is "Set it Off," when the girls kicked butt and people went into the theater to laugh at us and they came out in tears. It's become a classic.
As an athlete, it was when we won the city championship in 1982 -- Arlington High School. Go Knights! And when I completed the first few weeks of the six weeks of shooting "Juwanna Mann" and I still could walk.
5. You've dated some athletes, too. Who do you find sexier -- basketball players, football players, baseball player or anyone else?
Football players have some bodies! Oh my goodness! Basketball players are a little leaner. Most of them are about 6-10, 6-11, so you can't pack on too much. But I don't know. Lately, you've got Ben Wallace and he's got a banging body. Omigod, he's got some guns on him! But football players are a little bit thicker, so it all depends. If you like them slim, you go to the NBA. If you like them thick, go on to the NFL! I haven't really gotten into baseball players that much.
In terms of their mentality, who do you prefer?
Football players take too many hits on the field so they get a little scramble-brained. Personally, I have no desire to date another athlete to be very honest with you. I will be their friend. They are the best friends in the world to have. They're rich, they like to party and have a good time. But child, do not date them! He will take you through changes girl! And right now, I don't have time because I'm busy!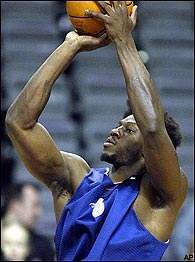 If only Ben Wallace's guns could help him shoot free throws.
I have a lot of friends who are athletes, really, I do. But I would not want to date any of them!
6. OK, so you're single again, are you dating or wanting to get married again?
Um, I don't know about wanting to get married again. It was too much damn paperwork if you ask me. You know I have to go through the whole pre-nuptial thing. You know what I'm looking for in life right now? I want someone I can have a special friendship with. I want that Goldie Hawn-Kurt Russell thing. We can just be like tight dawgs for 20 years and kick it and be successful together. I'm looking for someone to be my down-ass brother. That's what I want.
7. What would our readers have to do to woo you?
Right now, just be my friend. That's what I am learning from my past experiences. I am learning to take the time to really get to know a person -- to start a friendship and not be so lustful Mr. Athletes! If you all learn to quit being so damn lustful and having these little quick tit-for-tat relationships! I'm not really looking for a boyfriend right now, but I really, really want to meet somebody special.
8. Now you're a big Lakers fan. How do you feel about the dismantling?
I'm a huge fan and I'm devastated. Shaquille, what did you do to us? This isn't good for us Shaquille, this is all wrong! It's all wrong for us. That color scheme with that Miami Heat uniform is not going to work Shaquille! I can't see you in that black and red! Yellow looked real nice next to his chocolate skin!
No, in life different chapters happen and sometimes you have to move. He felt like it was time for him to close that chapter being a Laker. I am grateful to Shaquille for bringing three wonderful championships to L.A. and I got to experience each and every one. And who knows, I might be coming to Miami dawg! I might be following you! I'm about done with the West Coast, too!
Are you still a Pacers fan?
You know, that's my hometown. I root for them any time they're not playing the Lakers. I still root for them -- Reggie Miller's fantastic, Jermaine O'Neal and Ron Artest. He's got a nice body! He's got some big guns. I saw him at the All-Star game and I was like 'Young one, what's up?' He's interesting looking.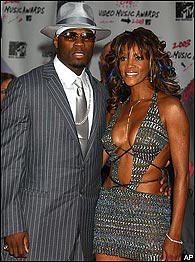 Rapper 50 Cent played a role in Fox's real-life drama.
9. Backstage at the BET Awards you broke it down about your relationship with 50 Cent. What's the real deal?
I stated a fact. I didn't go off on 50. I never insulted him. I just stated a fact and it had been something that had really been bothering me. At the height of the publicity with the breakup between us, I chose not to fight back because of the simple fact that I will never put down a black man in public. And in my public statement that I did finally release about 50, I still didn't put him down. I just stated a fact about who I am as a woman and as an entertainer.
I still have love for 50. He was very special to me. I don't want anyone to think that it was a relationship that didn't matter. He meant something to me. I really cared about him. What we made the mistake of doing was going public too fast with our relationship. We were both extremely excited about being together and we got caught up. Inevitably, in getting caught up, it destroyed our relationship. And I don't blame anyone for that, but both of us. In the future I hope that we can become friends again and that we can be cool.
10. Why did you decide to do TV?
I'm having an wonderul time doing films -- producing and starring in them. Lifetime, Debra Martin Chase, my manager and my agents came with such a deal that I would have been a fool to pass up the offer. Not only did they make me co-executive producer and star of the show, they gave me creative control. They sat down and said whatever we can do to make you happy. And they also gave me an independent film deal as well. So, hello! What's wrong with me? You all would have been saying 'Vivica, you need to quit tripping' if I didn't take this deal.
Miki Turner covers the good life in LA. She can be reached at dmiki@aol.com.