SPORTS & MUSIC

Page 3 will examine the connection between sports and music all summer long.


Bon Jovi rocks a new arena


Coming up:
The hip-hop and hoop connection

The line that separates The Zambonis, musicians who happen to be hockey fanatics, from The Zambonis, hockey fanatics who happen to be musicians, is thinner than Lizzy and more fragile than Trent Reznor without his meds.
Just try visiting www.thezambonis.com and not coming away with the impression the rock group would give up music in a second for something as insignificant as playing the last 30 seconds of a Capitals-Penguins blowout.
Lead singer/guitarist Dave Schneider has been melding his love of the game with his passion for music since 1991. He and the band -- which includes guitarists Jon Aley and Steve Tanksi, drummer Mat Orefice (whose other claim to fame was his stint as a punter for Southern Methodist University's Cotton Bowl champion team in 1983), vocalist Tarquin Katis and producer Peter Katis -- have released seven records, including their latest, "Chippy Sessions."
Voted "Best Band You've Never Heard Of" by Maxim Magazine readers, the Zambonis, who have a licensing agreement with the makers of the ice-cleaning machine they're named after, continue to build their reputation as cult favorites and chroniclers of all things puck related.
In 10 Burning Questions, Schneider and Orefice took a break from their round-the-clock efforts to help the NHL avoid a lockout to talk to Page 3.
1. If the owners lock out the players, can we expect a John Lennon/Yoko Ono-type bed-in by the band?
Mat Orefice: That's not a bad idea. But can we call it a crease-in?
Dave Schneider: I think we'd lose our licensing agreement with Mr. Zamboni if that happened. Of course, no one wants a lockout to happen, but in a way, I like seeing things fall apart. To me, it's interesting to see the rise and fall of people's creations. You want them to play hockey, but I'm curious to see what's created out of the ruins.
2. Your all-time best and worst hockey moments as fans?
DS: Playing the 2002 All-Star Game, and meeting the 1980 Olympic team was phenomenal. But meeting Bobby Orr ranks right up there. And meeting him again four months later was even better: We'd been told not to approach him, but he saw us, half-recognized us, and said "You wacky-singing hockey nuts!" That's hard to top.
MO: The All-Star Game was too much for a true hockey fan to take. As for the worst, we once met Mike Vernon in a bar in Bridgeport, Conn.. Let's put it this way, after he won a Stanley Cup, I don't think he was overjoyed to be playing for the Saint John Flames of the American League. He was a little testy.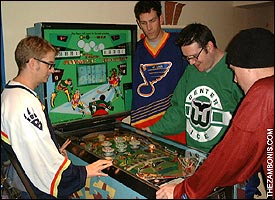 The Zambonis wish hockey were only this pure.
3. Changing the game has been on a lot of people's minds the past couple of years. What's wrong with it, and how do you fix things?
DS: Something has to be done about the trap. I've got no problem with goalie pads being the size they are, and I could see taking away the red line. But the band has its own ideas about writing a new rulebook, with brand new rules. One we call the "multi-puck": when you do something good, like get four good hits in a row or a three-goal lead, you get another puck to use on the ice. And if it's in the last two minutes of a tie game, two more pucks come shooting out of the corner, like a pinball machine. Anything to avoid a tie game.
Another rule we call "The Unaffiliated Rogue Player"; that's where you get a guy on the ice that's not playing for either side. He's out there trying to hit or score just for the hell of it.
MO: The last (Winter) Olympics showed how good the game can be, so we're all for widening the arena, and losing the red line. But the most important thing is getting people out to see the games live and in person. High-definition TV may change the situation, but right now, the best way to enjoy hockey is at the arena and I think the NHL has to build from there.
4. What piece of Zambonis memorabilia would fetch the most cash on eBay?
DS: Probably my 2002 All-Star jersey. We played at the game and I got as many players to sign it as humanly possible. Jewel and Five For Fighting also played that night, and I didn't see either of them running around chasing guys down. To each his own, I say.
MO: I like Dave's game-used Cooperalls -- and by game-used, I mean worn while we've played a show. They're Whalers-green and, I must confess, make for an odd look.
5. You've been playing hockey-themed music for 13 years now. How has the game changed?
DS: The speed of the game has lessened a little, but what's changed most is that the game is more of a cult sport here in the (United) States. And I just don't understand why. I mean, I like bands like Devo, Frank Zappa and The Who -- before "Tommy" came out -- and I understand why they're not appreciated by the mainstream, but I don't understand why hockey isn't.
MO: If you put up the NHL as a business model, you'd say there was fat to trim. That's the tough part, though: you think the league could stand to lose five or six teams, to improve the quality of games and to get out of markets that don't support the product. But by doing that, you're hurting a group of hardcore fans that do support the game. It's a sticky situation that I'm glad I'm not in charge of fixing.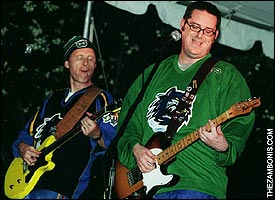 For musicians who love hockey, band names don't come much cooler than The Zambonis.
6. The band -- OK, Dave -- owns more than 300 hockey jerseys. Which one is your favorite?
DS: The uglier, the better. The jersey, I mean. There's a brown Canucks jersey we call "The Captain Kirk", but there's one that's worse ... a Providence Bruins jersey that defies belief. The Bruins play in the Dunkin' Donuts arena, and every night -- only for warm-up, mind you; they spare them the indignity of having to wear it for a whole game -- their jersey has orange, pink and white trim around their sleeves and waist. To top it off, the jersey has a donut on one shoulder, and a coffee in a to-go-cup on the other. Ugly doesn't begin to describe it.
MO: I now own an early '70s Canucks jersey, the one with just the stick stretching out. It's minimalist, and in my books, any logo you can accurately reproduce while scribbling away at a notebook is a logo that's a winner.
7. Brett Hull's goal to win the Stanley Cup in 1999: illegal or not?
DS: Illegal. That rule was stupid, anyway. What we need is the rules to be revised so that what is illegal is established, then consistently called, no matter whether it's the pre-season or Game 7.
MO: Illegal. Those poor people in Buffalo can't catch a break.
8. What separates hockey fans from fans of other sports?
MO: About 42 oz. of beer per game. That, and their willingness to spend entirely too much money on merchandise. It's amazing, the amount they've got to spend on tickets alone, let alone on authentic jerseys. Blows my mind.
DS: Devotion. Once hockey is in your blood, it's always there. I don't think you get that as much with fans of football or basketball.
9. What song do you never want to hear again at a hockey arena?
DS: "Machinehead" by Bush. "Breathe in, breathe out, breathe out, breathe out ..." I mean, I've written more than 80 songs about the game, and I've got to listen to "Breathe in, breathe out, breathe in, breathe out" every time I enter an arena? I know life isn't fair, but come on ...
MO: Let's ban 2 Unlimited's "Get Ready For This". Hearing that song at a hockey arena is the equivalent of buying a steak at Red Lobster -- nobody goes there with that in mind. But I'll tell you what song should be played at every arena: "Teenage Riot" by Sonic Youth. Now there's some fire-you-up music.
10. Are there any NHLers who have a standing offer to join the band?
DS: I heard Joey Juneau is a player, and Darren McCarty is supposed to be in a band, so they'd both get an offer.
MO: We'd love to jam with Cam Neely. And Pat Lafontaine is such a normal dude, it'd be fun to have him play a couple of songs. Most of the players we've met are absolutely great guys; I don't know what you put in the water up in Canada, but you just don't turn out jerk athletes. Except for Mike Vernon.
Adam Proteau is a writer for the The Hockey News and can be reached at aproteau@thehockeynews.com.