Sports have made almost as many appearances on "The Simpsons" as Krusty the Klown and Apu combined.
All this week, Page 3 is counting down the Top 100 Sports Moments in "Simpsons" history. On Tuesday,
we unveiled Moments 100-75
, and today we've got Nos. 74-50. Come back Thursday and Friday to see the full list.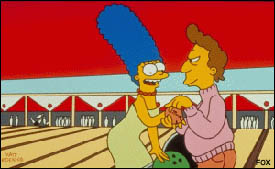 This family definitely spends a lot of time in the bowling alley.
74. Not Enough Bowling:
Marge doesn't think Homer will enjoy watching her in the town's musical version of "A Streetcar Named Desire" because there's nothing about bowling in it (or as she corrects herself, at least not enough about bowling). While Marge tries to memorize her lines while lying in bed, Homer plays a bowling video game.
73. Feelin' Frisky:
After a few beers, Homer is hoping to be intimate with Marge but is turned off when he discovers her hair is falling out in large clumps. Later, his ardor is re-ignited after watching women's volleyball on ESPN.
72. "Who ordered the bathtub mint julep?"
When prohibition is restored in Springfield, Homer surprisingly comes up with a scheme -- brew the hootch at home, store it in bowling balls and deliver it via a complex network of pipes from the bowling alley to Moe's Tavern. Marge questions why he he's leaving the house with so many bowling balls, to which Homer responds "I'm not going to lie to you, Marge. So long," and drives off.
71. "Very good ... now here's your cat back!"
Lisa discovers her large head gives her perfect balance to be a gymnast. Her gym teacher, a gruff Eastern European gent named Lugash, enrolls her in gymnastics. Her fellow gymnasts mistakenly assume she goes to college just like they do, and Lisa plays along. Lugash's training techniques involve massive humiliation, but when you finally succeed, he gives you your pet back.
70. Old-man Stink:
Mr. Burns goes broke and is forced to sell his mansion. One of the potential buyers? None other than wrestler Bret "The Hitman" Hart.
Real Estate Agent: And, I'm sure a pro-wrestler such as yourself will appreciate all the closet space, Hitman. Bret: Eww. This place has got old-man stink! Burns: Ooh. Smithers: Don't listen to him, sir. You've got an enchanting musk.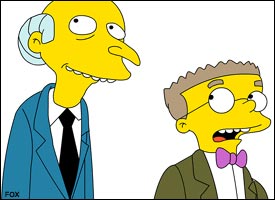 "Trust me, sir. You have a nice musk smell about you."
The agent also reminds Bret that he isn't the only wrestler in the neighborhood -- the Shrieking Sheik lives just three doors down.
69. Just Like Jimmy Hoffa:
Burns waits impatiently for the power plant's union representative, but Smithers comments that he hasn't been seen since he promised to clean up the union. The scene cuts to a football player tripping over a human-shaped lump in the field.
68. Milhouse's New Dad?
After Milhouse's parents get a divorce, his mom starts dating - and apparently she's quite a catch, because Pyro of "American Gladiators" fame is her date. The two of them ride away in an atlasphere.
67. Maybe if Athens Doesn't Come Through in '04 ...
Springfield is trying to land the Olympics, and the pitch is going well until the "patriotic comedy stylings of Bart Simpson" insult the judges. Principal Skinner punishes all the children involved in the presentation, and as part of his community service, Martin has to start an inner-city basketball program.
66. Weather or Whether?
At the finals of the Spellympics, Lisa is tempted by emcee George Plimpton to throw the spelling bee so a more popular contestant can win, ensuring that spelling remains a viable sport. Lisa rejects the offer, even though it comes with a scholarship of her choice to a seven sister's college ("and a hot plate," reminds Plimpton). In blowing the lid off the fix, Lisa misspells her word and loses. Bonus random sports sight: In Plimpton's office, you can see a No. 0 Detroit Lions jersey from his playing days as a third-string quarterback when he wrote "Paper Lion."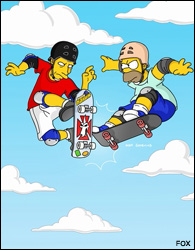 Homer battles Tony Hawk for Bart's affection in mid-air.
65. Bart Goes Extreme:
Bart's status as an emancipated minor (don't ask) gets him an apartment in a building that just happens to have Tony Hawk as a resident. Hours spent skateboarding in Hawk's loft gets Bart ready for a six-month stint on the "Skewed Extreme Sports Tour." When the tour comes to Springfield, Homer convinces Hawk to lose a skateboarding duel to him so Homer can win back his son's love.
64. Can I Get A Boo-Yah?
In an attempt to seem less commercial (no thanks to the "Mattel and Mars Bar Quick-Energy Choc-O-Bot Hour"), Krusty and the network honchos come up with something more educational -- a Kids News show. Lisa is the anchorwoman, and Bart starts out as the sports anchor. "Bart Simpson telling you to lock the doggie in the barn, because here comes dodge-ball action! The shirts continued their domination over the skins today. And in schoolyard fights, the highly anticipated match between Kearny and Mr. Largo ended in a disqualification, for use of dog poo on a stick." Get this boy on SportsCenter.
63. The Pool:
The hottest summer in years descends on Springfield, and the kids convince Homer to buy a pool. Soon the Simpson house is swarmed with kids, and the masses convince Bart to dive off the roof. When Nelson tells him his epidermis is showing ("Epidermis means hair," Nelson reminds us), Bart slips and falls, breaks his leg and has to spend the rest of the summer inside. Bonus "pick on the nerd" swimming pool moment: Despite wearing 17 pairs of swim trunks, Martin still gets pantsed.
62. A Day at the Cartoon Races:
After Bart tumbles into the Legitimate Businessman's Social Club, Fat Tony wants to see if the kid can be of any use to them.
Tony: Pick a horse, kid. We're putting two dollars on the third race. Make it a good one. Bart: Eat my shorts! Tony: Eat My Shorts? Ah, OK ... Let's see ... Wait a minute, you little punk! Eat My Shorts is in the fifth race! I said the third race! Bart: Don't have a cow! Tony: Mmm & Don't Have a Cow in the third, put a deuce on him.
And here's the call: "As they come out of the turn, it's 'Sufferin' Succotash' by a neck over 'Yabba-Dabba-Doo,' two lengths back 'Ooh Ain't I a Stinker' and 'That's All Folks.' 'I Yam What I Yam' can see them all, but here comes 'Don't Have a Cow' flying on the outside, and coming down to the wire, it's all 'Don't Have a Cow!' "
61. "First, you must fill you head with wisdom, then you can hit ice with it."
Bart wants to take karate lessons, but when he finds out that you learn karate so that you never have to use it, he's stunned. "Um, excuse me, sir. I already know how not to hit a guy. Can we break out the nunchucks?" Instead, he abandons the dojo to play "Touch of Death," a martial arts video game.
Springfield of Dreams
Looking for a place to spend your sports-entertainment dollar in Springfield? Don't forget Homer's advice: "Good things don't end with -eum. They end with -mania. Or -teria!" Here are the best sporting venues in "Simpsons" land:
Springfield War Memorial Stadium, home of the Springfield Isotopes
Springfield Downs Horse Racing
Springfield Downs Dog Track
Springfield U. Nittany Tide athletics
Springfield A&M Snortin' Swine athletics
Springfield Atoms (pro football)
Barney's Bowl-a-Rama
Sir Putt-A-Lot's Merry Olde Fun Centre
Springfield Speedway
Springfield Penitentiary Prison Rodeo
Springfield Coliseum
Springfield's historic Yahoo Search Engine Arena
Springfield Center for the Performing Arts
Springfield Crapalarium
60. Battling Bart vs. Homer "the Human Punching Bag":
Try as he might, Homer can't beat Bart in "Super Slugfest." Desperate to defeat his child, Homer ventures to a place no adult dares to go -- the video arcade -- to learn from the masters. But just when he's about to beat the boy, Marge pulls the plug -- at which point Bart announces his retirement, undefeated in the world of video boxing.
59. Unleash the Awesome Power of Apples!
Embarrassed by his weight at the church picnic, Homer secretly works out at night. He also wants to eat better, starting with Powersauce bars ("A bushel of apples packed in every bar, plus a secret ingredient that unleashes the awesome power of apples."). Soon, he's only eating food in bar form. Bart's awe of his father's new physique dooms Homer when two representatives from Powersauce are looking to sponsor someone to climb the Murderhorn. The climb nearly proves fatal for Homer, who isn't helped when he finds out Powersauce bars are "made of apple cores and Chinese newspapers."
58. The Wide World of Canadian Sports:
Bart and Milhouse's trip to Toronto proves fruitful when they interrupt a taping of "Curling for Loonies" (the commentator notes that "both our viewers must be enjoying this") and make the Canadian national basketball team just by signing up. Despite being the shortest guy on the court, when Bart clangs a shot off the backboard that doesn't even hit the rim one of the Canadians says, "Oh, that was close. You can be the center." What, no Todd MacCulloch, eh?
57. A Boy, a Klown, a Dream:
During a dream, Bart is attacked by a Freddie Krueger-esque Groundskeeper Willie. After seemingly defeating Willie, Bart wants to get back to his dream of winning the Super Bowl with Krusty. "Bart, there's two seconds left," Krusty instructs. "Now listen up. It's your basic Statue of Liberty play with one twist: you throw it to me! Knute Rockne called it the forward pass." When Willie rises again and attacks Bart, Krusty asks that Bart not dream about him any more.
56. "I've become everything I've ever hated!"
The family's trip to the new steak restaurant, The Slaughterhouse, goes awry when Homer complains about the paltry size of their 72-ounce steak. Offering up the "Sir Loin-A-Lot" challenge (that's 16 pounds of indomitable tenderloin, about the size of a boogie board), the restaurant finds a taker in Homer's gastronomic rapacity, which knows no satiety. Two other men have finished the challenge -- actor Tony Randall, and trucker Red Barclay, who just happens to be in the restaurant. Homer misreads Red's warning about "Sir Loin-A-Lot" as an insult and challenges him to an eating contest. Even though Barclay has just finished a whole lamb, he's up for it (think one of those skinny Japanese hot-dog eaters could manage that? I think not!). Homer steams through until the 4-pound mark, when he begins hallucinating. Homer falls to Barclay's superior eating ability, only to learn that after consuming his final bite, the mighty champion has gone to the great steakhouse in the sky.
55. "Did you say anterior?"
Homer, Skinner and Moe are taking on Willie, Carl and Professor Frink in basketball at the YMCA. Hatching a play he'd been saving for "the Olympics, or possibly the Final Four," Homer vaults off a crouched Skinner's back for a dunk, only to collide with the backboard. His knee catches in the rim and Homer falls awkwardly to the ground. Then the entire backboard falls on his leg. The result: an all-too-common ACL tear. Bonus sports moment: Carl is insulted when everyone thinks he's a good basketball player just because he's African-American. Then he skies for a monster dunk, spouting the hackneyed (and out-of-place) phrases "Go Carl, Go Carl, it's my birthday, it's my birthday! Three-peat! You got mail, baby!"
54. Where Have You Gone, Joe DiMaggio?
Burns gives Homer a Joe DiMaggio baseball card, upset that it came from a time when they were "letting ethnics into the big leagues." Homer takes the card to the Android's Dungeon to see what it is worth.
Homer: I need money for Christmas. Can I get anything for this Joe DiMaggio baseball card? Comic Book Guy: I'm sorry, but I'm afraid your card is only worth ...everything I've got! (dumps out cash register on counter) Everything! Take it! (takes card) Oh, no! I've smudged it with nacho fingers! I must deftly lick it off ... deftly ... Homer: Thank you ... freak.
53. "I'm giving you the beating of your life."
Homer needs a college degree to keep his job. But when the admissions board at Springfield U. turns him down, Mr. Burns -- who holds a chair at the university --- goes "to bat" for him. "Well, you know, fellows, I look at the admissions board a lot like a baseball team," Burns tells the board. "You all like baseball, don't you? Yes, well, to have a successful baseball club, you need teamwork -- not some hot-dog admissions officer playing by his own rules!" At which point he starts hitting the admissions officer over the head, with virtually no effect. Brian DePalma couldn't have directed it any better.
52. More Fun at the Dog Track:
The family finds itself at back at the Springfield Dog Track when a rambunctious Santa's Little Helper runs away from home. In the middle of a race, Santa's Little Helper bursts onto the track and chases down "She's the Fastest," who had a seemingly insurmountable lead.
Announcer: The mystery dog is gaining fast on the outside. Of course, he could never win this race ... or could he? Lisa: What's Santa's Little Helper doing to that dog? Marge: Uh oh ... Bart: It looks he's trying to jump over her, but he can't quite make it. Come on, boy, you can do it! Announcer: Ladies and gentlemen, this is the end: the end of dog racing. Everyone: Boo! Marge: I think they're in love. Everyone: Aw ... Homer: Aw, so that's what has been wrong with the little fellow: he misses casual sex.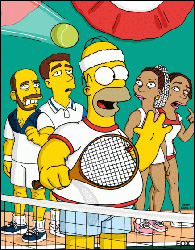 Pete, Andre, Serena and Venus are no match for "foxy boxing" in Homer's mind.
51. Tennis the Menace:
A backyard tennis court turns the Simpsons' house into the place to be in Springfield (thanks in part to the Simpsons' status as the "L.A. Clippers of backyard tennis"). Homer enters the family in a doubles tournament, but Marge doesn't want to be dragged down by him so she partners with Bart and wins the tournament. That earns them a spot in the Krusty Klassic. Never one to be upstaged, Homer grabs Lisa as his partner for the same charity match. In their match, slowly but surely family members are replaced with pro tennis players from the stands (Lisa for Venus Williams, Bart for Serena Williams, Marge for Pete Sampras and finally Homer for Andre Agassi). Their anger subsided, the family realizes "there's a lesson here for all of us: It's better to watch stuff than to do stuff." Bonus Homer-is-an-idiot moment: When he first sees Lisa and Bart playing tennis, he wonders what they are doing.
Lisa: Playing tennis. Homer: Oh, then what's the one where the chicks whale on each other? Bart: Foxy boxing? Homer: Yes! That's what I wanted.
50. Homer and Pro Wrestling:
What's a red-blooded American simpleton without pro wrestling? Two matches in particular caught Homer's eye.
Rasputin the Friendly Russian vs. Professor Werner von Brawn: Formerly the Mad Russian (before the forces of history changed wrestling, perhaps forever), Rasputin has a reach advantage but the Professor has his patented coma lock.
Dr. Hillbilly versus the Iron Yuppie in a Texas Deathmatch, where one man will actually be unmasked and killed! In the ring! Homer hopes they "kill that Iron Yuppie, thinks he's so big." Page 3 will unveil moments 49-25 on Thursday. Greg Collins is a freelance writer based in Seattle and can be reached at gregcollins73@hotmail.com.