Francis Scott Key never imagined this.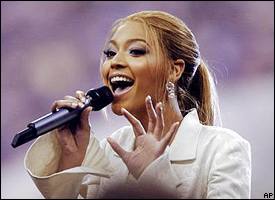 Dressed in white, Beyonce put in good work singing in her Houston hometown.
Penned in the fall of 1814, during the shelling of Ft. McHenry, Key's poem was quickly put to music and ascended to its place at the top of the nation's musical pecking order. But 190 years is a long time to go without a makeover, especially when you're out in public as often as this old dame. Here are Page 3's best - and worst - renditions of the Star Spangled Banner (in no particular order).
10.
Beyonce
Since her rendition of the anthem is doomed to be lost forever to a thrilling game and Justin Timberlake's titillating grab, we'll recognize Beyonce for an underrated performance. Dressed conservatively, the hometown girl took the field accompanied by the Vice Chairman of the Joint Chiefs of Staff and belted out a picture-perfect by-the-book anthem. One of the all-time great efforts? Maybe not, but it deserves more attention than it will get.
9.
Branford Marsalis
Who needs lyrics? Plenty of performers have set the stage for a big game without singing a single word, but few have done it with more style than Branford Marsalis. Before getting a gig on Jay Leno's show, Marsalis captured the attention of an audience perhaps unfamiliar with his jazz masterpieces by playing the anthem prior to the 1990 NBA All-Star Game. Marsalis proved yet again that the Star Spangled Banner is one flexible piece of music.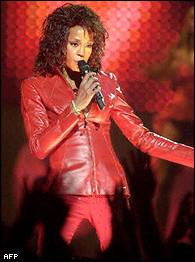 Despite being a bit "weird" these days, Whitney Houston moved the nation with her anthem at Super Bowl XXV.
8
Tari Phillips
Most athletes can be forgiven for spacing out or focusing on the impeding game during the national anthem - after all, they hear it more often than MTV hosts hear the latest hit pop song. But Tari Phillips didn't have that option on August 14, 2000, when she sang the national anthem before her team squared off against Washington in the WNBA's Eastern Conference semifinals. Not only did Phillips nail the anthem, she went on to collect 15 points and 10 rebounds in leading the Liberty to an easy win.
7.
Cheryl Ladd
Actually, it's tough to remember how the anthem sounded before Super Bowl XIV. But come one, it's Cheryl Ladd!
6.
Jimi Hendrix
Love it or hate it, Jimi Hendrix's version of the anthem spoke for a generation. Although often imitated, Hendrix's Woodstock performance has never been equaled. Many scholars have probed the depths of Hendrix's performance and its links with the political culture of the day. And we're sure they're right. But for us, it's also worthy of mention as nothing more than one heck of a guitar jam.
5.
Daniel Rodriguez
Most times, even when it's sung well, the national anthem is just a stop on the way to the game. But in the aftermath of the terrorist attacks of Sep. 11, 2001, the song had special meaning. People across the country were looking for healing, none more than the residents of New York City. And what they found was a member of the same police force that had lost so many members following the attack, a New York City cop with an amazing voice. Daniel Rodriguez's a cappella version of the anthem would have received rave reviews in any setting, but at Yankee Stadium in the fall of 2001, his performances resonated a little more deeply.
4.
Whitney Houston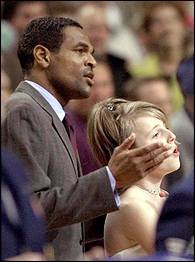 Blazers coach Maurice Cheeks provided a valuable assist for a young singer last year.
Arguably the most famous rendition of the anthem ever performed at a sporting event, Houston's performance before Super Bowl XXV was the ultimate expression of patriotic vigor. Dressed in red, white and blue, Houston took the field as the country found itself embroiled in the events of the first Gulf War. With security tight and a nation's nerves even tighter, Houston hit every note like few before. It was an aggressive, spectacular performance that rallied most everyone around the flag. Overrated in the grand scheme of things? Perhaps, but it was one heck of a tune.
3.
Jose Feliciano
Less than two years before he would take on the baseball establishment, Curt Flood was an outfielder listening to Jose Feliciano challenge the establishment with his interpretation of the national anthem during the 1968 World Series between St. Louis and Detroit. Who knows if it made a lasting impression on Flood, but he certainly wouldn't have been the only one. The blind Puerto Rican guitarist took the field in Detroit and played a version of the anthem unlike any that had been played in such a setting, translating the 19th-century song into his own style. It was an expression of what the song stood for in his mind, the freedom of expression and opportunity. But it didn't resonate with mainstream America and incited a firestorm of controversy.
2.
Maurice Cheeks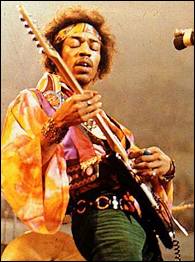 Jimi Hendrix left his mark as a master guitarist with his take on the Star-Spangled Banner.
Who would have thought the feel-good moment of an NBA season could come from the team more renowned for their transgressions than their transition game. But as usual, class-act coach Maurice Cheeks found a way to rise above the turmoil during a rendition of the national anthem during the 2003 NBA playoffs. Picked to sing in front of a sellout crowd, 13-year-old Natalie Gilbert came down with a case of stage fright and forgot the words. Striding to the rescue of the stranded, solitary figure in the spotlight, Cheeks put his arm around Gilbert and started singing. It wasn't the most on-key rendition we've ever heard, but no anthem ever left those who heard it feeling better.
1.
Marvin Gaye
Want to know when the NBA really got cool? It was at the 1983 NBA All-Star Game. Magic and Larry had been dueling from opposite coasts for a couple of seasons and Michael Jordan was still more than a year away from launching more flights out of Chicago than O'Hare, but Marvin Gaye's rendition of the anthem taught everyone who heard it that David Stern's league was the only place in sports that lived on the cutting edge of culture. Putting the finishing touches on a journey started by guys like Jimi Hendrix and Jose Feliciano, Gaye turned Francis Scott Key's tune into an expression of a different, modern America. With drum machines infusing plenty of Motown funk, Gaye gave the performance of a lifetime & a lifetime that ended tragically just a year later.
Bottom Five
Carl Lewis
It's not so much that Carl Lewis didn't hit the right notes during his 1993 rendition of the national anthem before a New Jersey Nets game, as that it wasn't clear if Lewis it
any
notes at all. Few things have ever been as glaring as Lewis' butchering of "rockets red glare."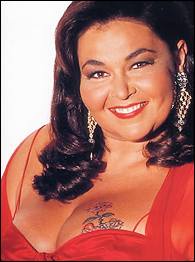 Why would anyone ask Roseanne to sing the anthem? Don't ask us.
Roseanne Barr
When the most artistic portion of a rendition comes from the performer spitting and grabbing her crotch after finishing, you know it wasn't a good national anthem. It may be no coincidence that Roseanne's career screeched to a halt soon after her screeching in San Diego.
Aerosmith
It seems like Aerosmith has been around forever. And it sounded that way before the 2001 Indy 500. After battling his way through a less than on-key performance, Stephen Tyler delivered a coup de grace by changing the last line to "home of the Indianapolis 500." Needless to say that didn't go over so well for a Memorial Day performance in the country's heartland.
Jewel
At least she looked good. Playing in a shirt that makes Ted Washington's uniform look baggy, Jewel turned in a less than memorable vocal performance before Super Bowl XXXII in San Diego. Maybe she should have tried reciting it as poetry.
Booing Crowds
Even though the United States and Canada share the world's longest undefended border, residents of the two nations have been known to squabble. But there are better places to take out national frustrations than during the singing of the national anthem. And in recent years, from Canadians booing the "Star Spangled Banner" in Montreal to Americans booing "O Canada" before a Raptors-Pistons playoff game, decorum has become a seven-letter word. Save the catcalls for mangled notes, not mangled ideology.
Page 3 readers respond with their choices and comments.