Is excessive celebration out of hand? Page 3 went straight to the source and asked a few NFL players their opinion:
What's your stance on excessive celebration?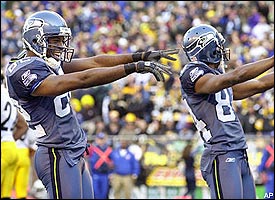 The "Sprinkler" is a Seattle Seahawks staple that works better with a partner or two.
Shaun Alexander
, Seahawks RB
Celebrations shouldn't be individual things. Do it as a team. The NFL has it backwards: if you celebrate by yourself it's OK, but as a team, you get a penalty. I think everyone on the team should be doing the "Bunch of Big Women and Braces" or have three or four guys doing the "Sprinkler" -- those are a couple of our endzone dances. When you score a touchdown, you want to let it out -- whether it's a big scream or spiking the ball in triumph. At first, you only saw people spike the ball if they dove across the line. I don't spike it because I give the ball to the lineman. They conquered it. They blocked for me. They all try and spike and flatten that ball because they completed the mission. Now, players are getting too pretty with it.
Chris Brown, Titans RB
There is a fine line between emotion when playing and going overboard. I think it's alright to do. But the NFL is getting out of hand. T.O. is going to be T.O. He's always out there trying to compete. There is no way to stop him. If you don't want to see him celebrate, don't let him in the endzone. That's just who he is.
Chris Baker, Jets TE
In the NFL, you are not supposed to self-promote and/or team celebrate. You can only do your own celebrations, but it can't be too rehearsed. It's suppose to be a team game and you aren't suppose to show-up your opponent. Someone like T.O. is hilarious. I don't think he's too excessive. Our business is entertainment and that's what we are paid to do -- entertain.
Larry Tripplett, Colts DT
There's nothing wrong with celebrating an accomplishment. But it's wrong to taunt. Kids watch and do what they see. You work hard to make plays. Nothing comes easy. It's a here-today, gone-tomorrow league. So it's OK to celebrate. With T.O., there is a difference between celebrating and rubbing it in someone's face -- that's not good to do. Kids watch and emulate us. We have to set a good example for them. I do enjoy what T.O. does though. Not everything he does, but some of it's funny. I liked what he did with the pom poms, but when he went on the Dallas Cowboys' star, I thought that was too much.
Ryan Longwell, Packers K
I grew up watching and idolizing Steve Largent. Largent always gave the ball back to the ref after he scored a touchdown and that's the example I always followed. With T.O., he's the most creative guy in the league. That whole Sharpie thing was over-the-top, but his dances are OK.